Welcome back and to kick off 2017 we wanted to bring you up to speed on some major enhancements to Invitations and some other important features.
Invitation enhancements
Invites are now arranged in easy to use filters to display who is coming in advance in an instant. Sine also now keeps a record of expired invitations for future use. Expired invites are handy to re-invite users for repeat access or Invite only mode which is explained below.

Invite Check-in

​The new Invites tab now allows you to check-in invitees right from the invites tab. This is ideal to keep track of guests arriving to an event or a check-list for contractor works.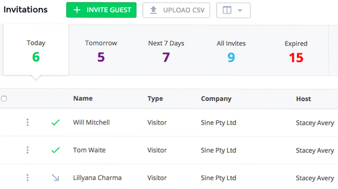 Invite only mode
Now your Site can be set to Invite only mode so only invited visitors and contractors can check-in on arrival. Invite only mode is ideal for contractor management or remote sites where security is key. Activate Invite only mode under Sites > Settings > Passes > Invitation Required

Invitation Required mode also allows you to specify which visitor type Invite only mode applies to. This is useful where you want to set up Sine to check a specific visitor type has an invite, but let others types through without invites. Sine uses email to check who is invited, so make sure you use emails on invitations for this mode to work.
Full details on new invites is available here.
Give Invitations a whirl and let us know what you think… This is phase 1 of various invitation enhancements which we will update you on in the coming weeks.
Swipe to check-in & out
​
Sine for iPhone and Android now provides instant check-in and check-out with just one swipe from your lock screen. This is ideal for instant staff check-in and check-out, where users can with just one swipe create a pass without even entering the Sine mobile app.
Check-in tests​
​
We have enhanced check-in forms to now provide correct answers in multiple choice fields. This is ideal to create a test with one or several correct answers. Set multiple fields like this and you have yourself an exam or test for your contractors to answers correctly before entering site.