As we've seen recently in the United States, the United Kingdom is exploring how to reopen and return to work after the initial wave of the Coronavirus (COVID-19) pandemic.
Although the pandemic is a health crisis, it's also harming the economy:
The British Retail Consortium (BRC) estimates the lockdown is costing non-essential retailers £1.8bn a week in lost sales
Some experts estimate that UK-wide economic activity is roughly 30% lower because of social distancing measures
If you're a UK business owner planning to reopen your business, this post will show you how contactless check-in can help you keep your workplace and people safe when it comes to COVID-19.
Let's get started…
What happens next?
The UK government has announced a 60-page 'conditional' plan to slowly reopen the UK economy
As coronavirus lockdown measures are eased and shops reopen and return to work, the government has offered guidance on how to work safely during the coronavirus pandemic.
Although we've had news of reopening UK schools and rebooting the UK economy, the lockdown rules of the devolved administrations differ. Scotland, Wales, and Northern Ireland are keeping stricter measures in place.
So far, no dates have been set for the reopening of shops in Scotland, Wales and Northern Ireland, although each country has its own plans in place.
What will employers need to do to reopen post-COVID-19?
It will be a "new normal" for many people as the economy reopens.
Right now, instructions are for people to stay at home as much as possible, work from home if possible, limit contact with other people, and practice social distancing (staying 2 meters apart where possible).
The plan advises everyone to wear face coverings in enclosed spaces and to avoid public transportation. The plan also asks that "all workers who cannot work from home should travel to work if their workplace is open."
That means if you want to protect your workers, you'll need a plan for how to handle visitors to your worksite.
How Sine can help UK businesses with contact tracing?
Here are a few ways Sine can help your business to reopen "safely and securely" when it's time.
QR codes
Check in visitors without contact by scanning QR codes.
When a visitor arrives, they can check in on the iPad without contact by scanning their Fast Track QR code from their mobile invite. Hosts are notified of their visitor's arrival when check-in is complete.
This new feature lets visitors check-out using Sinepoint Pro without filling out a single detail. Simply flashing their badge, alerts the iPad to note their unique QR code and immediately check them out.
Check this feature out in our short video.
Contactless inductions
To safely reopen, U.K. businesses will be required to perform some kind of contact tracing to make sure people are where they say they are. That means that business owners will need a solution to help them trace their staffs' whereabouts.
Sine's mobile app can help you implement contact tracing check-in. You can give all workers and visitors specific training and collect all required documentation before work starts or before they enter your worksite.
If you want to set up a contactless front desk, Sine allows safe check-in for your visitors.
Inductions can be done remotely before workers or visitors arrive on-site using the Sine Pro mobile app. The result? You have a completely contactless induction process.
Sine Pro Mobile App
The free Sine Pro mobile app lets visitors check in and out of your site quickly without touching multiple surfaces. You can also create COVID-19 check-in questions for your visitors and receive notifications when your visitor arrives.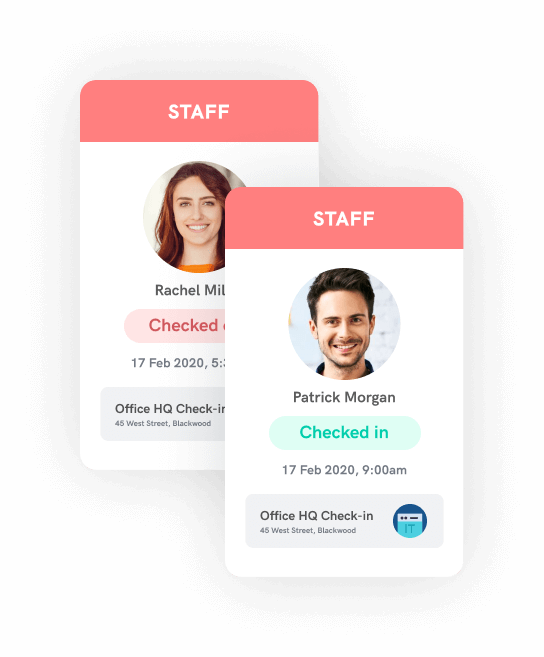 Visitors can also use the mobile app to check in from site posters by scanning a QR code from the site poster using the Sine Pro mobile app. No iPad is required and site managers get alerted each time a visitor arrives at a site.
Access control
Access control is a way of providing quick and convenient access to authorized workers and visitors while also preventing unauthorized people from gaining access to your workplace.
With Sine's access control solution, visitors are issued a personalized QR code to their mobile phone or email address.
Then, once your visitor arrives at your worksite, they scan their QR code to gain access to the worksite. The QR code will then be automatically deactivated after the specified time that you choose, or upon check-out.
Keeping your workplace and your workers safe
Keeping employees, contractors, clients and visitors safe is a priority as businesses reopen and return to work post-COVID-19
That's why we've rolled out new features to help you fight Covid-19. As you've seen, Sine's features — like contactless check-in, contactless inductions, and Fast Track QR codes — can help you reduce the spread of infection.