As New Zealand pushes forward with reopening after the Coronavirus, Monday's announcement of two new active cases is a timely reminder of the challenges all businesses will face in ensuring the safety of their workplaces as they determine the safest way to operate and mitigate the risk of a second wave of infections.
It is impossible to eradicate the disease from New Zealand in its entirety. However, there are strategies that can help reduce the broader risk of community transmission when a positive case is identified.
One of those essential strategies is contact tracing.
What is contact tracing?
To put it simply, contact tracing is designed to slow the community spread of an infectious pathogen like COVID-19. It works to halt the chain of transmission by implementing a systematic approach and process for tracking that transmission.
The coronavirus lockdown has seen many companies move rapidly to enable employees to work from home and reduce the number of employees required on-site to only the essential few who can not perform their jobs from home. With the reopening of New Zealand at alert level 1, many work from home employees are beginning to spend more time on-site and return to work as normal. However, with more employees coming and going from the site, it's even more crucial for businesses to know who has been on-site, when they were there and who they have been in contact with.
If a suspected case of COVID-19 is identified in the workplace it is essential that person isolates and those they may have come into contact with can also be identified using contact tracing. When an effective contact tracing process is implemented this can be quickly and efficiently executed to minimise the risk of further transmission in the workplace.
The hope is that through contact tracing, as well as other measures such as hand-washing and social distancing, we will prevent a second wave of infections. This will allow businesses to return to work and begin the economic recovery from the global pandemic.
Why is it necessary?
With the move to alert level 1, all businesses can start to reopen and are encouraged to begin returning staff to their usual place of work as soon as practicable. While this marks a return to pre-COVID-19 business as usual, there is still a need to remain highly alert and be equipped to move quickly in the event of a positive diagnosis.
The quickest way to ensure a rapid response is with the implementation of an automated contact tracing system.
This is where Sine can help.
Here's how we can automate contact tracing.
The whole point of this process is to make sure that companies can know for sure where their people are and where they have been. They need visibility over who's isolating, who might be sick, and who is on-site working. This real-time data is combined with the ability to pull reports of movements in and out of your site over any period of time that is of interest to the company.
Sine's ability to integrate with existing systems and automate your contact tracing and workplace management processes makes it the perfect companion for business looking to return to work in New Zealand.
Sine's solution for contact tracing uses systems that rely on GPS location readings and scanning QR codes to know where the staff are. This has been done to allow users greater privacy, which can in turn encourage take-up of the new process.
Track staff check-ins/outs
Contactless sign-in is a simple and easy way of tracking all staff within your workplace. With a mobile app like Sine Pro, you can see where every staff member is at a given time and all of this data is subsequently available through the web dashboard. For the purposes of contact tracing, this data can show you exactly who was on-site and for how long, allowing you to quickly who may have come in contact with a suspected positive case of COVID-19.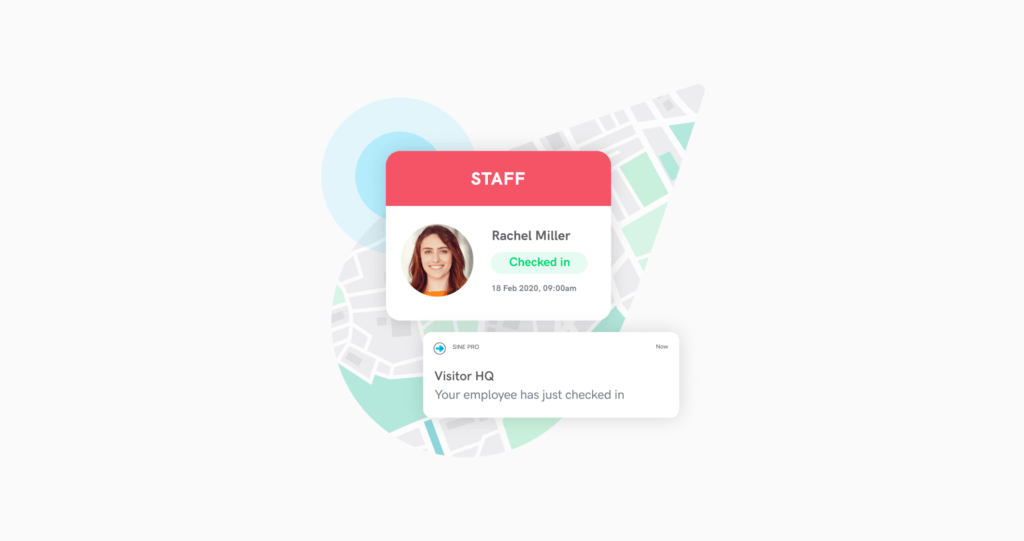 We use geofencing to set up a virtual perimeter around your facility. This enables repeat visitors to check-in and out of your site with ease.
For instance, when staff leave a site, you will receive a notification that they have left. In addition, the staff member can also be reminded to check out. The app also alerts hosts at a site to alert them that their visitor has arrived.
Pre-screening questions and temperature checks
With Sine, you can include vital screening questions in both visitor and staff workflows. For visitors, this can be important information about where they have travelled in recent days or if they've been in contact with anyone who is quarantined or in self-isolation. And now with the rollout of Thermal Check, Sine can be integrated with thermal imaging cameras so that you can ensure all staff and visitors entering the premises have passed temperature checks before entering the workplace.
---
Private Beta – Request invite
Sine is working quickly with various thermal camera suppliers and at this stage, our integration is in private Beta mode and on request only. Please note, Sine does not supply thermal cameras directly and these must be acquired directly from the supplier subject to availability. Sine is not responsible for the setup or functionality of the cameras.
---
Visit our COVID-19 resource centre to find out more information and get started with a free 30 day-trial today.