The COVID-19 pandemic has hit retailers around the world hard. As lockdowns have forced many bricks and mortar outlets to close their doors or rapidly pivot to e-commerce. For many retailers, this challenging time has required them to embrace an agile and flexible approach to their day to day operations. While the primary focus for most has been to minimise the spread of COVID-19, retailers now look to balance the ongoing risk of the pandemic with the immediate economic impact of the prolonged downturn.
In order to re-open, retailers find themselves searching for solutions which provided appropriate protections for staff, customers and the longterm financial viability of their operations. The move to e-commerce has been an effective pivot for the majority. However, there are still many product categories for whom this is not a viable option.
While many may think that the future of retail lies solely in an e-commerce world, recent studies of consumer sentiment have shown a strong uptick in consumer preferences and motivations to shop with local suppliers. For bricks and mortar retailers, this is a welcome shift that will aid their recovery as they return to work and reopen their shopfronts.
The key to an effective and safe reopening for retailers is in the implementation of measures that foster confidence for both staff and consumers alike that their safety is prioritised.
With that, here are our five tips for retailers looking to reopen after COVID-19 lockdowns.
1. Access to hand sanitiser and masks
Preventative measures such as ensuring effective hand hygiene and the wearing of appropriate PPE are key steps in preventing the spread of COVID-19. Simple steps to ensure this include:
ensuring hand sanitiser is readily available throughout your store for both staff and consumers
provision of suitable PPE, including masks and gloves for staff and consumers
encouraging the wearing of masks or gloves by consumers who visit the premises
Setting clear expectations for the use of hand sanitiser and PPE is a simple way to instil confidence and display your commitment to a safe retail environment as you look to reopen.
2. Clear social distancing guidelines in store
As the coronavirus pandemic continues, we are beginning to see attitudes towards lockdowns and distancing requirements diverge. As some consumers become laxer in adherence to these guidelines while others work to strictly maintain these measures.
Retailers can ensure all consumers and staff can confidently enter their stores by enforcing clear social distancing guidelines and enforcing regular reminders for everyone to adhere to these. This can be implemented with clear, frequent signage, placed in prominent positions around the store to remind everyone to maintain 1.5m social distancing while shopping. Further measures can even be taken to limit customer numbers in aisles or small areas of stores, such as change rooms.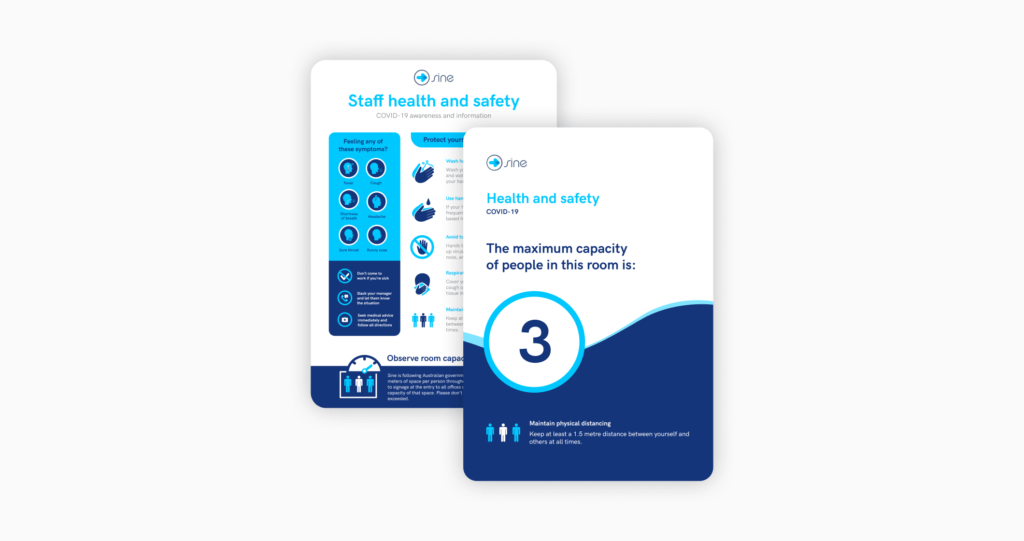 3. Contactless payments
Tap and go payments are no longer just a convenience. For many they have become a necessity as consumers everywhere have sought to maintain distancing and protect themselves against the spread of COVID-19. Recent months have seen an unprecedented spike in the number of cashless payments. Many retailers have adopted the position that they will no longer accept cash due to safety concerns.
An important step is to ensure cashless payments are both enabled and encouraged for retailers reopening after COVID-19. The implementation of cashless payments allows staff and customers to feel safe and confident in their ability to stay safe and prevent infection while also returning to work and supporting local businesses.
4. Touchless sign-in for employees
Keeping employees safe is a priority for retailers looking to reopen post-COVID-19. While a large component of this is centred around risk mitigation and contact reduction in regards to customers, enabling employees to minimise contact and maintain distancing with one another is just as essential to minimise the risk of infection.
Many employers still rely on paper-based systems like timesheets, time cards and job cards or have all employees sign-in electronically using one communal machine.
Luckily, touchless sign-in systems are now readily available and simple to set up. They allow your employees to check-in and out of work and complete their shifts without needing to touch any more surfaces than absolutely necessary.
A simple solution like the Sine Pro mobile app can make touchless time and attendance management a breeze for retailers reopening after COVID-19.
5. Appointment based retail
Another step many retailers have taken in order to ensure a safe reopening is to allow customers to visit their stores and showrooms by appointment only. Retail by appointment is a highly effective risk management strategy for retailers reopening after COVID-19.
Retail by appointment offers a number of key benefits for retailers, including the abilities to:
manage in-store capacity
ensure a consistent and high-quality customer experience
record contact details for customers, should the need for contact tracing arise; and
provide contactless check-in on arrival for appointments
Looking to reopen safely after COVID-19? Find out more about Sine's comprehensive suite of visitor, contractor and staff management solutions here or schedule a demo with our team to see how Sine can help you.