Visitor management is important to your office which is why Sine is pleased to offer a free sign-in sheet for your office visitors. You will love the sign-in sheets clean look, and easy to use format for your front desk!
Why is visitor management important?
Organized visitor management is key in running an efficient business. It helps to establish the first impression for those coming into your office, and helps them to feel greeted upon their arrival.
Visitor management is also essential to ensuring that those who visit are supposed to be there. Office security should always be top of mind.
A solid sign-in process can also help with data collection which can be used to reach visitors in the future and create better client relationships. 
Sine's printable sign-in sheet template
Our sign-in sheet template provides all of the elements you need in a printable solution, including a specified area for your logo and company name.
Visitors are able to clearly understand the information they are required to provide, and you will be pleased to have access to a simple recording of who has visited, at what date and time, and who they have visited with.
Paper sign-in sheets should always be clear and easy to use so that visitors are not inclined to skip on filling out certain elements of the form. Providing the date at the top of the page is also useful in storing pages in an organized fashion for future reference
Download and print our sign-in sheet in just a few easy steps!
Go modern with a digital visitor management solution
Pen and paper might have proven to be effective over the years, but it could be time to upgrade your sign-in process. Why exactly should you consider a digital management solution?
Visitors are bound to come and go in the everyday hustle and bustle of work life. While you're likely thrilled that business is running smoothly, it can be difficult to keep printed sign-in sheets organized and looking professional. Especially as you're in the thick of your busy day.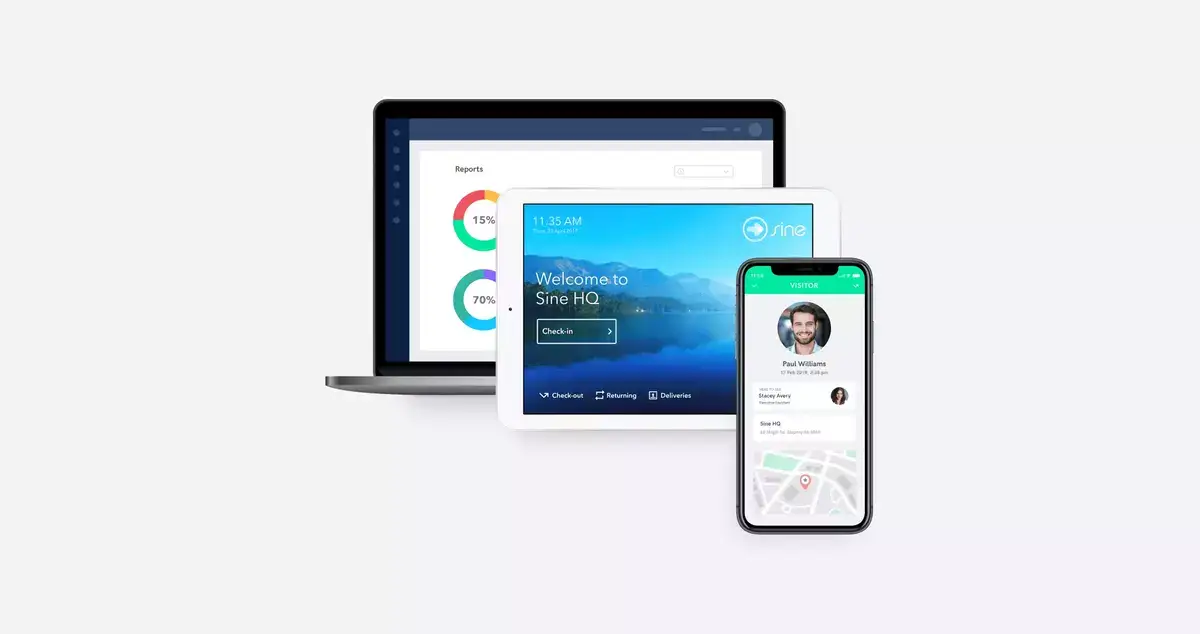 New safety protocols brought on by COVID-19 also need to be managed, along with ongoing security measures for your office. Collecting and understanding your sign-in data is another essential task to helping you keep track of your clients and better communicate with them. This can require a lot of your valuable time.
It's no secret that there is a lot to think about when it comes to keeping everyone in your office safe, and your processes efficient.
Modernize your sign-in sheets
It's clear that visitor sign-ins are important to your business, which means that streamlining the process for completing them could be a major benefit to you, your guests, and even employees.
Sine's digital visitor management system offers the opportunity to take one thing off your plate. You will find yourself with more time to take care of other important tasks, and will love the modern and professional feel it brings to your front desk.
How does our digital sign-in solution work?
Our digital sign-in solution allows visitors to complete their sign-in using an iPad, or by downloading the free Sine Pro mobile app.
You'll discover many great features with our paperless solution, with everything from facial recognition to auto reporting and more!
We also offer the option for a fast track QR code scan. When a visitor arrives, they can scan their fast track QR code from their mobile invite to check-in on the iPad.
Key reasons to switch to a digital visitor management solution
If a digital visitor management solution is sounding like something your business needs, you will want to explore its many benefits. Here are some of the key reasons to make the switch!
A streamlined sign-in process
Sine's digital solution means more time for reception staff to complete their many other tasks. Quick and easy to use, hosts can get automatic notifications once their visitor arrives. Even if your receptionist happens to be away from their desk.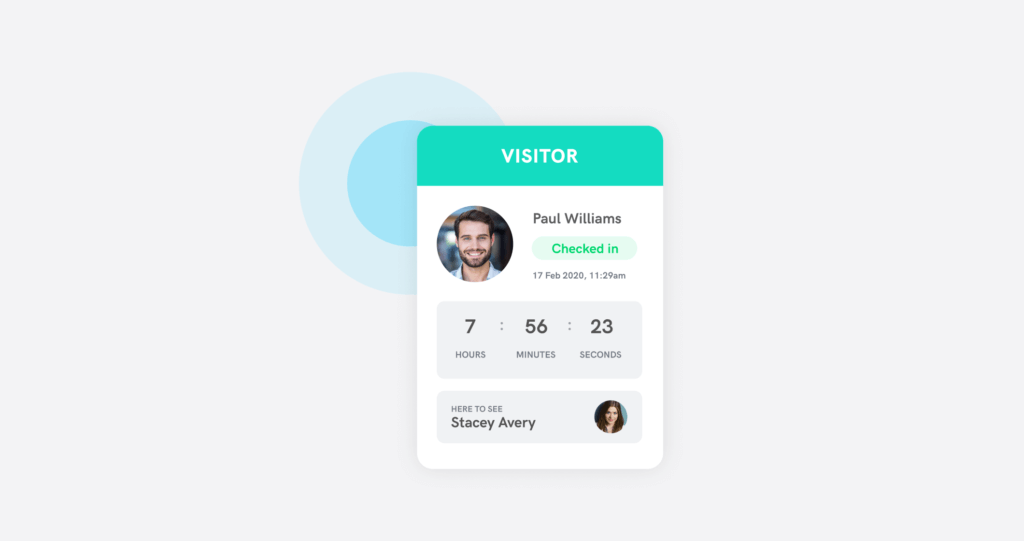 Improved security for a safe office environment
Sine's digital visitor management solution takes special care to keep visitor information private. Other visitors won't have access to the list of who has been where and when, which is common with a quick glance at a paper sign-in sheet. Our digital solution also has screening process abilities. This means you can include induction questions, NDA signing, and even COVID-19 screening questions.
Explore further security options such as quick and easy badge printing with photo identification, should you ever need to spot someone who shouldn't be on site. You will also enjoy features such as license scanning and facial recognition.
Gain easy access to evacuation lists with information on each person on-site at any given point in time. Should an emergency ever take place, communication is made simple.
Make better business decisions
Our analytics dashboard provides instant access to information on how and when your facilities are being used. As well as how many people come through each day. Use this data to inform your business decisions and stay connected with clients.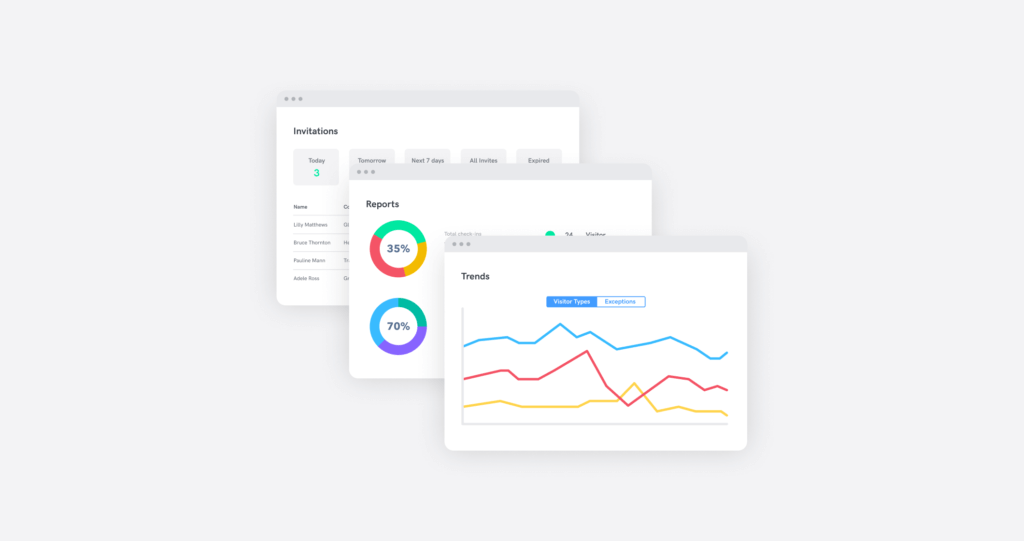 Time to go paperless?
At Sine, we're big believers in digital solutions to your everyday problems with sign-in sheets. A sign-in sheet template could just be the first step towards your digital transformation. If you're thinking about going paperless you probably have questions, and luckily, we have answers.
Learn more about our digital visitor management solutions and get in touch today to get started on your front desk upgrade!