Although no one can really be certain about what the future holds, we can assume with confidence that it's likely to involve more touchless technology. COVID-19 has required us to do everything we can to create safe environments that avoid the further spread of germs. The need for these safe environments just so happens to extend to the workplace.
A touchless office may have felt high-tech and revolutionary in the past, but it is now what we face as a new reality. Luckily, we live in an age where technology gives us the power to accomplish more than what might have been possible on our own, and we see that as a major positive!
Key Technologies for a Touchless Office
If a touchless office sounds like something that your company could benefit from, keep reading! We're here to discuss the touchless technologies that work to enhance human capital and create a safe environment for those who use them.
QR Codes
You may have seen or even used QR codes already in places like restaurants to retrieve information and complete tasks touch-free. QR codes are a great way to help create a touchless office as they can help employees and visitors to effortlessly sign-in, and record all assets across your operations.
By implementing a system that can provide QR codes, processes are streamlined as they are completed with the use of smartphones. Visitors for example, simply flash their smartphones QR scanner and a visitor QR code that is explicitly created for visitor sign-ins enables an easy sign-in process.
QR codes can help to reduce the need for queues, offer a more seamless experience, and effortlessly entice customers and guests to make a visit. All with their safety in mind!
Bluetooth
Connection between devices is made simple with Bluetooth. Smart devices can connect to other technologies, making for a touch-free environment.
Bluetooth has become a leading technology that now offers the option to grant employees access to the building that they work in. It can also make for easier touchless sign-in processes and simplified access to certain areas. This option decreases the need to touch surfaces as well as the need for employees like receptionists to take on these tasks.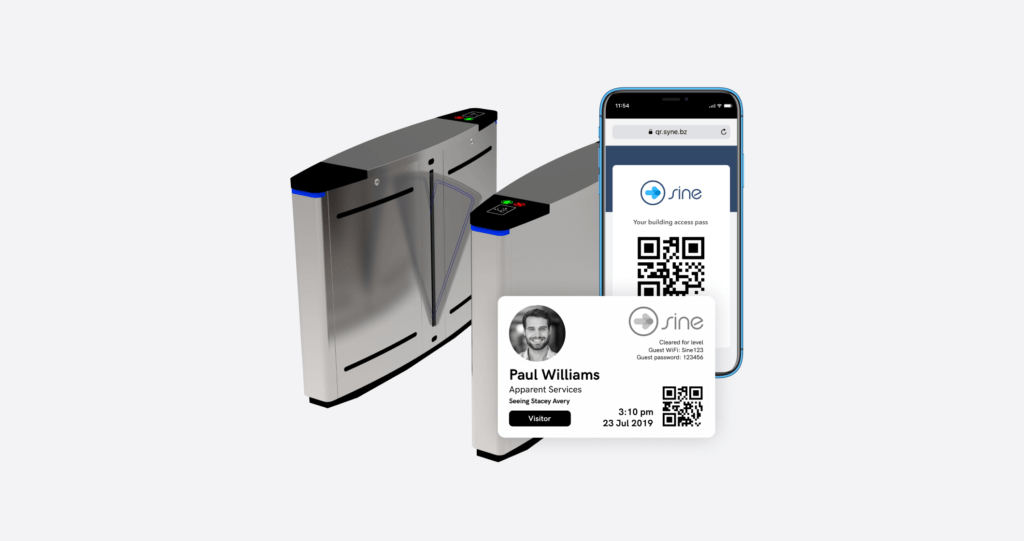 Incorporating personal devices into the workplace is something that will come second nature to employees as they are likely already used to using them for their everyday needs. While this isn't a new technology, it is certainly one to help with your goals towards a touchless office.
Facial Recognition
Facial recognition is one of those technologies that we saw in the movies and got excited about in the past. It's crazy to think that it is now a technology that is a part of our reality!
Facial recognition does not require any conscious effort by the user, which is one of the things that makes it so great. Similar to how you might use facial recognition to unlock your iPhone, it can also be used for automation in the workplace.
For example, your video conference call beginning right as you walk in the room!
Facial recognition can also work for security enhancements at your office as it is used for quick sign-in and sign-out on site. Ensure that each of your visitors, contractors, and staff are clearly identified and that those who are not meant to be at your office do not have access.
Gesture Control
As one of the most common touchless technologies, gesture recognition allows employees and visitors to use simple gestures to control devices. You might think of the technologies that you already use, like waving your hand to open a door, or turn on the running water in a public bathroom sink.
The incorporation of gesture control in the workplace is important to creating a touchless office, as it removes the need to touch common surfaces. No more door handles, hand sanitizer buttons or sink taps, which means less chance of the spread of germs!
Touchless Visitor Management for Work Safety
Preventative measures could mean all the difference to the safety of your office and those visit and work within it. It's always great to implement new technologies into your workplace, but always remember to keep the importance of humanity in mind when doing so.
Touchless technologies provide for a great way to get started on creating a safer work environment.
Learn more about our touchless visitor management options or get in touch to get started today!