Digital visitor management systems have become an essential part of modern schools. But as schools navigate an increasingly complicated risk and compliance environment, the processes propping this environment up must also evolve.
The risk of breaches or non-compliance is too great to leave up to antiquated processes.
Key considerations for schools
In many traditional organisations, occupational health and safety or risk management and compliance is managed by a dedicated individual or team. Unfortunately, many schools don't have the luxury of a dedicated OHS manager. Too often these crucial and complex tasks are lumped on administrators' plates — which are already overflowing with responsibilities.
On top of these basic workplace compliance requirements, schools must also manage and adhere to strict regulations in place to protect their students.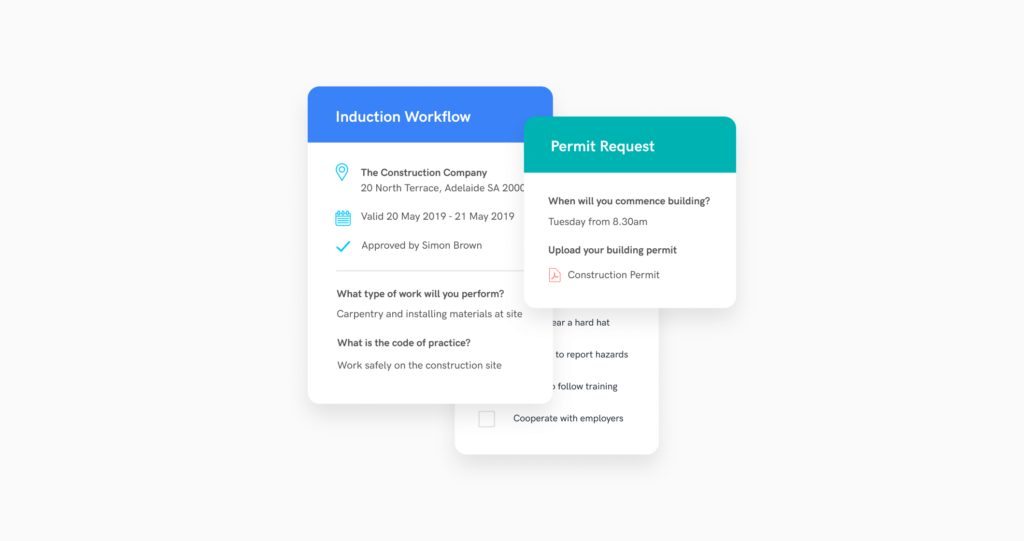 Common compliance documents required in schools
Working with children checks (WWCC)
All employees at a school, both teaching and non-teaching, must have a valid working with children check before they can work on-site. With organisational penalties for non-compliance carrying significant fines or even jail time.
Safe work method statements (SWMS)
Maintaining school grounds and facilities is an ongoing task. Often, many different contractors and tradespeople are required to visit and perform work on-site. SWMS are important legal documents that outline procedures, potential risks and mitigation strategies for high-risk construction work (HRCW).
SWMS are required in accordance with work health and safety regulations, and it is essential that contractors have valid SWMS before they undertake any HRCW on a school site.
White Cards
Anyone working as a labourer in Australia must hold a 'white card', but what are they? A 'white card' is the common term for the qualification received on completion of the 'Prepare to Work Safely in the Construction Industry CPCCWHS1001' training course.
Labourers who have completed their white card training are qualified in identifying, reporting and managing worksite risks — all crucial skills for labourers working on your campus.
Site-specific compliance documentation
In addition to regulatory mandated compliance, schools must also develop and enact their own compliance procedures. It is important for visitors to site to be aware of these, including information such as:
safety and risk management procedures
detailed site rules or codes of conduct
lockdown and evacuation instructions
Site maps showing entry points, including car parking information
With so many documents to capture and all this information to communicate, the induction and sign-in process can become complex in a hurry. And with manual processes, it's only a matter of time before something falls through the cracks.
Compliance simplified, with Sine Workflows
Thankfully, there's a better, simpler way for schools to manage their risk and compliance.
Sine Workflows integrates seamlessly for schools already using Sine for their visitor management.
The key to effective compliance processes is not only in developing a comprehensive framework. But also putting the right measures in place to ensure the framework can be upheld. Workflows is a powerful compliance tool that not only automates and digitises these processes, but it can also identify red flags and stop them before they become an issue.
Simple, digital inductions
Designate compulsory inductions, customised to different visitor types — be they visitors, maintenance contractors, TRT's, music tutors or any other visitor type your school requires. Then, create your custom induction workflows per visitor type. Collect compliance documentation and licenses from contractors, brief visitors on policies and emergency procedures.
Best of all, prevent anyone from checking in who has not completed an approved induction workflow.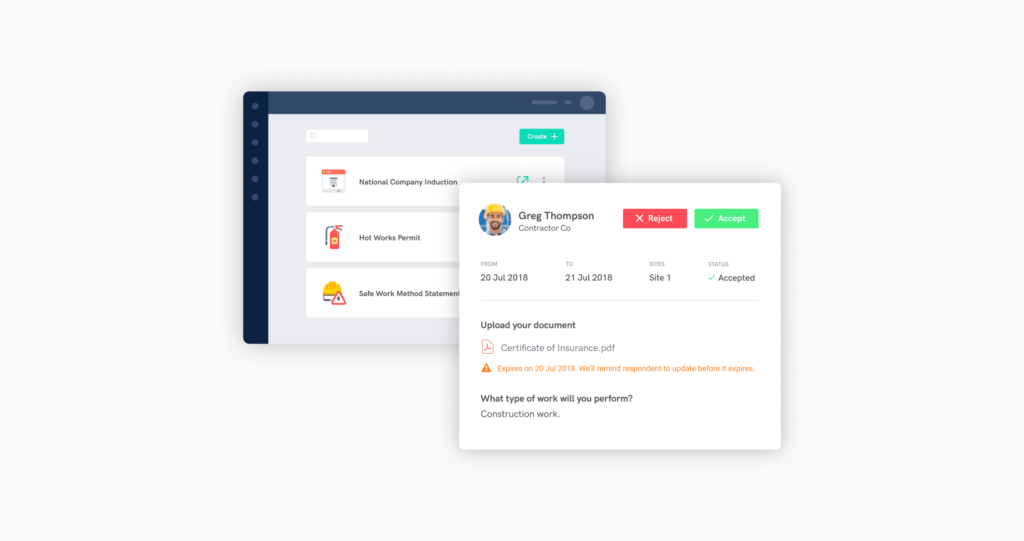 Automatic expiration checks and notifications
With Workflows, you can track the expiry of permits and licenses submitted by contractors. When documents are about to expire, automatically notify users to update their documents. And block check-in if their documents aren't updated before expiring.
Digital filing and audit trail
Don't waste time and space trying to store and file paper documentation. With Workflows, all your compliance documentation is automatically filed and stored in the cloud as part of the induction process.
Plus, if the need ever arises, you also have a full audit trail of every induction completed, as well as movements in and out of your site.
Getting started with Workflows is simple
Our Education team work closely with schools day in, day out. They understand the challenges schools face and are experts in Workflows implementation for schools.
Get started today and contact us for your 30-day free trial of Sine Workflows