We're all hearing a lot of buzz around 'return to work', but are we really ready for it? More importantly, does it even make sense? Here, we will look at the key considerations and factors in creating a return to work plan for your organisation.
Employers everywhere are left scratching their heads, as what used to be full-time, traditional workplaces have quickly pivoted to fully remote teams. Now, as we have adjusted to remote work environments, being presented with a full-time return to the workplace doesn't quite seem right.
The natural solution for many has been a gradual, staggered return — resulting in a hybrid solution. However, it is becoming increasingly apparent that this hybrid approach will not simply be a stepping stone on the return to normal, but rather, the way of the future.
Assessing the right return to work plan
There are a few reasons why a 'return to work' may not be the best approach for many organisations.
Work from home just works
Working from home has proven a viable work solution for many businesses. With the ever-increasing prevalence of cloud technologies rapidly advancing internet infrastructure, it's easier to work from home than ever before.
Many employees have also become comfortable with a new way of life. They have embraced the benefits of an improved work-life balance, with many apprehensive about returning to the workplace full-time.
If working from home is something that has proven to work, and it makes employees happy, then it really doesn't make sense to do away with it completely. At the end of the day, happy employees are productive employees.
Work from home is cost-effective
Many organisations work from home arrangements have lasted for a long period of time. This meant that they had to invest in work from home setups that could allow their employees to complete their jobs efficiently. Given the economic challenges many businesses are currently facing, it could prove costly to forgo the returns on this investment.
Work from home has also proven a significantly cheaper overhead for many businesses as it allows them to significantly reduce their needs for office space.
The importance of building flexibility into your return to work plan
At this point, there will not be a 'return to normal'. Rather, we need to accept a societal shift to the 'new normal'.
In order to best bridge this gap between businesses who want to return to work, while also keeping up with work from home options, flexible work arrangements become essential.
The ongoing management of COVID-19 and intermittent outbreaks leaves us in a position where things can change very quickly. It is up to businesses themselves to have the proper arrangements in place to be able to adjust quickly. This way if they need to comply with a shift to working from home, the transition is made much easier.
Flexible work arrangements also mean that employees are given more options for how they want to work. This keeps them happy and allows them to have more freedom.
What the hybrid, flexible work approach looks like
Remote work isn't going to be a viable solution for all industries. Frontline workers, service workers, manufacturing, and more need to be physically present in order to get their jobs done. This means that the flexible work model is going to be the best solution for a lot of businesses.
The flexible work model means that employers provide their employees with a variety of solutions to cover all of their concerns and needs. Some team members may work remotely, while others will find it better to come into the workplace.
The shift to a 'new normal' requires some preparation. Luckily, there are a few ways to make the transition to a flexible work model much easier. Be sure to incorporate these into your return to work plan.
Employee screening with Sine
For those coming into the workplace, it's essential to screen every person entering that facility. Whether they are a staff member, a contractor, or a visitor, Sine will take care of ongoing management so that the process becomes seamless.
Complete daily checklists, block entry for those with red flags in their daily screening, complete contactless sign-in and add an extra line of defence with integrated temperature checks.
Simple, automated contact tracing
Should there be an outbreak in your facility, you will have easy access to who has been in contact with a full log of movements in and out of the facility.
Sine can even help you to monitor and account for work from home staff. This means you won't need to worry about whether or not staff are getting their work done. Employees simply record their hours in order to be held accountable for their work.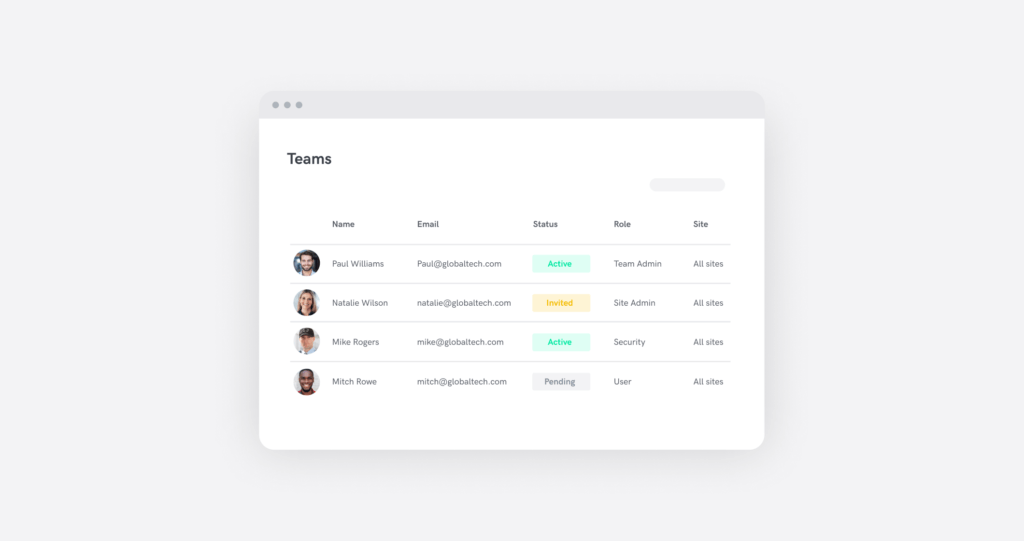 Take the right next step with Sine
Sine is ready to help you take the next step in creating a flexible workspace that is safe for your employees and visitors. Having the proper screening and tracing technology in place will make all the difference in everyone's comfort levels – especially as we make the transition to our 'new normal'
Get started today with our COVID-safe feature suite, sign up for your 30-day free trial now.