Sine offers an extensive list of features that can help streamline and speed up the check-in process, including Fast Track codes and Instant QR. Although they both can enable guests with checking in using the fast lane, they have distinctive characteristics. Read on to discover more about Fast Track Codes and Instant QR.
Fast track
Sine offers various fast-tracking staff and visitor solutions that can help streamline visitor management in your workplace. The Fast-Track feature can help your guests securely experience life in the fast lane where it allows you to pre-fill the details of your visitors right from the web, including their first name, email, and which Host they are here to see. An automatic email (with the option to customise the message) is sent to the visitor containing a unique 6-digit pin and QR code which is scanned or entered upon arrival to fast track their check-in.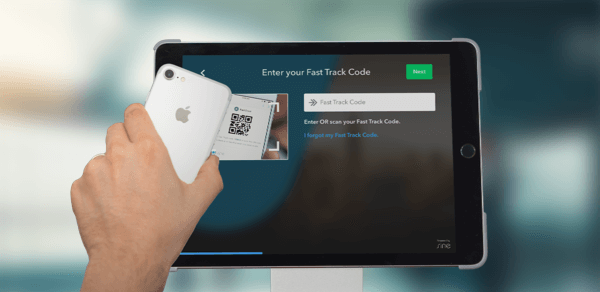 What are the advantages of the Fast-Track feature?
Fast Track QR codes can help provide an additional layer of protection and security to protect your workplace:
Run your workplace off 'invite only'
Run smoother events: Use Fast Track for ease at your events by uploading your guest list to the dashboard where all your guests will receive an email with their check-in pass before arriving. Automatically have invitations expire within a certain period and even set the parameters to match your event so you can be sure that latecomers are unable to enter after a specific time.  
Maintain a clear and covid safe reception area: Using the Fast Track will keep your front reception area clear and organised by pre-inviting multiple people at once. By using the dashboard to invite your expected visitors, you won't need to waste time filling in their details, freeing up the iPad for any unexpected check-ins that may arrive. Fast-tracking can helps your business remain compliant with Covid density laws by knowing how many people are coming to your site and during what time, helping to prevent crowding in your reception area and on site.
Setting up Fast Track Codes
To send an invite with a Fast-Track code, the feature needs to be enabled. Once enabled, sending an invite with a Fast-Track Code is quick and easy via the Sine Web Dashboard
Navigate to Invitations from the side menu, then select Create Invitation
Fill out the details of your guest
Select the Valid From field and select the date you wish to invite the visitor, then choose the duration of the invite by editing the Expired After field. If a specific time is selected, choose an end time instead
Ensure you have ticked the box containing notify guest with an email invitation
Click Create Invitation
Instant QR
What is Instant QR?
An Instant QR is a contactless check-in method useful for businesses that experience unexpected visitors or walk-ins that are not practical to organise ahead of time using a Fast-Track QR Code. Visitors generate their own, secure QR code which is then used to check-in and out through the contactless QR reader on the Sine check-in kiosk. Not only can the Instant QR fast track the check-in process, but it can help reduce the risk of alterations or any malicious activities by enabling the visitors to generate a unique QR code that they are required to scan to check in to your site. An extra layer of security can be added to your site as your Sine system will only scan the QR codes intended for use, meaning any alternative QR codes will be rejected.
What are the advantages of Instant QR?
Our instant QR feature has many advantages, designed to help prevent vulnerabilities, and enhance the security, accuracy, and legal compliance of your check-in process:
Remove the risk of QR Spoofing: This is where an individual generates their own QR code and puts it over a poster, where it redirects the user to a potentially malicious website. Instant QR reduces this risk by allowing visitors to generate their QR code which is required to be scanned upon check-in.
Ensure QR check-ins are done onsite: Instant QR codes can only be scanned using an iPad running SinePoint Pro, helping to ensure every check-in is verified for proximity to your site. This means any QR codes which have been created externally will not be accepted, thus helping to prevent the risk of false or inaccurate check-ins to a site.
Allows for touchless check-in solutions to help keep you and your visitors Covid safe. Furthermore, you can enable contactless photo capture during the check-in process, along with the option to export contact tracing logs, which are obtainable in the reports section of dashboard.sine.co. As a result, you can help keep your staff up to date with important Covid information to assist with slowing the spread and implementing contactless solutions for your workplace.
How to get started with Instant QR
To generate an instant QR, visitors will need to go to https://visit.sine.co/ and enter their details. After clicking Get my QR code, a unique QR code is generated on the user's mobile device. The user then presents their Instant QR to the iPad running SinePoint Pro and they are checked into your site. It's as simple as that!
Instant QR needs to be enabled by Sine on a site-by-site basis. Simply contact our team to have this enabled today.
Summary
| | |
| --- | --- |
| Instant QR | Fast Track |
| Best for unexpected visitors or walk-ins | Best for expected, wanted guests |
| The visitor uses personal mobile device to generate QR code via https://visit.sine.co | Pre-fill visitor details: name, email, mobile number, host. |
| The visitor must use this QR code to check in and out using the contactless QR reader | QR code and pin is sent to the visitor via an email message, that is entered/scanned upon check-in |
To learn more about the Fast Track and Instant QR features – book a free demo with the Sine team today!