There's no surprise we are considered one of the top visitor management software companies. With advanced features that can help you to simplify and streamline your business, there may also be some elements about Sine you wouldn't know about. Read on to discover more about Sine.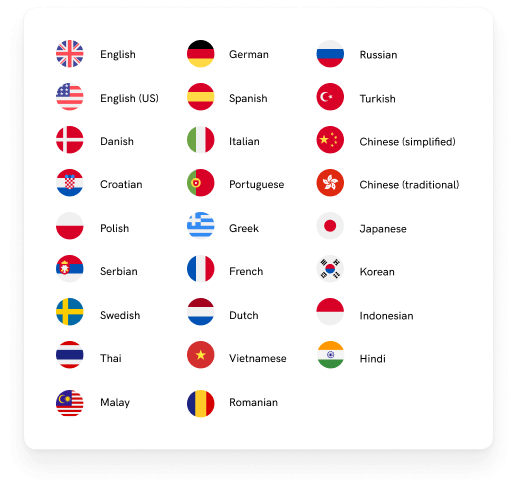 That's a lot! While Sine is currently available in 26 different languages, we are continuing to add more and more languages as we go! The SinePoint Pro for iPad allows visitors to choose their language at check-in. Sine is a perfect visitor management system for companies seeking to simplify their check-in processes for foreign visitors, international clients, and business partners. Sine can be the ideal check-in partner for effortless global operations, helping to remove language barriers between you and your visitors.
2: We integrate with a wide range of platforms for automated Wi-Fi provisions, including Aerohive and Aruba ClearPass.
Aerohive and Aruba Clear Pass are some of the many integrations available that can help simplify and digitise your workplace visitor management processes. Integrations through Aerohive and Aruba ClearPass ensure secure Wi-Fi provisioning, helping to keep everyone connected from the moment they step into the workplace. With these integrations, there's always a simplified way to see what staff and visitors are doing online, keeping an eye on site-wide bandwidth use.
Automated Wi-Fi sharing can be a saving grace when it comes to efficiency! Why?
No more annoying Wi-Fi access requests
Streamlines Wi-Fi sharing, no need for visitors to do it manually
Combines check-in procedures with Wi-Fi sharing, saving you heaps of time!
Improves information sharing and internet access
Aerohive: With the Sine + Aerohive integration, you can provision automatic Wi-Fi passwords using Aerohive's cloud networking.
Aruba ClearPass: The Sine + Aruba ClearPass integration automatically provisions Wi-Fi usernames and passwords via SMS, email, or notification when a visitor checks in.
3: One word… Geofencing!
Our geofencing feature is a virtual boundary that companies put in place to maintain control of their worksites. Sine has a unique reputation for our geofencing offering, which uses technologies like GPS and IP addresses to build virtual boundaries around the desired location. Automatically check-in and out when you are on-site with a pre-set geofence and receive entry and exit notifications to remind your visitors, contractors, and staff to check in and out. Our geofencing feature can be extremely advantageous to those who want insights into who enters the worksite, how close the entry and exit times are to the scheduled times, and where everybody is on the site in case of emergencies.
4: We offer a wide variety of helpful resources
Help is just one click away when you visit the Sine website. We offer a wide range of free and accessible resources to help you learn about Sine and its functionality:
Free product demo with our friendly and experienced sales team. Not only is the demo free, but it is also an extremely personalised one-on-one session with Sine and your company. Our team guides you through how the software will work and function specifically for your business and answer any questions you have along the way.
Free video guides on our website and YouTube channel. Our website includes free video guides for those getting started with Sine, setting up check-in and out forms, checking in visitors, connecting your printer, and adding hosts. Our YouTube channel goes beyond this by offering over 40 videos to showcase features, demos, and how-to guides to use the platform to your greatest advantage.
Sine Help Centre, available to everyone in just one click. It includes a range of topics, from getting started with Sine to integrations, just to name a few. You can easily search the articles for your topics, for example, "printing" and all the relevant printing help articles will show up. Every single bit of advice and answers is from knowledgeable members of the Sine team. Every article provides a simplified yet informative step-by-step guide on how to use Sine, frequently asked questions alongside common troubleshooting solutions.
Yoga on Wednesdays, Monthly Mount Lofty Hikes, coffee catch-ups, dog-friendly office, and lots of laughs! In summary, Sine is the ideal place to work with the modern workplace implemented where we offer all our employees flexible working options so suit their needs. We pride ourselves on having a warm and welcoming environment for all our employees and while we are always working smarter and harder, we have more and more fun each day. Sine's work environment aims to enable our team members to be their best selves and achieve their best work.
5: Finally … We have a great culture!
Want to be part of a fast-growing start-up that thrives on ambition and fresh ideas? View current opportunities here!