Did you know? You can easily customise the Sine Point Pro iPad alongside your site logo and mobile site logo. The process is quick and easy and is available for all Sine customers at no additional cost. Make the most out of Sine by tailoring it to your own branding needs, having full control over what visitors will see when they walk into your site!
Below is a quick snippet of how to access your branding page, where you can choose which image you upload and how it is presented.
Customise your site in one of three ways
Customising your site to suit your branding needs has never been easier, all you need to do is upload the image of your choice. All images are uploaded automatically, so no need to manually save your updates.
Please note, there are best practices that should be followed when uploading and choosing images, which can be found here.
Site Logo: This will become the default logo for your site. It will appear on printed badges, emails, and digital passes.
iPad logo: The iPad logo will appear on your iPad kiosks running Sine Point Pro. This will be one of the first things your visitors see, therefore, make sure you are using this option in accordance with best practices.
Mobile site logo: this will appear in the nearby site list within the Sine Pro mobile app, as long as its within your site's geolocation.
Manage your Sine Point Pro Interface
Sine Point Pro settings allow you to alter the appearance and functionality of your site's iPad. Simply select 'Sites' from the side bar, select the site you wish to change the iPad settings for, then select the iPad tab in Site Settings.
You can alter the home screen in a number of ways to suit your liking:
Show or hide clock from the welcome screen
Show or hide the welcome message text from the welcome screen
Edit the welcome message which displays in replacement of "welcome to" on the welcome screen
You can choose to show or hide your site name
Show or hide the QR code in the bottom right corner of the welcome page. We recommend keeping the QR visible as it allows mobile users to check-in using their mobile device by scanning the QR code
Check-in display message: this message displays after the guest has checked in.
Choose your iPad background
The Sine Point Pro iPad app can be customised to suit your organisations branding, whereby you can choose up to three backgrounds. Multiple backgrounds will fade between each other every 10 seconds. Adding in your own iPad background can be done in just 3 simple steps:
Navigate to sites from the left navigation bar and select the 'settings' button for the site you are updating the background for.
Select the 'iPad' button and scroll down to locate 'Background Images'
Choose 'Upload Image' for the background you wish to update. If you would like multiple backgrounds, you can upload them in background images 2 and 3.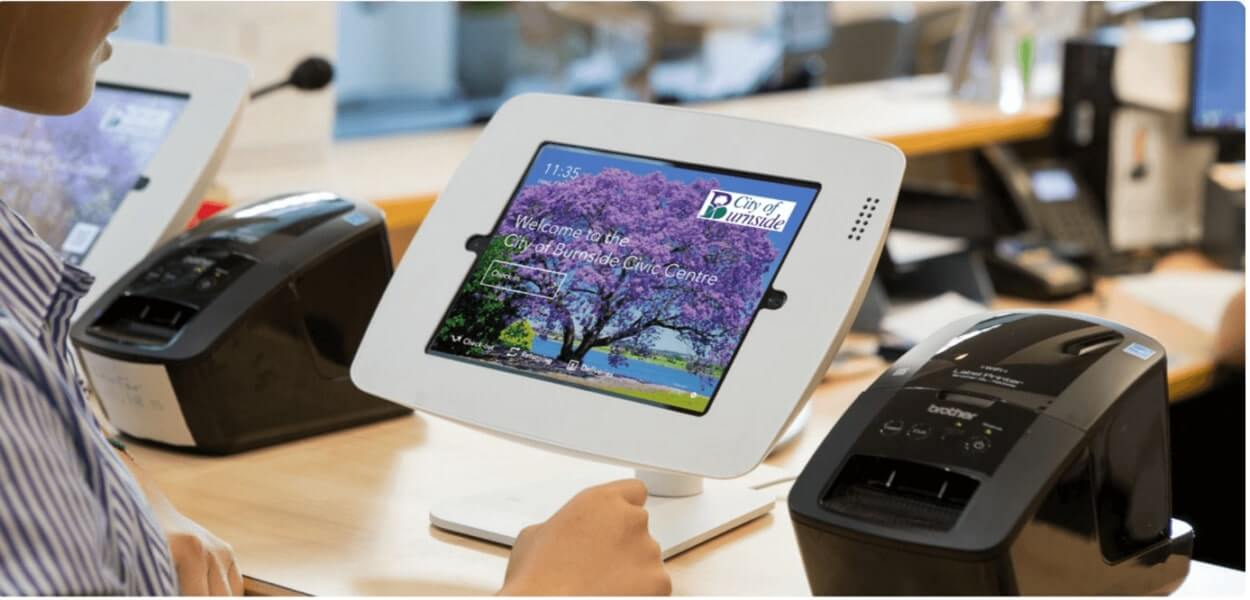 Keen to learn more about how you can welcome your visitors through customised iPad branding? Book a demo with us today!