There was a time when QR codes had a bad reputation. Whether it was the redirects to random web pages seemingly unlinked to where you sourced the code, or the need to download another app to your phone just to be able to scan one. As quickly as they rose to prominence, they seemed to fade right away.
But now, in light of COVID-19, and an ever-growing need for touchless, simplified solutions, they're back and bigger than ever. Whether it be scanning a government check-in QR code at your local restaurant, or ordering your food right from your table, there is no doubt they will continue to become such a prominent part of our day-to-day lives. In fact, there was a 94% increase in the number of QR code interactions from 2018 to 2020!
Read on as we delve into how QR codes work, their top uses in our day-to-day lives, and what the future may hold for such a simple, yet powerful black and white image.
What are QR codes?
QR codes are scannable barcodes that store data. They are commonly used to redirect users to landing pages, social media profiles, store coupons, information guides, and the list goes on!
They work similarly to supermarket barcodes, the pattern of the black squares and dots represent information that can be read and interpreted by smartphone cameras, which then take action based on that content.
Top uses of QR codes
Ordering food and drink at your favourite restaurants
The first time you ever sat down at a restaurant and saw a QR code to scan to order and pay for your food, it may have felt strange, maybe even exciting?
Now, customers often find themselves automatically looking for a code to scan when they sit down at their table, given the benefits it serves in a growing contactless society. In fact, many of us are growing to prefer this method of ordering at hospitality venues, thanks to several benefits:
Enables customers to order food at their own pace, without leaving their table to order or gain the attention of staff.
Reduces the risk of human error: A QR code menu means a customer can send their orders in as soon as they are ready. Paper-based order taking can also lead miscommunication due to messy handwriting
Enables restaurants to include photos of their food, which can make the decision process for customers a lot easier.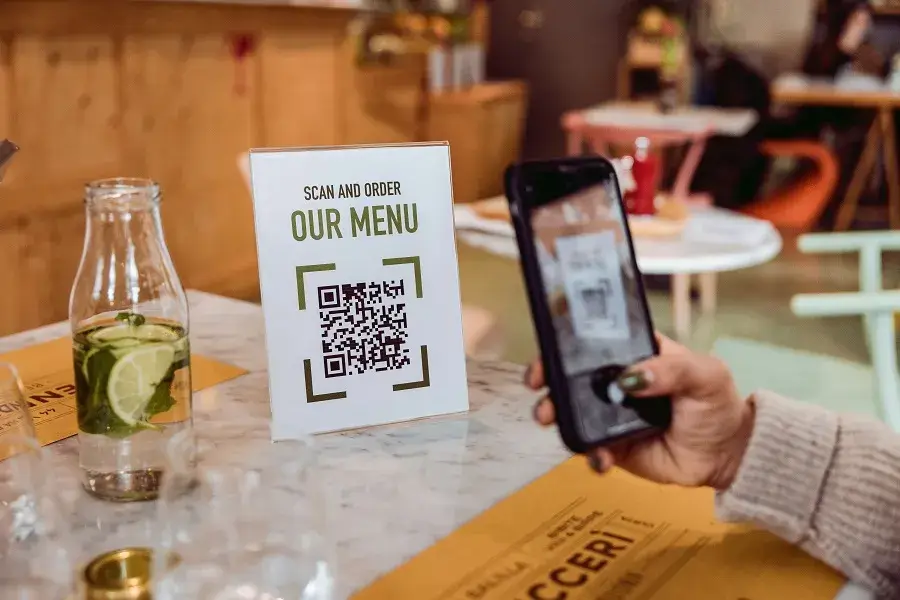 On printed posters and signs
Another common use of QR codes is to include them on printed posters, which can then redirect the customer to a specific landing page. Not only is this a great marketing tactic, but it also saves people time from having to manually type out a link, enabling them to access your site sooner!
There are a variety of ways that businesses are implementing QR codes onto printed posters, namely:
Event posters: By scanning the QR code, you are redirected straight to the registration page.
Real estate signs and posters: Say you are walking around a neighborhood and see a 'for sale' sign out the front of a house. You want to find out more, so you scan the QR code on the sign which will direct you to a landing page with more information.
Posters containing a QR code at a museum or gallery. If you want to learn more about the art, simply scan the QR code which will provide all the information you need to know.
To enable a simple, contactless check-in journey
During the height of the pandemic, when you would have to check in to every establishment you step foot in, you had two options: scan the QR code on your phone, or manually fill out your details on the sheet of paper provided. For many, scanning was a preference as it helped enable a speedy, contactless check-in experience.
Sine offers an array of contactless check-in options. Because we use QR codes more on a daily basis, Sine implements a variety of uses to help create a smooth check-in experience:
Instant QR: Visitors simply generate their Instant QR at visit.sine.co on their phone to contactlessly check in on the iPad.
Fast Track QR: When a visitor arrives, they scan their Fast Track code from their mobile invite to check in on the iPad.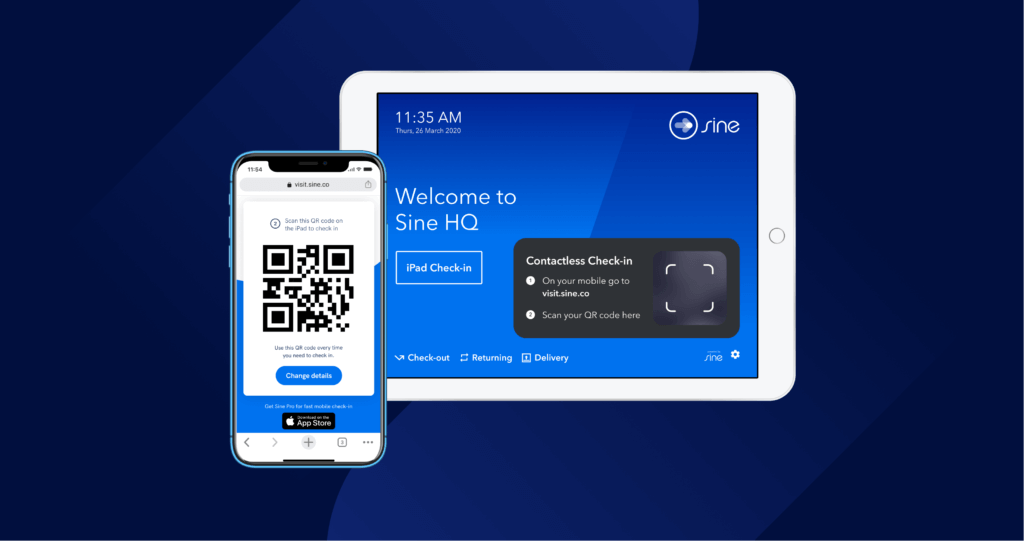 See how Sine can enable a simplified check-in process for all your visitors. Book a demo with us today!