During these times of uncertainty, we want every person in aged care facilities to be safe. Workers, residents, and visitors, they all need to feel safe.
But we also understand the pressing demands of the economy because let's face it, these past months have been tough for a lot of companies.
That means companies have to find a way of balancing productivity with safety.
In the case of aged care patients, this means providing families and caretakers with a way of visiting their loved ones without endearing them or themselves
Recently, the Australian government released a series of rules and regulations that bound workers to follow a set of safety and health standards to protect all the workers and visitors from the virus.
Since we at Sine take the Australian government rules seriously, we decided to create with everything you need to know about using Sine to help your immunisation efforts.
Why has Australia put immunisation restrictions on aged care facilities?
Being able to provide an adequate level of care for senior citizens is more important than ever. Especially if isolation means having people stuck in their rooms, not being able to be visited by their loved ones.
With that in mind, and as a move to lessen the impact of quarantine on senior citizens, the government enacted a new policy that states that every person who enters an aged care facility needs to have an updated immunisation certificate.
What do all visitors and workers need to have to enter an aged care facility?
According to the Australian government:
Under the state and territory directions, aged care providers are required to take all reasonable steps to ensure that a person does not enter or remain on the premises if they do not meet the flu vaccination (and other) requirements set out in the relevant state and territory directions.
That means that all visitors to aged care homes across Australia will need to have had a flu vaccination to enter, with some exemptions. For aged care facilities, this means they should seek appropriate evidence of immunisation status from individuals seeking to enter the service.
Appropriate evidence may be a statement or record from a health practitioner, or an immunisation history statement available.
How can Sine help you collect information before workers check in?
With annual influenza vaccination now available for everyone, states and territories should pay particular attention to the latest directions, which include specific requirements concerning flu vaccinations.
Especially because aged care facilities who fail to comply with any of the directions could face penalties, including fines for individuals and bodies corporate.
Luckily for aged care providers, Sine can help to make sure you're collecting the information you need about workers and visitors.
Here's how Sine can help you:
QR codes
If you have workers and visitors who come and go from your facility every day, QR codes are a safe way of signing them remotely without having to endanger your front desk staff or your residents.
With QR codes, all your workers have to do is to scan their codes remotely and automatically be checked in, enabling you to keep track of your workers even if they're not physically on-site.
Prescreening workflows
Go one step further and use Sine Workflows to prescreen and gain essential COVID-19 information, like immunisation documents, from your visitors before they check in. Put access requests in a 'pending' state and approve or reject on a case-by-case basis or automatically.
With Sine, you can create COVID-19 check-in questions for your visitors and keep your facility safe. Receive notifications when your visitor arrives and choose to accept or reject with custom messages.
Contact tracing
Contact tracing uses systems that rely on GPS location readings and scanning QR codes to know where your workers and patients are. Contact tracing is a non-intrusive way of keeping tabs on your workers and residents while allowing them a high degree of privacy and agency.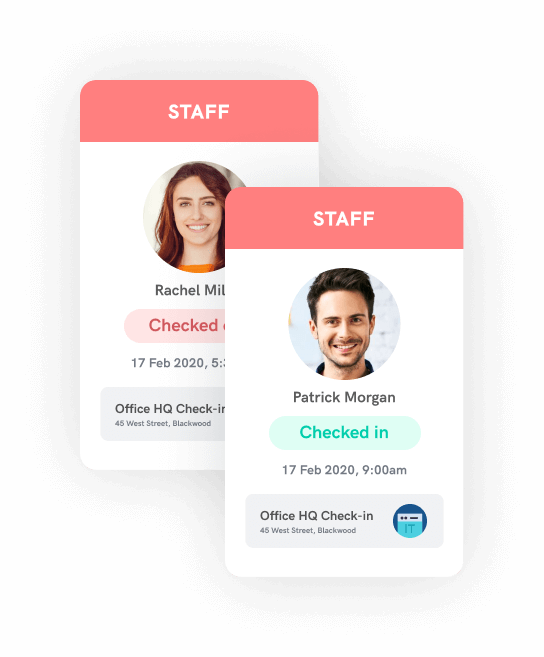 The whole point of this process is to make sure that aged care facilities know for sure where their people are: where the patients are, who might be sick, and which workers are on-site working.
Users should only use Sine for COVID-19 purposes in accordance with the provisions of their local laws. Sine is not responsible for the capture of information. See Sine's Terms of Use.