Managing a site isn't easy and workplace compliance can get overwhelming.
There are hundreds of moving parts which all demand attention.
One of the most annoying of these 'moving parts' is the management of contractors and visitors. In particular, the tedious induction processes that require you to relentlessly chase contractors and visitors for their qualifications and compliance details.
It gets overwhelming and can result in key information being missed. Putting the compliance of your workplace at risk.
For some time now, we've been receiving requests to develop a product that tackles these issues.
A product that will streamline induction processes and take the hassle out of workplace compliance.
Which was a great idea and we wanted to take on the challenge.
So the first thing we did was identify the biggest pain points of induction compliance. The top three we identified were:
They're extremely time-consuming from an administration and a visitor point of view
Hard to monitor across multiple sites
Difficult to develop when different sites require different processes
With these in mind, we got to work.
Eventually coming up with our newest product – Sine Workflows
The difference between Sine Workflows and Sine Core
Sine Core is easy-to-use workplace software. It allows you to check-in visitors, contractors, staff, deliveries, and track assets across your operations. Sine Workflows is a complementary product to Sine Core (which can be added to any price package for an additional fee).
With Sine Workflows, you can now do the following:
Create inductions, permits, SWMS, access requests and inspections
Checking in visitors and contractors can be a real pain! Spending all that time chasing up appropriate permits. Making sure all forms are completed correctly, and checking that all inductions are done. Then having to go through the same process for the same contractor, daily.
Surely there's a better way!
With Sine Workflows, you can get your visitors and contractors to complete inductions and submit their compliance details before they're even on site! Completely removing the hassle of needing to chase up.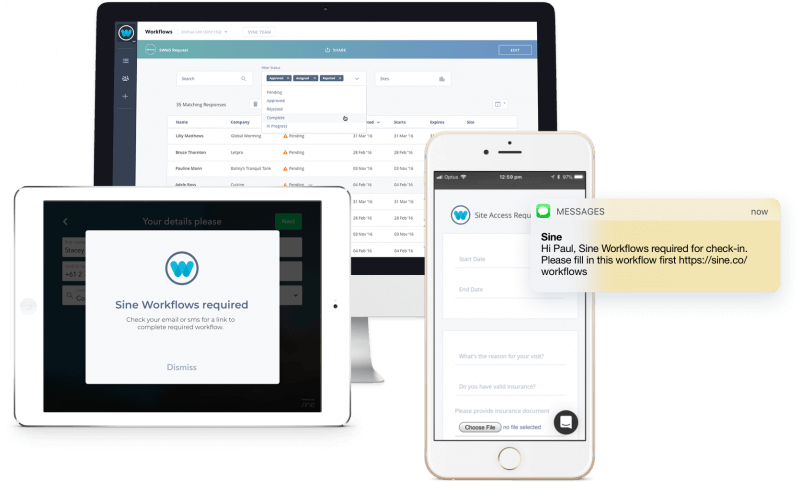 Creating a workflow is easy too! Click here to see our simple walkthrough.
Ensure only approved contractors or visitors enter your site
Management of all the contractors on-site is a full-time job! The large volumes of people entering and leaving can result in mistakes being made and workplace compliance slipping through the cracks.
Which is a big deal!
And we understand that.
Workflows allows you to access all requests from one dashboard. You can see all pending submissions in one place and accept or deny them with one click.
What if someone is denied access?
They will be sent a notification to their device notifying them that their application has been denied and instructing them on what to do next.
Set up multiple workflows
Not all sites are the same!
Different sites require different induction processes. That's why having the ability to create and manage multiple workflows is essential. With Sine Workflows, you can set up as many workflows as you need and assign them to the appropriate site. Or set up one and assign it to all sites.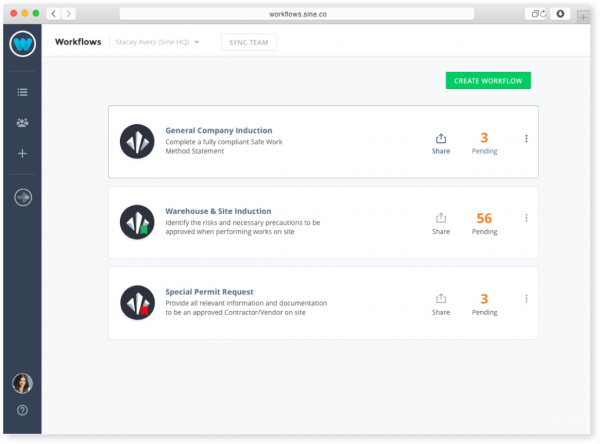 Sine Workflows is completely customizable and will suit whatever your check-in needs.
Make workflows a requirement
Over time, employees and contractors may skip the occasional required inspection, induction, or safety briefing. With the risk of it becoming a regular occurrence without constant management. This is quite common and the only way to ensure it doesn't happen is to have a real-time birds-eye-view of all workflows. Sine Workflows does just this. It gives you a real-time overview of your processes and ensures your workplace compliance is up to date.
Features to transform your inductions
There are many features that come with Sine Workflows, but here's just three:
1. Share workflows
No more printing.
No more mountains of paperwork.
If you require someone to fill out a workflow, simply share the unique link with them so they can complete it before they get to the site. Or get them to fill it out on site.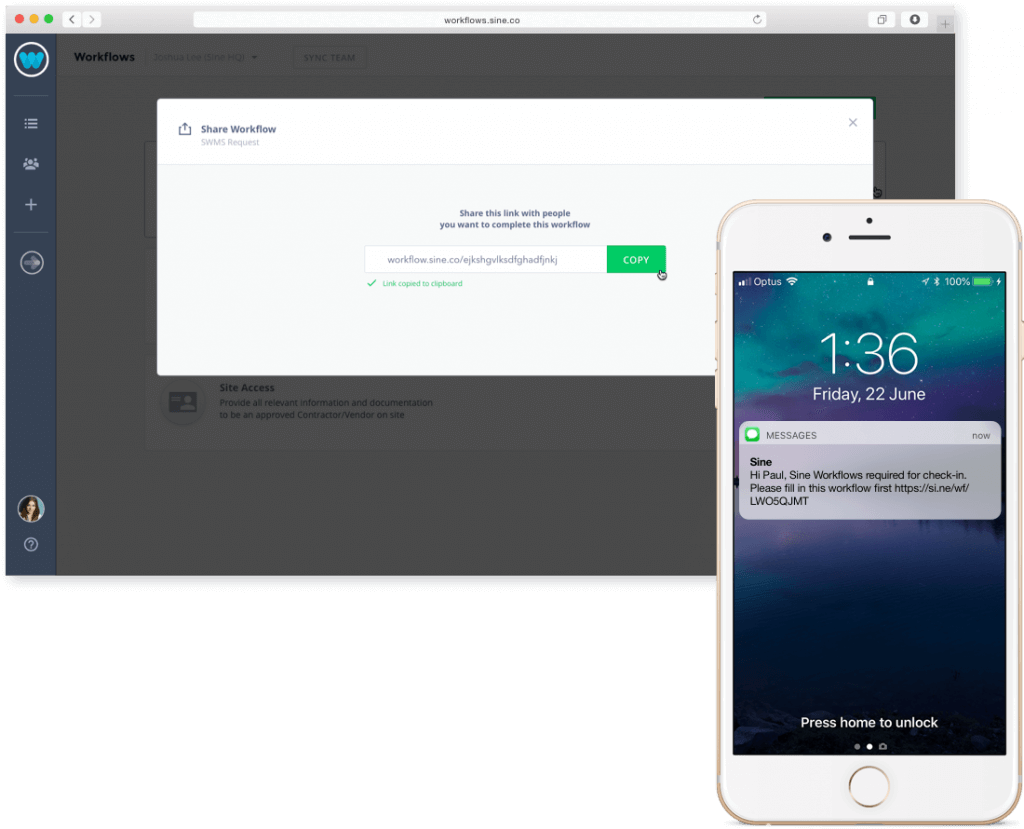 2. Seamless integration
Sine Workflows integrates with Sine Core to let you:
Restrict site access- Allow only visitors with a valid workflow to check-in.
Require specific workflows per visitor type – Each workflow can be linked to one or multiple visitor types.
Publish custom rejection messages for invalid/non-approved workflows – If a person is rejected you can display a customized message telling them why. A link will also be sent to their device for them to fix the issue.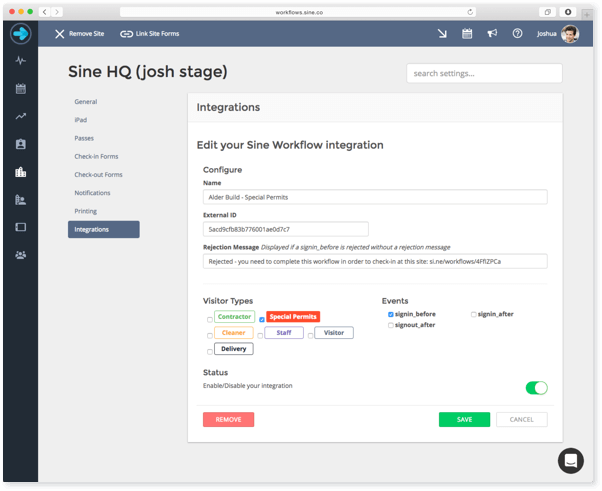 3. Video inductions
Need your visitors to watch mandatory videos before they check-in?
With Sine's video inductions you can integrate mandatory videos to your check-in process to ensure all contractors and visitors view the appropriate videos.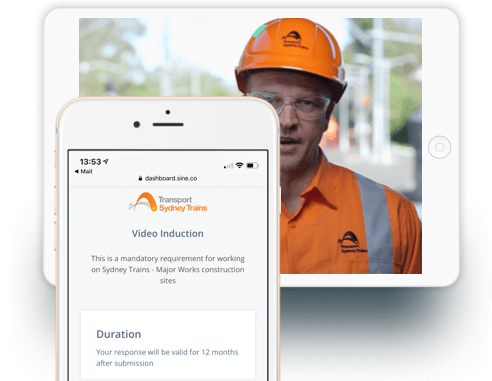 Want to make sure the information was retained?
Add a Q&A at the end of the induction to make sure the visitor was listening.
See all of Sine Workflows features
These companies trust Sine Workflows:

With Sine Workflows, you're making sure that your workplace compliance is always up-to-date. If you would like a free demo, leave us your email here and someone from the team will get back to you ASAP!