Contractor Management
|
5 min read
Contact Tracing for New Zealand Workplaces and Staff
In a press conference, Jacinda Ardern, New Zealand's PM, said that the country is considering from COVID-19 level 4 alert to level 3.
Ardern said principles of alert level 3 is to restrict contact with others as much as possible.
Essentially, this means that now office staff, construction companies, and schools, to name a few, can return to work and operation. Still, it's expected that businesses will be required to perform some kind of contact tracing to make sure people are where they say they are.
This means that business owners need a solution to help them trace their staffs' whereabouts.
And here's where Sine can help you new company regimes to help with safety, hygiene, and contact tracing.
Let's dive deep into New Zealand's PM decision and how we can help you trace your staff.
What were the announcements New Zealand PM gave?
During the press conference, Ardern stated that "Level 3 is a progression, not a rush to normality. It carries forward many of the restrictions in place at level 4, including the requirement to mainly be at home in your bubble and to limit contact with others."
In a nutshell, this means that offices, schools, and construction sites can go back to work, whereas retail stores, cafes, and bars are still to remain closed.
The PM included the concept of 'extending your bubble,' which means that people are still to remain isolated. Still, they can carry on with specific activities such as going to the beach and taking strolls, provided they stay close to their homes.
One thing is sure, the last thing the government wants to do is move back into lockdown after being at level 3.
The aim of moving slowly towards normalcy is to step down levels so the lockdown will only be lifted if they're confident they won't need to return to it.
Let's move what does it mean for companies:
What do these announcements mean for NZ companies?
Most, but not all, businesses can start to reopen at alert level 3, but there are still very strict restrictions, and if your staff can work from home, they should do so.
However, if that's not possible, you'll have to make sure staff can keep 1m with each other, record whom they interact with, and that they maintain good hygiene and disinfect everything several times a day.
So, industries like construction, forestry, and manufacturing can get back to work, as long as they have those safe-practice measures in place.
Here's when contact tracing comes to play.
What is contact tracing?
Simply put, contact tracing is a process designed to halt the chain of transmission of an infectious pathogen like COVID-19 and slow community spread.
The whole point of this process is to make sure that companies can know for sure where their people are: who's isolating, who might be sick, and who is on-site working.
Contact tracing uses systems that rely on GPS location readings and scanning QR codes to know where the staff are. This has been done to provide users more privacy, which in turn could encourage take-up.
The hope is that using the contact tracing, as well as other measures such as hand-washing and social distancing from vulnerable members of the population, will prevent a second peak in infections.
How Sine can help New Zealand businesses with contact tracing?
It is our duty as a business to approach any situation such as this outbreak with urgency and empathy. Sine's highest priority is the health and safety of our customers, visitors, and employees – including those of the companies we are of service to.
Here's how we can help your business with contact tracing.
Pre-screening questions
Initially, visitors would complete the check-in form but be allowed to resubmit a form if they answered incorrectly.
While this is still an essential function of check-in forms, we know that during the COVID-19 pandemic, it's vital that companies get an accurate reading of all visitors' information, which is why we've included a COVID-19 feature to Sine to help you screen your staff before they gain access to your worksite.
Geofence sites
Sine's geofencing feature gives you the ability to quickly check-in to your workplace, but with the wide-spread of COVID-19, there are uses of geofencing that can help with self-isolation.
When a geofence is set up around a workplace, visitors and employees can be automatically checked in, giving you more accurate reporting of who's on-site and who isn't.
Track staff check-ins/outs
Contactless check-in presents a quick and easy way of tracking every staff within your worksite. With a mobile app like Sine Pro, you can see where every staff is at all times, helping you make sure that they're complying with the new level 3 rules.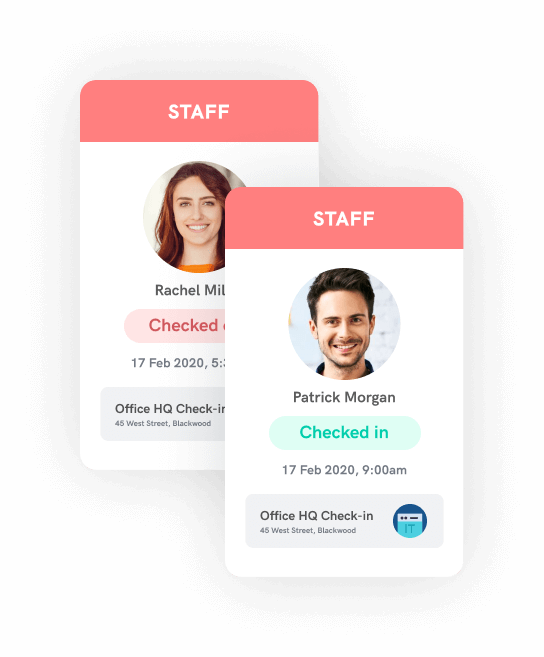 We use geofencing to set up a virtual perimeter around your facility that enables repeat visitors to check-in and out of your site with ease.
For instance, when your staff leave a site, you will be sent a notification that tells you they have left and reminding them to check out too. The app can also be used by hosts at a site to alert them that their visitor has arrived.
Users should only use Sine for COVID-19 purposes in accordance with the provisions of their local laws. Sine is not responsible for the capture of information. See Sine's Terms of Use here.
Want to hear more about our contact tracing solutions? Click here to find out more.