The return to work is proving difficult for many businesses.
The COVID-19 pandemic has changed the way all businesses operate. As quickly as the switch to work-from-home was made, now the return to office is necessary to maximise the economic recovery.
But companies face a challenge. Staff are not eager to return to the office.
Between the raft of work-life balance benefits that work-from-home has offered and the ongoing concerns about COVID-19, companies face an uphill battle to return staff to the office.
Luckily, we've already had the keys to unlock a raft of visitor, contractor and staff management solutions all along.
It's as simple as an iPad.
Why an iPad?
Here at Sine, our mission is to make it simple for visitors, contractors and staff to check in to the locations they attend using their everyday devices. And at the core of our suite of solutions, sits an iPad.
A piece of technology so ubiquitous in the modern world that you won't believe the depth of functionality on offer when paired with Sine.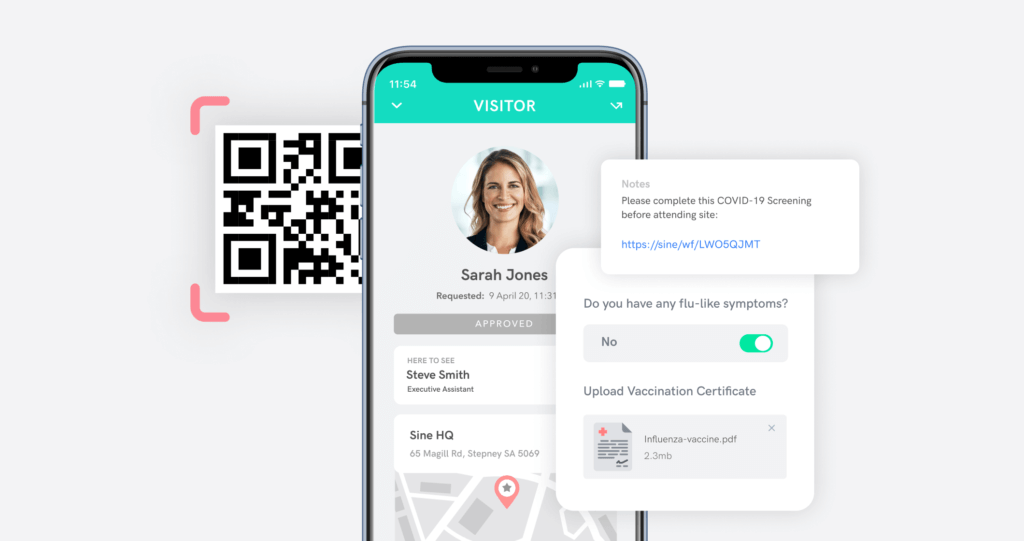 Visitor management
Paper sign-in books and visitor logs are a thing of the past. The modern workplace requires a more secure, safer and simpler process to manage visitors.
A safe return to work presents a myriad of challenges for all businesses. Comprehensive records need to be kept for contact tracing, contactless solutions and social distancing maintained wherever possible in the workplace and capacity restrictions adhered to in accordance with regional guidelines.
Sine offers a full suite of contactless check-in options, from mobile Fast Track invites or Instant QR to mobile check-in through the Sine Pro app, there's a contactless solution for everyone entering your site.
Beyond just staying contactless on-site, Sine steps in before the visit with pre-screening through Sine Workflows to ensure that people who should not be on site don't come in the first place. You can implement screening questions to check recent travel or contact with suspected COVID-19 cases or even the presence of any symptoms in the visitor themself.

With Sine, you can reduce the need for your staff members to engage in face to face check-ins for visitors to your workplaces, and ensure those they do meet have been safely screened and approved to be on site.
Contractor management
Inductions, compliance documents, verifying hours worked, tracking who's on-site and when – it's enough to make your head spin!
Contractor management doesn't have to be so hard and time-intensive. Thankfully, with Sine, it's not.
Sine Workflows is your one-stop, compliance saviour.
Digitise and automate contractor inductions, ensure all permits and licenses are collected and stored, monitor time in attendance on-site and bar entry to any contractor who does not meet their requirements to work on-site.
On top of your regular contractor management and compliance, now there's additional COVID regulations and restrictions to manage for your contractors. Sine makes it simple to ensure all your contractors have read, understood and confirmed their compliance with the regulations and policies for managing COVID-19 on your site.
Workflows can even remove the need for some staff to be on-site, with all these processes able to be managed remotely through the Sine web dashboard. Ensuring only essential personnel are on-site.
It's really that simple!
Staff Time and Attendance
The post-COVID return to work brings with it a raft of time-consuming, but necessary, daily procedures required to protect your workplace.
With so many businesses struggling as a result of lockdowns, plummets in consumer demand and disruption to global supply chains, efficiencies need to be found wherever possible.
Sine can simplify your time and attendance management, with automatic, contactless sign-in for staff arriving on site. This is a great way to not only ensure your payroll is accurate, but also keep a comprehensive log of staff attendance for contact tracing, if the need arises.
The check-in process for employees can be as simple as you want. Sine makes available convenient technologies like geofenced site locations, opt-in facial recognition and QR codes. This allows your employees to sign-in quickly using the most convenient method for them.
Getting started is simpler than you think, book a demo now!