In the unfortunate event of an emergency, you want everybody on site to be accounted for and evacuated safely. This can be difficult if you are still using a paper-based visitor management system, where it can be hard to determine who is on site and how to contact them. Fortunately, by adopting Sine into your workplace, it can help you and your workplace be prepared in the event of an emergency. Read on to discover how Sine can help you evacuate the workplace safely and help prepare your visitors.
Require visitors to watch emergency evacuation videos or guides before check-in
When visitors check-in, you can require them to watch a short video or view critical information like evacuation routes and what to do in an emergency. Sine can help you share check-in forms or show contractors and visitors important information like maps on your Sine Point Pro app before they can check-in.
Not only can you ensure all your visitors, staff and contractors have seen the evacuation diagram, but check-in flows can even include digital signature fields. This is where everyone entering has confirmed they have read and understood the evacuation diagram they are shown.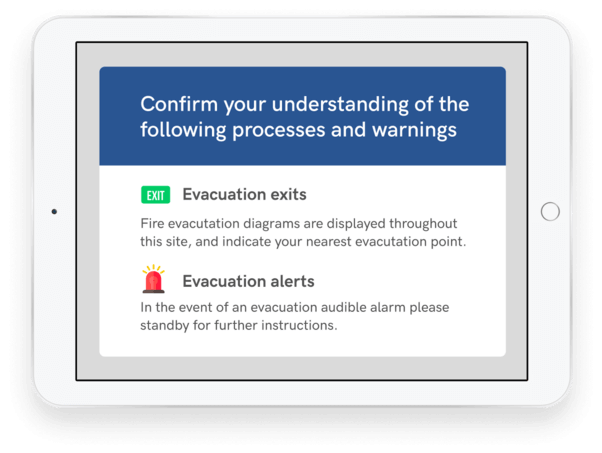 Activate your geofence
Sine's geofencing feature can help you recognise everybody on site. Geofencing is a virtual boundary that companies put in place to maintain control of their worksite. It uses technologies like GPS and IP addresses to build virtual boundaries around the desired location. Automatically check-in and out when you are on site with a pre-set geofence and receive notifications to remind your visitors to check-in or out. This is extremely advantageous during emergencies, as you it can help you pinpoint where everybody is on-site even if they forget to check out! Everybody in your geofence perimeter will also receive real-time alerts letting them know about the issue.
Real-time list of everyone on site
Sine's software has the built-in functionality to provide your workplace with an exhaustive evacuation list in the case of an emergency. You will have a real-time list of everybody onsite when you reach the assembly area. You can use Sine to help you account for everyone. If there is anyone unaccounted for, you can use Sine to help pinpoint their last known location alongside their contact information.
The live activity feed on the web dashboard can show you critical information such as who has checked in and out, search by visitor name, or site location. You can also print or email the list of active passes at your site.
Customize evacuation messages for swift, effective action
Use the SineWeb Dashboard, SinePoint Pro iPad, or the Sine Pro mobile app to instantly notify everybody that an emergency has occurred. Just like direct messaging, you can mark your communication as a Message, Warning, or Emergency. To send your message, just select your audience, the type of message, and enter the content of your message. Then, just click Send Message to send your communication when you are ready. If you have multiple sites, you can select which site you would like to display the message.
Examples of evacuation messages you can utilise in the event of an emergency:
Sine Point Pro iPad display:
Mobile notification:
Email: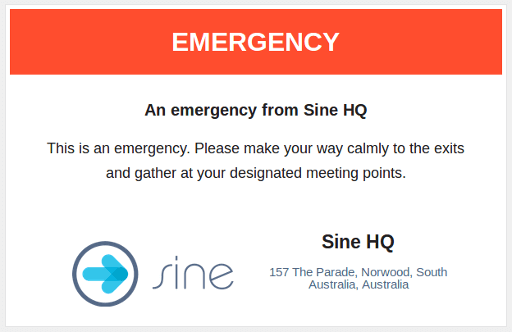 Incident reporting for actionable insights
Keep on top of your site and visitors through Sine's incident reporting. Help prevent further damages or hazards to your site by responding to incidents even if you are not there. Sine gives job site managers multiple ways to easily collect data for storage and reporting. As a result, gain an insight into the common hazards of your workplace, so they can be reduced or eliminated. Eliminating these hazards can also reduce the likelihood of emergencies occurring.
Sine can easily allow your visitors to answer exit checklists where they can file incident reports. The system also includes location-specific checklists and can even send out warnings and other alerts to those on-site. This feature lets them acknowledge they've returned the keys, select dropdown items, complete checklists, and view exit instructions related to your site. This reporting tool can be especially useful for remote sites where on-site contact may not be possible.
Give all arrivals the VIP treatment with Sine.
Find out how Sine can help improve your workplace
Other Sine features to enhance safety in your workplace
Sine has a range of other features that can help enhance safety and compliance in your workplace, even when there isn't an emergency:
Unlimited data usage: Your data will never be deleted, with no constraints on time or volume. Sine scales with your usage from one site to thousands of sites.
Host mobile app: Even if the power goes out, you can still utilise the Sine app to manage emergencies on your site. Access your activity feed from your mobile device.
Watchlists: Different types of watchlists can easily be flagged and identified by assigning visitors through a 'whitelist' or a 'blacklist'. A blacklist can be enabled to warn staff of a suspicious or unwanted visitor. Action can then be taken by denying entry or alerting security. A whitelist can be created to identify VIP guests who require the top level of service.
Access control: prevents people from breaking in, keeps track of valuables, and keep an eye on your workplace. Learn more about access control here.
Sine has your back when it comes to emergencies, no matter your industry or scale of operations. Be prepared for emergencies, disasters, and incidents, and book a free demo with our friendly team today!