Our current way of life is looking a lot different than it did in recent years. New safety and security measures needed to prevent the spread of germs have had a major influence on just about everyone.
Venues such as bars, clubs, pubs and live music locations are especially feeling the impact of these new requirements as they are forced to operate with reduced capacities and strict contact tracing requirements. How can they ensure they are meeting these requirements, while also hosting patrons on a level that meets their expectations?
It's impractical to have someone actively checking each and every person that visits a venue. To take their contact details on arrival and keep paper logs which require a lot of communal surfaces is an unrealistic expectation. Not to mention means that customer details are made available to anyone who takes a glance at openly visible paperwork.
This means that automating the process is the best solution.
Understanding Instant QR
Instant QR is the simplest answer for venues who need to keep their businesses running, while also keeping staff and visitors safe. The ability to scan QR codes can make all the difference in streamlining processes, especially for larger venues.
Venue visitors can use their smartphones to obtain QR codes. This provides a simple solution to checking visitors in and out of the venue without the need for any contact.
Instant QR also means that venues can accurately trace visitors which helps to fulfil contact tracing requirements. You can see who has visited the venue and for how long, which helps everyone to stay protected while you ensure a consistent flow of traffic through your venue.
Instant QR security benefits
While QR is something that has become a lot more common with providers, a lot of them come with security problems. QR codes are often static and open to the public which leaves them and the people who use them vulnerable to cybercriminals.
Instant QR is a feature which provides easy app-less QR check-in and contact tracing. QR code scanning is completed in a closed ecosystem so that it is not only secure but quick and convenient for visitors to use.
The system has been created to ensure the check-in process is secure, accurate and compliant with privacy laws. Users are better protected against cybercriminals and the risks that go along with exposure.
How Instant QR works for venues
Your venue is unique which means that the way it operates is unique as well! Sine's Instant QR is flexible to meet whatever your venue's needs may be.
Here is how it can work with your venue.
Patron arrival at the venue
When patrons arrive at your venue, they can conveniently create their QR by going to visit.sine.co using their smartphone.
They can then quickly create their QR code on the spot, ready for scanning.
Patron check-in
Using the contactless scanner on the iPad provided by the venue, patrons can scan their QR code in order to check-in. This process makes it easy for the venue to record all of the necessary information and keep it for their records.
They won't need to touch any surfaces other than their smartphone which helps to keep everyone safe.
Departure check-out
Using the same QR code and iPad scanner, patrons will check out with their smartphones. Once again remaining entirely contactless.
Sine contact tracing records
One of the best things about Sine is that it does the work for you when it comes to logging patron time in and time out. This information can be easily accessed through the Sine reporting dashboard should the need for contact tracing ever arise.
Both you and your guests will be left feeling confident that you have taken the proper steps to stay in line with requirements while providing the best services.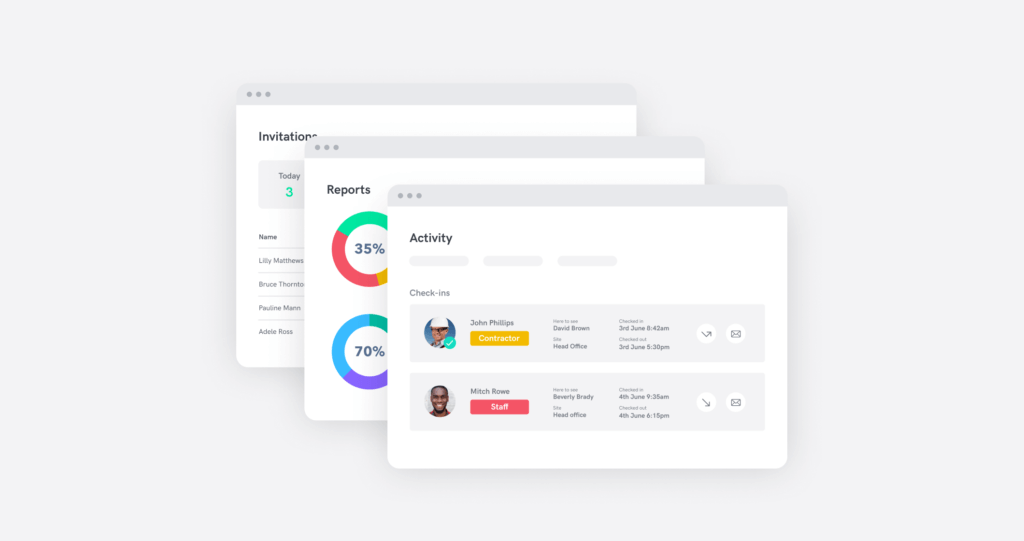 Put safety first with, Instant QR contact tracing
We feel your pain when it comes to the newly added pressures of safety and security in your venue. That is why Sine is offering a free trial on our Instant QR feature.
Book a demo today to get started and experience first-hand what Instant QR can do for you!