Many SaaS businesses will offer a free trial to help the user get familiar with the platform and decide whether it's the right fit for their needs – but users may find that they only have access to certain features or benefits during their trial period.
Sine offers a free 30-day trial with access to our robust feature suite which can seem a bit overwhelming if you don't know where to start. We've created a guide below to walk you through how to get started with Sine and how to get the most out of your 30 days. We think you'll be impressed with just how much you can pack in!
If you haven't started your free trial yet, you can get started here.
What is Sine?
Sine is a world-leading workplace solutions platform, that has been rolled out to 4,000+ companies around the world, including; Rolls Royce, Comcast, News Corp, Jim Beam, JLL, Vodafone, Qantas, eBay, Warner Bros, Goodman, and Commonwealth Bank.
Sine provides top-notch visitor, contractor, and staff management services that help companies find easier ways to streamline their workplaces with paperless, secure, and easy to use software.
Getting started with your free trial
Completing your profile and setting up your site is the first thing you should do when first starting your trial. Once done, you can start checking in people and using all the features that Sine has to help you streamline your workplace.
Step 1 – Set up your site
Once you have signed up for your free trial and you've entered the personal information that is needed, you'll be prompted to set up a site.
The site you enter will be the place you want to check your visitors, contractors, and staff into. This could be an office building, construction site or campus.
Simply enter the name of the site and the address, then click 'Start Using Sine'.
You'll then be directed to the Sine dashboard where you can finish setting up your account.
Step 2 – Download the Sine Pro mobile app
The Sine Pro mobile app allows visitors, contractors, staff, students, or any kind of visitor to check in to your site when they are nearby. We use geofencing to set up a virtual perimeter around your site that enables repeat visitors to easily check-in.
From a host's perspective, the Sine Pro mobile app makes site management easy when you're on the go or have unmanned sites. The Sine Pro mobile app gives you an overview of everyone who's on-site, who's left and enables you to approve or reject visitors requesting access.
You can download the Sine Pro mobile app here.
Step 3 – Set up your site
Once you've downloaded the mobile app, it's time to finish setting up your site so visitors can start checking in.
To do this, you need to click on the 'Sites' button in the left column menu.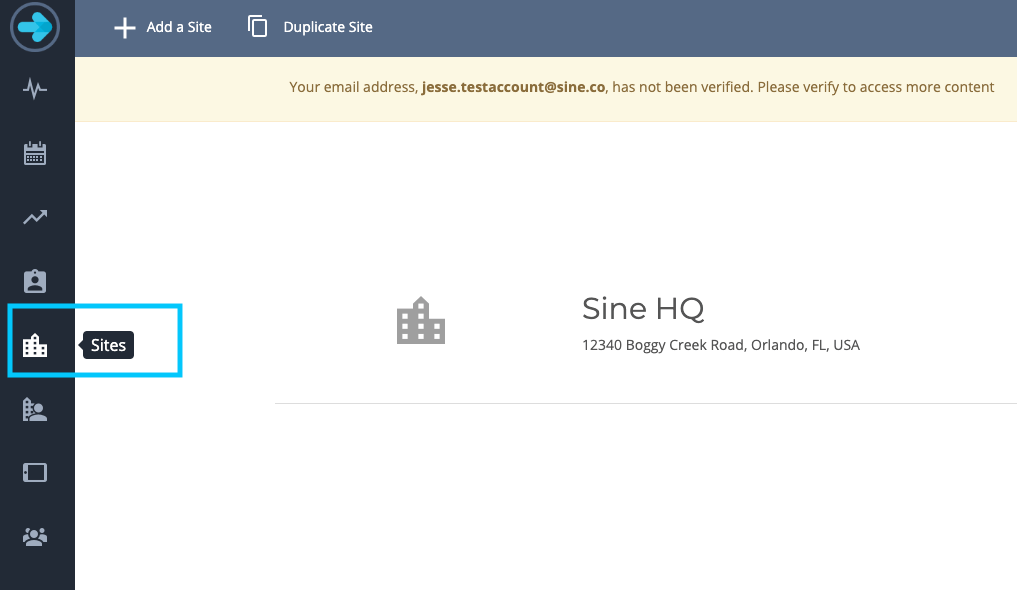 You'll see a list of all your sites and a settings button. Click this button.
Now, you can work through the tabs to set up your site to reflect what is needed for your companies needs.
Here's an overview of what each tab enables you to do:
General – Customise your site, visitor types, host settings, and branding
iPad – Customise your iPad look and feel and settings
Passes – Set an auto-expiry for passes, required visitor check-in and out information, and pass information
Check-in Forms -. Customise what information is needed for your site's check-in forms
Check-out Forms – Customise what information is needed for your site's check-out forms
Notifications – Set up which actions will trigger an in-app notification
Printing – Customise automatic badge printing based on visitor type and add custom text
Integrations – Set up the integrations that are required for your site
Step 4 – Invite your team
Next up, it's time to invite your team so they can start using the Sine platform.
Click on the 'Team' button in the left column menu and you will be directed to the team page. From here, you can see all the members on your team and what kind of access they have.
To add a new team member, input their email into the 'Collaborator's Email' bar, set their access level and click the 'Invite' button.
Step 5 – Set up your hosts
Once you've set up your team, you need to invite hosts (if any more are needed), you can do this by clicking the 'Hosts' button in the left column menu.
To start adding hosts, simply click 'Add Host' and fill in the required information.
Some useful tips for adding hosts:
If you have multiple sites, start by adding host groups for each site
Add your hosts to the groups depending on which site the host will be a part of
Remember to 'Enable Hosts' in your site settings. You can find this by clicking on Sites > General > Hosts
When hosts are enabled visitors will automatically be accepted and the host will be notified
Step 6 – Complete your profile
Now that you've set up your account, the last step is to set up your profile so visitors and staff will be able to easily identify you.
To edit your profile, click 'My Profile' under your name in the top right corner (click on your name first), then click on the 'pen' icon on your profile.
You'll then be able to edit your profile.
In the profile settings you can:
Upload your profile photo
Ensure your name and company name is correct
Update your email and add your mobile phone number
Add in your social media accounts
Once you have completed this, you have successfully completed your Sine account and site settings and are ready to start checking people in!
Getting the most out of your free trial
Your account is looking perfect and the only question left is how can you get the most out of your free 30-day trial with Sine?
To get the most out of your trial, you need to check-in your first visitor. To do this click on the arrow at the top of the dashboard on the right and a pop-up will show asking for key information about the person checking in.
Sending invites
Another key thing to do to get the most out of your trial is to invite people to your site. This could be for a meeting, an inspection or a contractor who will be working.
To do this, you can go to the 'Invite' tab in the right column, then click 'Create Invitation' at the top of the page. You'll be prompted to fill out key information about the person you're inviting to your site.
Fill out the information about the visitor, including the time they will be arriving and set a time for the pass to expire for auto check out and then click 'Create Invitation'.
Once you've completed that, you have created your first invite! The visitor of which the invite is for will receive an email and text to notify them of the invite.
30-days and beyond
You're now all set up for your 30-day trial and have even invited the first visitor to your site!
Sine is a world-leading visitor and contractor management platform and as you use it more, you'll see how much time it saves you and how much better it is than other platforms.
In addition to sending invites, Sine allows you to see site activity and reports from the 'Reports' tab, allows you to export all activity, get an overview of all sites (even the unmanned ones), send instant messages to everyone on-site, get required documents for check-in signed, and so much more!
If you want to know more or need some help, feel free to reach out to the Sine team to book a free demo today!