It's safe to say that we're all looking to accomplish the same thing in the workplace. Entering 2021, for many companies the goal is simple — return to the offices and facilities they once worked in each and every day.
While the vaccines being rolled out are certainly a good sign for accomplishing this goal, returning to the workplace still needs to be done safely with appropriate physical distancing.
So, what does physical distancing mean, why is it important, and what measures can businesses take to help facilitate a safe return to work? We have the answers!
What is physical distancing?
Physical distancing refers to maintaining a healthy distance of 1.5 metres from others wherever possible. This helps to decrease the spread of COVID-19. When you reduce proximity to other people, the risk of transmission is also reduced.
Physical greetings, including handshakes and hugging, should be avoided to help prevent the spread, and crowds/gatherings should be avoided whenever possible.
The ongoing importance of physical distancing
Physical distancing is an essential part of limiting the spread of COVID-19. When people are close to one another and interacting, the risk of transmission rapidly increases.
This includes those who do not show any symptoms of COVID-19 as they can still be carriers of it. While measures such as contact tracing, quarantine and isolation can reduce the risk of known carriers transmitting the virus, one of the greatest challenges of combating COVID-19 has come from asymptomatic cases who are unknowingly transmitting the virus. This is why physical distancing is such an important preventative measure, as it reduces the risk of transmission by asymptomatic carriers of the virus through reduced proximity and interaction with others.
Instead, we all must contribute to limiting the spread as much as possible with physical distancing. As we attempt to return to more normal ways of doing things, proper physical distancing can be difficult – especially in the workplace.
Tips to help facilitate physical distancing in the workplace
We've put together these tips to help facilitate physical distancing in the workplace. As you being your return to work process, these will help you guide a safe transition for every stakeholder.
Put thought behind your approach
The first step is to plan your approach. Think about who needs to come back into the office and consider implementing a flexible hybrid approach to start.
This could mean some employees will continue to work from home while others will start to come into the office. A hybrid approach can help stay in line with capacity restrictions and keep the density of the workplace down.
Place desks strategically
If your employees work in a coworking type of structure, you will likely need to make some adjustments. Ensure there is enough space in between each desk to facilitate proper physical distancing in the workplace and avoid having desks face each other.
The more you can limit the possibility of infection spreading, the easier it will be for employees to follow guidelines.
Implement touchless sign-in for employees
If your staff are required to clock in or sign-in once they have arrived at work, consider introducing a touchless sign-in system. This will help limit the need for employees to touch the same surface and risk the spread of germs.
The Sine Pro mobile app is the perfect solution for employees to go touchless. Employees can use their smartphones to sign-in and out rather than use a shared pen and paper or iPad.
Implement contactless check-in for visitors
Visitors may also come and go from your facility, which means a contactless check-in solution is essential. The Sine Pro mobile app is also accessible for contractors and visitors.
You can easily track time and attendance and minimise the need for further contact with administrators.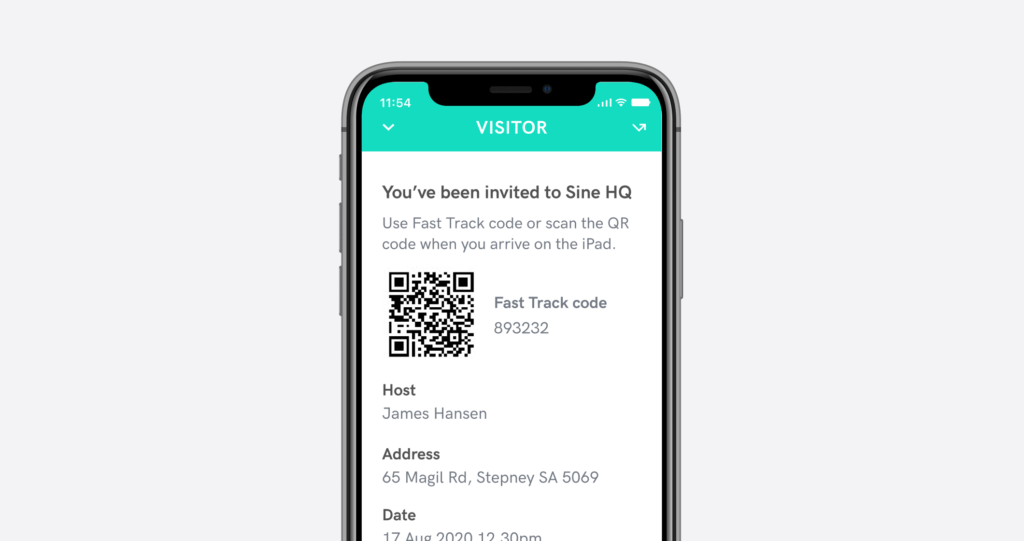 Consider access control systems
Our last tip for helping facilitate physical distancing in the workplace is to consider using access control systems. These systems help to enable touchless operation when it comes to things like opening doors or turning on sink water.
Not only do these systems help with going contactless, but they can also make a big difference when it comes to security and who can access what within the workplace. Only those who are authorized have access to certain areas and information.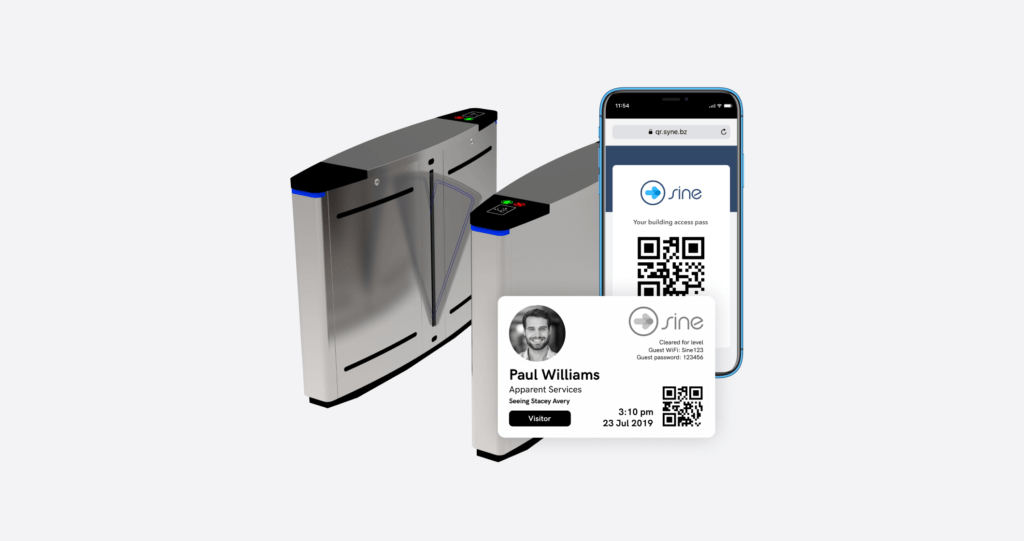 Practising physical distancing in the workplace
These tips are sure to help you when it comes to returning to work safely. The key is making physical distancing processes as easy as possible for employees and visitors to follow.
Determine who needs to be in the office, ensure desks have adequate space, provide contactless check-in, and consider where touchless control systems can be implemented.
Simplify physical distancing in your workplace and book Sine demo today!