As restrictions begin to ease and the vaccine rollout kicks into gear globally, more companies and organisations are finding themselves preparing to bring workers back into the workplace. This process, however, will not be as simple as just turning up to the office one day. The ongoing and evolving situation requires careful planning.
For many organisations, this transition period between remote employees and returning to the workplace may even become the standard operating model as they continue into the future.
Here at Sine, we have been busy. Working to introduce more new features that will help you not only power a safer return to the workplace but also drive productivity and collaboration.
Tackling the challenges of returning to the workplace
While vaccines are beginning to open the door for employees to return to the office, the staggered rollout means employers must be cautious and methodical in their approach to bringing employees back.
There are a variety of circumstances to consider when developing return to work policies and plans. From understanding who is vaccinated or who may still post transmission risks, to ensuring there are arrangements in place for those who may be immunocompromised. The goal for organisations is to offer an environment that will help keep their employees healthy and safe.
Without the appropriate platforms in place, the return to work may be fraught with potential hazards. These hazards can include the lack of appropriate pre-arrival screening, an inability to provide contactless check-in options for those arriving on-site as well as the absence of density monitoring and contact tracing capabilities.
The Sine solution for a hybrid workplace
In many countries, restrictions still do not allow for organisations to bring 100% of their employees back to the workplace. While others are continuing to offer remote work for employees. With many employees benefitting from the conveniences found in remote work arrangements. These benefits, such as removing both the time and costs of commuting to the office, have left the majority of workers wanting to retain work from home benefits—at least part of the time.
To facilitate the hybrid workplace model, it is essential to have the appropriate tech stack in place. This will enable you to
Pre-arrival screening
The pre-arrival screening is the best way to begin your return to work plan. With a screening workflow you can identify critical health information that will inform where your employees should be based. Through this process you can identify who is safe to return to the office, and who should remain working remotely.
With Workflows, you can send screening questions to all your staff and track their responses in the live dashboard. With the ability to approve and reject access requests. These workflows are cross-checked by Sine upon check-in, ensuring only those who are approved responses can check in.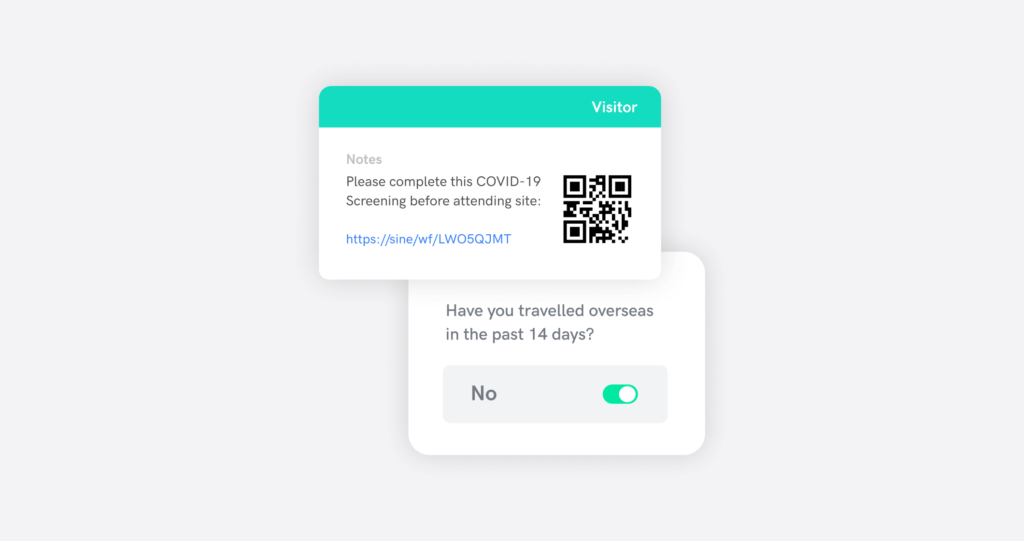 Contactless check-in
Even as vaccines roll out, it is still crucial to maintain preventative measures to reduce the risk of transmission. These can include the wearing of masks, frequent hand washing and sanitizing of spaces, as well as physical distancing.
One of the most effective ways to reduce transmission is to remove the need for people to touch communal surfaces or items within the office. With contactless check-in through the Sine Pro app, you can effectively manage check-in for contact tracing and time in attendance.
Then, Sine Pro will check for an approved workflow before allowing users to complete their check-in. You can also incorporate additional daily check-in forms for further screening. With the ability to flag check-in requests for approval if their answers to the form raise questions about a user potentially posing a transmission risk.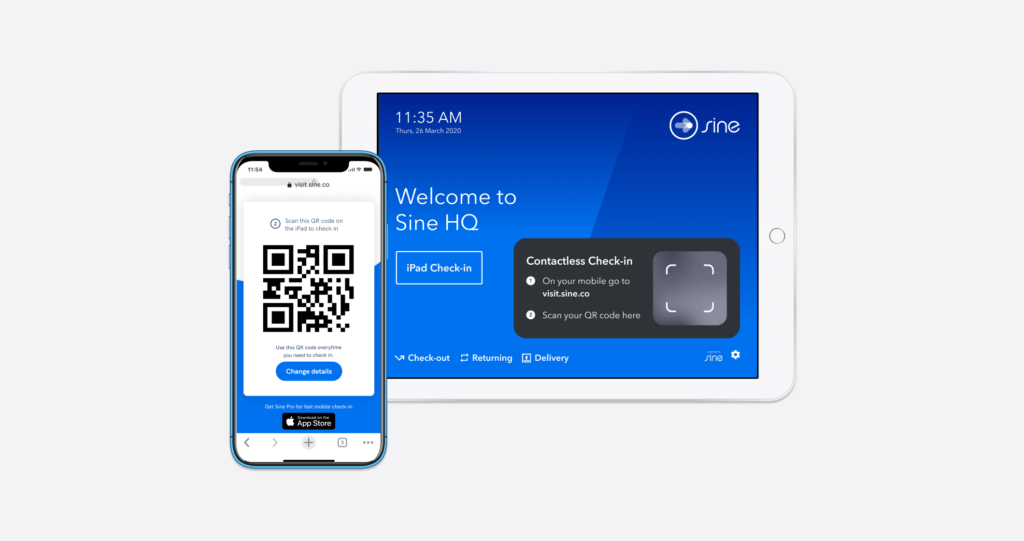 Monitor density from the dashboard
The web dashboard allows to view activity across one or multiple sites, in real-time. See everyone who is currently checked-in or scheduled to arrive soon. From here, you can monitor the density of your sites. This helps to aid compliance with any organisation or government policies for capacity at your site.
Contact tracing identified cases
With a full record of movements in and out of your site, contact tracing is quick and easy. Capturing both the entry and exit times gives you the most complete record. In turn, helping you to more accurately identify those who may have come into contact with a suspected case.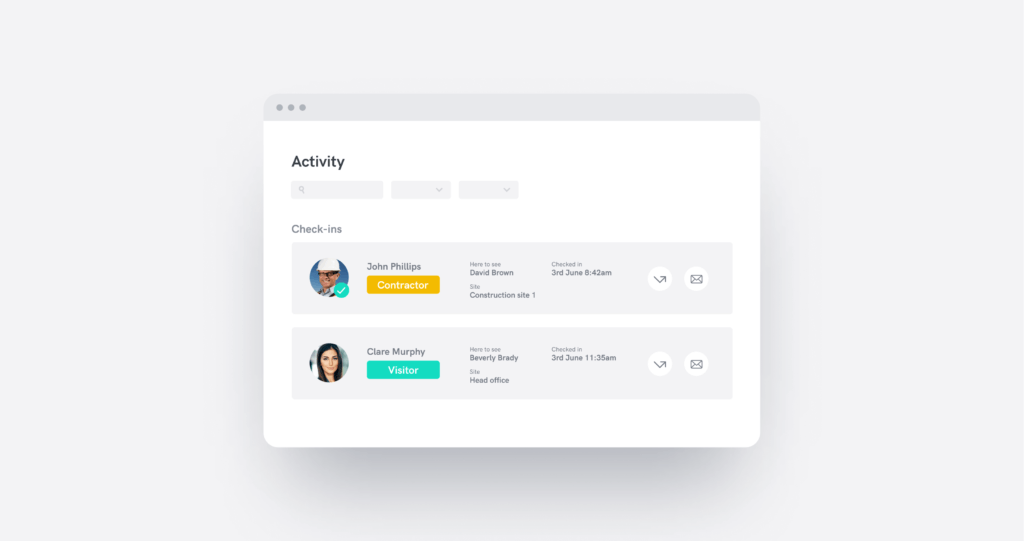 Check-in for remote employees
While many of your employees may be back in the office, it is still important to be across the status of your remote employees. This is where work from home check-in comes in.
With Sine Pro, you can set up a remote work from home check-in utilising QR codes. This helps you to maintain visibility over your remote workforce.
The return to workplace journey is just beginning
The path back to the workplace is a long one, and this is only the beginning of the Sine + Honeywell journey. Our team are continuing to partner with our clients to tackle the challenges of facilitating a healthier and safer return to the workplace.
Book a demo with our team today. See how Sine can partner with your organisation to drive a healthier and safer return to the workplace.