As Australia settles into the new "normal", the universal mindset has shifted from reaching 'Covid zero' to simply 'living with Covid'. In lieu of case numbers, vaccination status and hospitalizations are becoming more reliable indicators of the severity of the virus and levels of immunity in the community. As we evolve into the new 'normal', this also entails schools returning to permanent face-to-face learning.
Covid laws may vary across states in terms of isolation and testing requirements for students and teachers. Each state has one thing in common, however, which is that face-to-face learning has priority and online learning will only be used as a 'last resort'. Additionally, the following states have vaccination mandates for teachers and education staff of all levels:
Adhering to every Covid-19 laws can sometimes be overwhelming and confusing for businesses, especially when there are different return to school plans in every state. Furthermore, ensuring that your staff and visitors comply with relevant Covid regulations can be demanding and time-consuming, with opportunities for people to fall through the cracks and work in high-risk settings. Fortunately, by implementing a visitor management system such as Sine, it can help streamline and digitize your workplace through one system!
Read on to discover how Sine can help power a safer return to school and help create a covid safe environment.
Assist with contact tracing for staff, contractors, and visitors
Contact tracing is a method to identify, monitor, and follow up with any individual affected by the virus, or who has been in close contact with someone with the virus. Through the Sine Web Dashboard, quickly contact trace any suspected cases with full visibility and automated logging of all movements through your site. The live Sine Web Dashboard can help captures individuals' exact entry and exit times, helping you accurately identify who may have come into contact with a suspected case. Go paperless with your visitor and staff management, helping to provide a more accurate representation of who is on your site, or has been, in real-time, which can help reduce the risk of human error.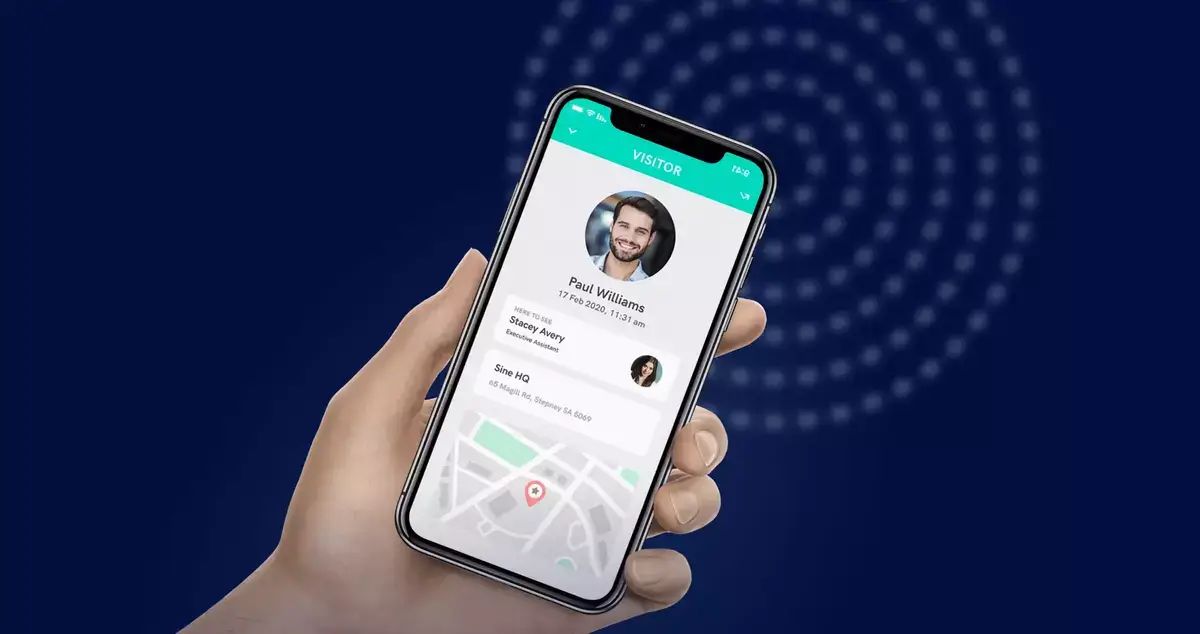 Contactless check-in for relief/temp staff
In the event that teachers or educators test positive, Australia plans to fill these staff shortages with relief teachers, final year university students, or previous teachers coming out of retirement. As a result, schools may see a ramp-up in visitors and sign-ins to their site. Sine offers a variety of touchless check-in solutions, that can help keep you and your visitor safe, and assist them to get straight to work without any admin delays:
Check-in guests manually through Sine Web Dashboard
Instant QR: Ideal for unexpected visitors, where they generate their QR code used to check-in and out using the QR code reader.
Fast Track QR: Pre-fill the details of your visitor, an automatic email is then sent with a 6-digit code and QR code that they can scan or enter upon check-in.
Using personal mobile device through Sine Pro app (visitors can select their location, or geofence your site for returning visitors)
Using Sine Point Pro iPad app
Touchless visitor badges
Sine visitor badges are a quick and easy way than can help identify visitors and confirm that they are supposed to be on site. A typical visitor badge includes essential information that enables you to identify the visitor, who they are here to see, and where they are from. Such as visitor photo, visitor name, visitor company, host name, visitor type, host company name and logo, and check-in date and time. Touchless visitor badges are distributed by Sine in two ways:
Sine can make it simple for visitors to check themselves in and provide information for their visitor badge, which is printed instantly.
Digital visitor badge: Sine Pro allows visitors to check in through their mobile device, generating a digital visitor badge on their phone. This can then be shown throughout the site if they are asked to verify their visitor status and if they have checked in. This can be a great covid safe alternative from traditional visitor badges, as it may lessen the need for crowding in the reception area and slows the spread of germs through commonly touched surfaces. It may also take the burden out of having to disinfect shared surfaces after every use, so you can get back to work!
Creative Sine guidance posters for your reception area
Sine offers a variety of easy-to-follow and straightforward covid guidance posters. Free of charge, welcome your guests in a covid safe environment from the moment they walk in. Helping you ensure your school stays compliant with Covid regulations by enabling guests to identify what safety measures are required on-site and if they are well enough to enter. You can download the Sine protection pack here.
Take your visitor management a step further with Workflows
Vaccination tracker + Covid-19 pre-screening
Sine workflows are a powerful tool to pre-screen and gain essential Covid-19 vaccine information. This includes collecting and uploading immunization documents from your employees, visitors, and/or contractors before they check in. You can put a person's access request in a 'pending' state and approve or reject them on a case-by-case basis, or automatically by vaccination status. By setting up your 'Vaccine Passport' screening workflow, you ensure that all your staff and visitors are adhering to relevant vaccine mandates by providing valid documentation of their immunization. Sine will automatically flag those who have not complied with this and block entry if needed.
If you have set up a Covid-19 pre-screening workflow, you can embed it within an invite and require everyone who is visiting your site to complete it before checking in. You can even attach Sine's guidance sheets to the passes of your site!
Interested in learning how Sine can safeguard your school? Book a free demo with our friendly sales team today!