The most robust and effective processes will fail if they are not practical to execute. This is why for contact tracing to be effective, we must ensure we have simple contact tracing procedures in place.
Reopening public places and allowing tourism has become an exercise in logistics and timing management. As global economies continue to fight the ravages of the pandemic, they have no choice but to find a way around the risk of virus transmission and, eventually, lockdowns in areas and cities.
It is also imperative to think about the preventive measures for workplaces to curb the spread of the virus and protect their facilities.
Businesses are likely to face new challenges as they adapt the way they operate. This also means new regulations that revolve around stringent measures for workplaces to facilitate contactless solutions to ensure the workplace's safety.
In these circumstances, businesses must adopt effective touchless systems for contact tracing to protect their employees, families, and the community at large.
Contact tracing with Sine
Simply put, contact tracing is the process of tracking who has been in your building and at what times. This makes it easier for you to identify anyone who has come in contact with a COVID-19 patient.
However, without digital tools, it can be a very complicated and time-consuming manual process.
Sine offers a powerful contact tracing platform integrated into your existing systems and workplace management processes.
This feature-rich automated contact tracing solution leverages systems that rely on QR codes and GPS location tracking to deliver information about your staff's whereabouts. It also lets you trace everyone inside your office premises, whether employees or guests.
This way, you can instantly contact-trace suspicious cases and log all movements in and out for your specific location for full visibility over your workplace activities.
Furthermore, Sine easily lets you combine the real-time data and gives you the ability to pull reports of site movements over any period or about any individual interest to your organization. This, in turn, streamlines the entire process of contact tracing and provides you with valuable insights.
How can you manage contact tracing check-ins with Sine?
Sine offers comprehensive contactless solutions for scrutinizing and managing invited staff, contractors, and visitors and lets them leverage smart check-ins to the workplace.
It develops and provides safe, accurate, secure, and simple solutions that enable you to deploy touchless check-in for all visitors' on-premises, including unexpected visitors or walk-ins.
Here is how you can effortlessly manage contact tracing check-ins with Sine.
Instant QR
Sine's Instant QR is a contactless check-in solution that effectively protects your workplace. Especially when it isn't practical to prevent visitors.
Instant QR mitigates the risk of alterations or any malicious activities by enabling the visitors to generate the unique QR code that they need to scan in order to check in to the site.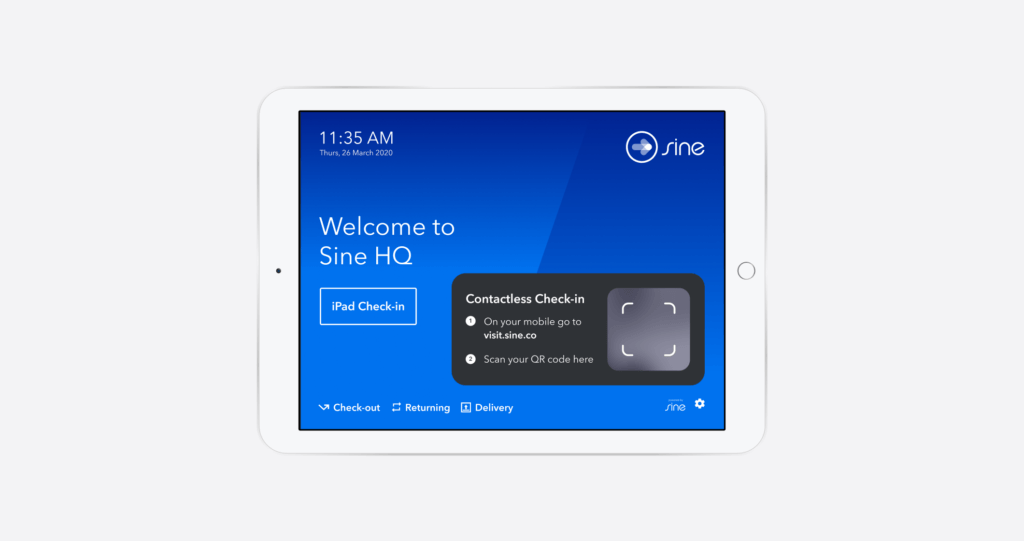 Furthermore, your Sine system only scans for the QR codes that are intended for use. This means any alternative QR codes will not get accepted by the system.
With Instant QR, you can ensure the safety and well-being of your employees and visitors alike. Sine allows you to leverage a touchless check-in solution for every person who visits your site seamlessly.
Fast Track QR
Fast track QR provides contactless check-in for invited visitors with QR codes. This enables visitors to sign in when they arrive on site. Fast Track QR coupled with Sine Workflows also allow you to prescreen your visitors with COVID related questionnaires.
While it sounds pretty basic, Fast Track QR codes help you manage your workplace safety and safeguard your staff and visitors more efficiently. With Fast Track QR you have an additional layer of protection and security through features like prescreening.
This, ultimately, enables you to effectively protect your workplace on the whole while ensuring instant access to extensive contact tracing data if the need arises.
Sine Pro mobile app
The Sine Pro mobile app allows you to quickly deploy contactless contact tracing, which enables your visitors to log in and out via the mobile app.
Visitors can select their location from a list of nearby sites provided in the app. They can then answer the check inn questions through the same app to pitch in the relevant details while remaining contactless.
Furthermore, Sine Pro mobile app also lets you facilitate the returning visitors or contractors/staff through geofencing, which sets up virtual boundaries around your facility.
That way, the returning individuals are automatically checked to the location when they enter that geofence, allowing you to streamline the process of logging visitors' movements.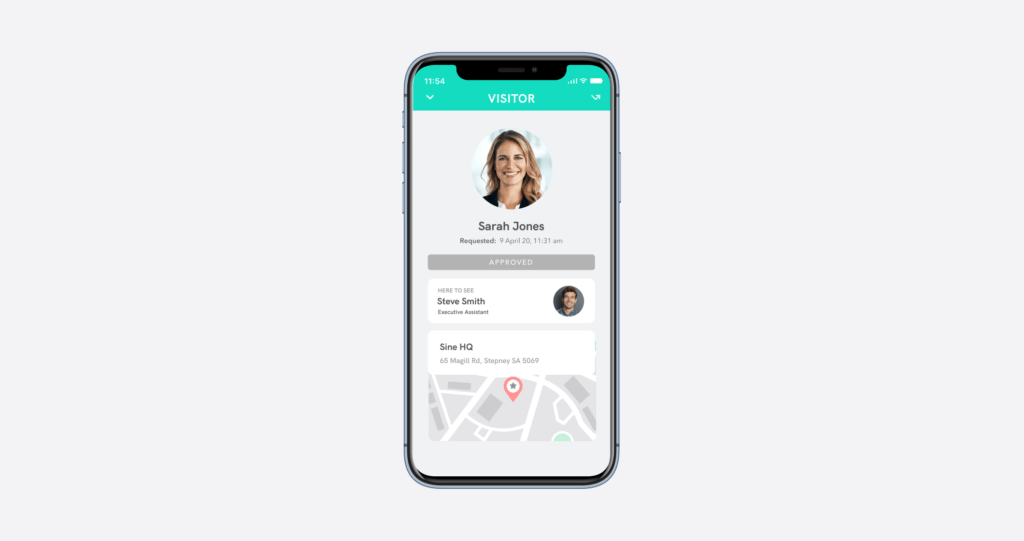 Additionally, this system is an excellent option for businesses that minimize and, in most cases, eliminates the need to use hardware such as kiosks for check-in. You can easily replace these hardware solutions with contactless solutions that are now readily available on visitors' mobile devices and successfully implement them.
With Sine Pro mobile app, you can check your staff members' current location at any given time. This information is subsequently accessible via the web dashboard.
Make safety and well-being on-site a priority with Sine's powerful contact tracing software solely built to enhance your workplace security. Book a demo today!