Construction sites might seem chaotic from the outside, but when things are going well, everyone knows where they're supposed to be and what's expected of them. In fact, if there's any disorganization on the site, it can be dangerous and costly. The most recent information from OSHA reveals that about 20% (1,061) of worker fatalities in private industry in 2019 were in construction. And as of 2018, in Australia, the construction services sub-sector accounted for 63.7% of serious claims and 62% of worker fatalities. This is an industry where safety is paramount and trust-building is key.
How people feel when they come to work is in part determined by how organized and efficient the workplace is. If everyone is stressed, confused, frustrated, and overbooked, you can bet that it's going to affect worker morale and, eventually, the growth of your team. In a Deloitte survey, more than half the executives (58%) said they believe their current performance management approach failed to diver either employee engagement or high performance, so this is clearly an issue in many industries
But you may be wondering why you should invest in workforce management software to keep your construction team on track. Here are a few of the most important reasons:
1. Software tools help keep your team on track
Job sites are often too complex to keep track of on a whiteboard or notepad. Not only that, but it's hard for people to see long-term plans, daily changes, and other important information if there's no centralized repository they can count on.
Labor scheduling and worker communication require electronic tools, and compliance guidelines also require managers to keep track of certifications and safety trainings. By using a Workforce Management System like Honeywell Sine, not only can you store your data in one place, but you can control who has access to it and generate reports that allow you to do forecasting, financial analyses, and track other operational efficiency measures.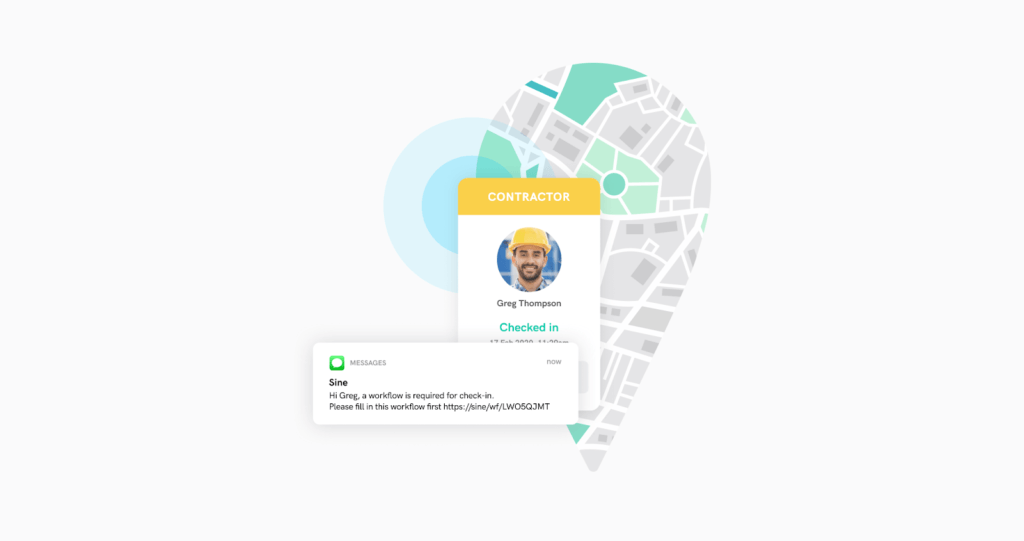 2. Construction management tools help ensure worksite safety
Do you know who is on your worksite at any given time?
If you're still using a paper check-in system or even a spreadsheet, you may be opening yourself up to not only accidents and liability. Research from the University of Hawaii suggests that 88% of spreadsheets contain errors and that many can be dire since no one will notice mistakes until it's too late.
Lax spreadsheet management and other operational inefficiencies can cause interruptions in the workday and make it hard to communicate with staff, build trust, even affect your ability to manage productivity and decision making.
By implementing an effective digital workforce management solution, you can keep things on your site in order. Key features of construction management software include tracking visitors and their compliance with your site regulations, printing IDs that grant access to only certain areas, monitoring the locations of visitors in case of an evacuation, helping to reinforce safety rules and managing site-specific inductions, and even storing permits, inspections, and other information.
3. Workforce management systems help construction companies future-proof their workforce
The COVID-19 pandemic upended everyone's worksite management plans, especially when it came to social distancing. Furthermore, employees who could work from home continued to do so even after workplaces opened back up. Even in the construction sector, companies are moving to distributed workforce models for some parts of the project.
Now that team collaboration is more important than ever and your entire team is likely spread out over a distance, it's more important than ever to utilize a digital platform to keep crews and other subcontractors informed, safe, and connected with one another for optimal efficiency.
4. Construction workforce management software helps improve accountability
When information is centralized, anyone with permission to view the information can access it at any time. This helps when there's confusion, disagreement, or questions on site or when a project manager is working off site.
Your workforce management software can also help with employee scheduling, tracking sick days, and ensuring contractors comply with federal and state health protocols. This helps everyone know what's expected of them and see when a problem needs to be addressed so there are no surprises.
5. Workplace safety, accountability, and transparency help company morale
When managers and companies are organized, goal-oriented, and clear on what they expect, it makes it much easier for workers to do their jobs. There's no worrying about whether someone else is being held to different standards or second-guessing whether safety is a priority on site.
And when partners, vendors, customers, and contractors visit your site, seeing that there's a method in place to regulate and track people flow, they're more likely to comply and put their trust in you.
Finally, as a manager, your job gets easier since you can see and change schedules, manage worksites, and track assets and documents in real time. Your Workforce Management System can allow you to easily communicate with stakeholders and vendors, produce compliance reports, inspect your facilities, and give you the peace of mind that you're doing the most to improve company output and morale. That's what allows teams to grow and earn more business.
Get started with Sine
Having an effective workforce management system like Sine allows you to improve your efficiency and manage your site (and therefore your budget) by letting you customize the tools you want to use so you're always solving real issues that matter to you instead of creating extra work.
It also gives you a birds-eye view of your worksites and lets you see patterns and produce reports that give you new insight into how to operate with efficiency, keep visitors and contractors secure and compliant, and give your crew the information they need to stay safe and satisfied on the job.
Ready to get started? Schedule a free demo with one of our experts!