If you had the option in your hands to improve your engagement, prequalification, managing and tracking processes for your contractor workforce, wouldn't you? Contractor management software is the revolutionary software that can make all the difference to your workflows and processes in the workplace.
For many industries, like construction, contractors have long been a staple. However, for many more industries hiring independent contractors is becoming increasingly popular as companies are looking to hire for specific skills and experience. Not to mention, offer new opportunities to upscale quickly, avoid needing too many employees to complete a specific project, and avoid having to hire on an employee full time.
This makes a contractor management system a valuable tool for enhancing the use of your contractors and contractor teams.
What is contractor management?
Simply put, contractor management is the system of controls a company can put in place for the selection, management and analysis of outsourced employees, as well as the work they do for a specific company.
Furthermore, great contractor management will work to maximize the capabilities of a company's contractors and take each of the important steps to achieve this.
While the concept of contractor management may seem like a simple task, it can actually be quite a time consuming and complicated process. Different industries require different numbers of workers across worksites, which can lead to a lot of complications in organization and efficiency.
In today's digitized world, there are some great options for making contractor management easier and more efficient.
What is contractor management software?
Contractor management software makes the contractor management process streamlined and efficient. It gives project managers and site managers valuable insights and allows them to easily assign specific tasks to their contractors and subcontractors.
Contractor management systems will often give you valuable data and direct lines of communication. You can ensure that your company is compliant as you easily make records of workflows and information.
A good contractor management system will be able to help ensure that contractors complete their given tasks as efficiently and effectively as possible.
Why is contractor management important?
Now, why exactly is contractor management important? Isn't it easy enough to tell contractors what to do and expect that they get it done?
Firstly, health and safety are often top of mind for companies, and this holds especially true for their contract workers. By integrating health and safety requirements into a contractor management system, you can ensure that contractors are aware of what they need to do to align with safety systems and that they are doing what they can to help prevent incidents.
They can view documents and sign off on them through a qualified contractor management system.
Contractors can also gain easy access to essential documentation, without needing to stop by a headquarters or office to do so. This documentation includes induction information and other HSE information that can be shared with all contractors. The ability to sign-in or fill out permits before a task is also possible with a management system.
Contractor management is also essential to tracking contractor hours. You can see who has worked and for how long in order to make informed decisions on whether to increase or decrease working hours for contracts. This helps both the contractor and the business involved.
You should also be able to see contractor locations to help determine who is or isn't at work, and who has visited the worksite late. This helps in knowing who is on time and if any hours should be changed.
A contractor management system will often utilize geofencing to collect this information.
Lastly, contractor management is important as it provides quick and easy ways to get in touch with contractors both on and off-site. Keeping all contractors and staff in the loop about their daily workflows through their work devices is essential to clear communication and teamwork.
Sine's contractor management system
Now that you understand what a contractor management system is and why it's important, it's time to explore your options!
You want your management system to be easy to use, but also be able to provide a wide range of capabilities. Sine provides a contractor management system that includes all of the integral features you're looking for!
Sign-in and geofencing capabilities
When your contractors arrive on-site, they are automatically signed-in through Sine's geofencing capabilities. This automated process also provides any essential documentation or task information related to their work for the day.
No need to sign-in with a specific individual on-site, or record their timesheets themselves.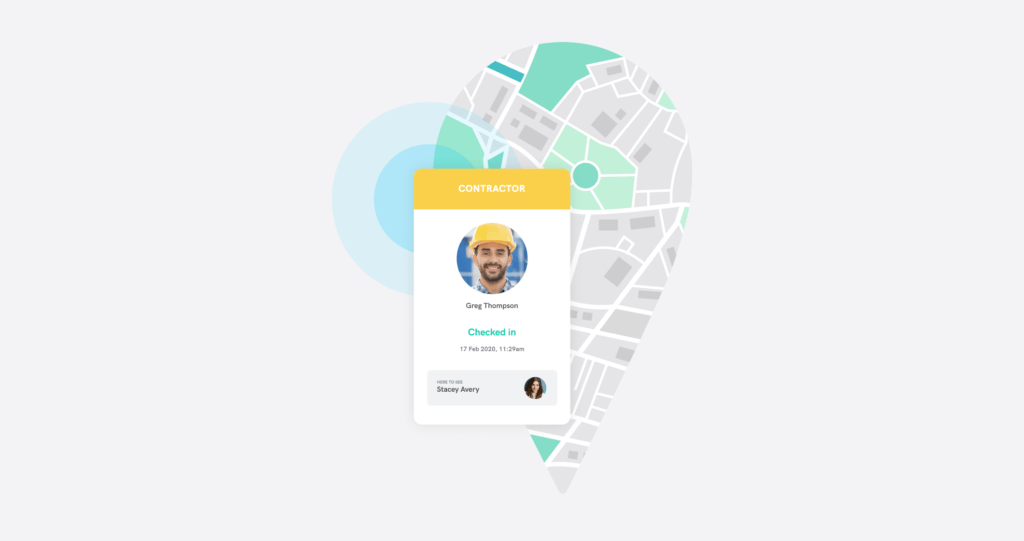 Real-time tracking and time management control
Wondering what your contractors are up to while they're on-site? With Sine, you can track their activities in real-time and don't need to wait for the submission of timesheets at the end of the day, week or month.
Sine allows you to know who is where during working hours.
Digital inductions and work permits
Sine's intuitive work permit and digital induction features allow managers to seamlessly provide all of the documentation that their contractors need. Keep specific team members from starting the job until they have looked at the proper induction materials. This will help to keep them safe and reduce the risk of injury on site.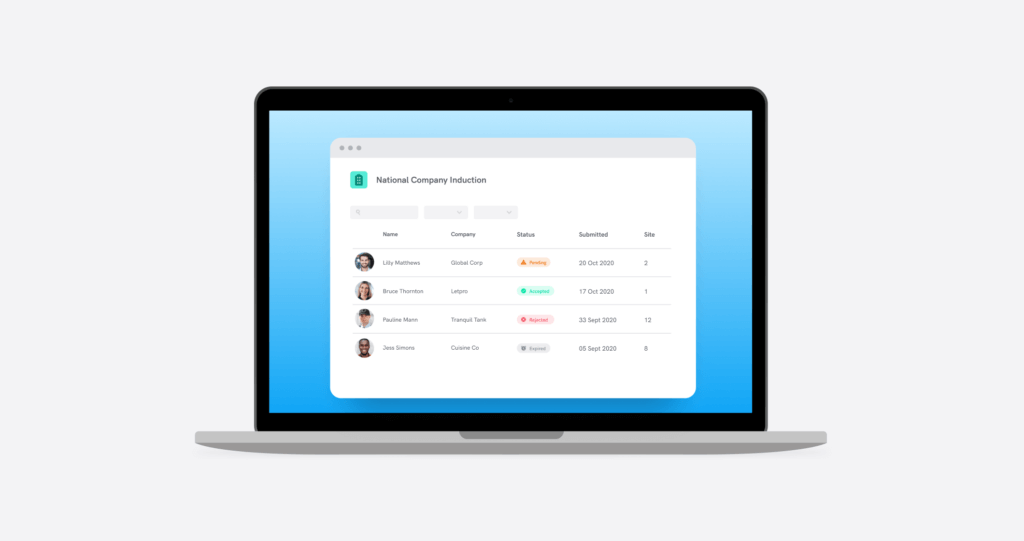 Live messaging support
Allow contractors to quickly check their messages for the day and stay up to date on project changes. Emergency information can be easily delivered as well.
Reporting and dashboard support
At the end of the day, managers want to be able to see insights and data on contractor management. Sine provides a glanceable interface that helps you to stay efficient with your time. No confusing data, and no wasted time.
You will get the most out of Sine when you can take your easy to understand data and use it to make informed decisions on contractor changes as needed.
Get Started with Sine
With the power of Sine, you will have the perfect contractor management system for all your needs right at your fingertips.
Sine allows you to keep track of contractors from an easy-to-use dashboard and can keep your contractors and workforce compliant at all times.
Complete real-time tracking of inductions, work permits, access request, or any workflow to keep your site safe and secure.
Ready to get started? Book your Sine demo today!