In an emergency, our first instinct is to either hole-up inside or evacuate the building. Earthquakes, tornadoes, hurricanes, flooding, and fire mandate leaving immediately, but in an orderly fashion.
This makes it imperative to have a clearly-defined evacuation plan to prevent panic and ensure that everyone gets out safe.
Of course, for that, you'll need to consider some important factors such as the number of employees, workers with disabilities, fire department accessibility, and so much more.
In this post, you will learn all about creating a good evacuation plan, key elements of the plan, and the things you require to make a well-designed evacuation diagram.
What is an emergency evacuation plan?
It is a clear and concise plan of what your company and your employees are supposed to do in the case of an emergency. They include details of all the escape routes, the expected evacuation time, and established regulations that need to be followed in the wake of an unforeseen crisis.
You should also include detailed evacuation maps and a training plan for all the employees to ensure that they can play an effective role during an emergency evacuation.
An evacuation plan is communicated through an emergency evacuation diagram that provides information on how to evacuate the workplace and the location of emergency equipment.
The key elements of a well-defined evacuation plan
Evacuation diagrams usually don't have a fire or building code that details how to build them. That's why you should have your own set of policies that dictate requirements for these diagrams.
We suggest including the following:
Specify the emergency conditions
To determine the need for an emergency evacuation, you need to assess the condition and if it requires you to evacuate. You need to specify the exact conditions that prompt an evacuation for all employees and staff.
Establish a clear chain of command
Determine who is responsible for deciding whether an evacuation is necessary for a particular emergency. Specify the person in charge of each floor if you work in a high-rise building and the person responsible for notifying the emergency services.
Ensure that all the employees understand their responsibilities clearly and receive the proper training to execute them.
Specify the evacuation procedures
Make a clear map and mark all the locations that store emergency equipment, escape routes, and possible exits. If the building has many stairwells or windows, paint arrows towards the exits with photo-luminescent paint that makes them easily visible in the dark.
Account for all employees and visitors
Invest in employee and visitor management solutions to keep a complete headcount of everyone in the building, so they can be safely removed in case of an emergency evacuation.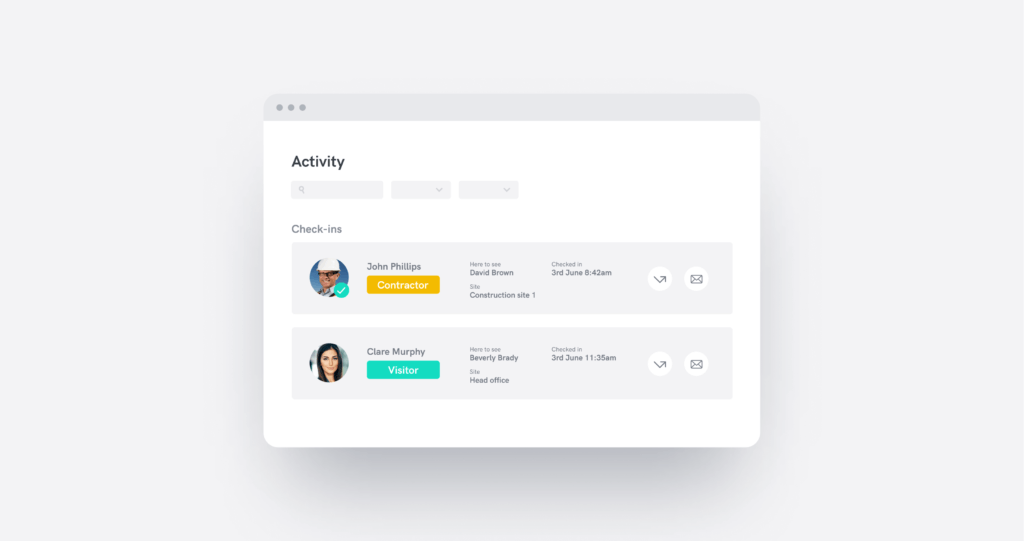 Clear emergency evacuation diagram
An emergency evacuation diagram holds complete information on the evacuation procedures and the location of emergency equipment. Also, it notifies the safest escape routes in case of an emergency in the facility.
Regulatory requirements of an emergency evacuation diagram
Evacuation diagrams should be made in accordance with Australian Standard requirement AS 3745-2010. Failure to adhere to these requirements can land you in penalties ranging up to 30 penalty units.
The following are the key regulatory requirements for evacuation diagrams to adhere to the Australian Standard 3745-2010.
Location
The location of an emergency evacuation diagram is to be determined by the Emergency Planning Committee and the number of diagrams that are to be placed.
Moreover, they should be displayed in a place where your employees and visitors can view them easily.
Position
In accordance with Australian Standard 3745-2010, the diagram needs to be positioned at the height of not less than 1200 mm and not more than 1600 mm above the floor.
Orientation
The evacuation diagrams must be placed in the right orientation concerning the location where they are installed. For example, an assembly area diagram should have a "YOU ARE HERE" point in the assembly area.
Size
The Standard specifies that an evacuation diagram's minimum size is A4 representing the area or floor of at least 200mm x 150mm or an area of at least 30 000mm2.
Minimum elements
The Australian Standard 3745-2010 mandates that the following elements must also be included in the diagram:
Designated exits
Firefighting equipment
'YOU ARE HERE' signage
Optional elements
It also specifies the optional elements that are not rendered as a mandatory requirement, decided by the Emergency Planning Committee. This includes information such as the location of emergency equipment or other specifications.
Effective distribution of your evacuation diagram
An evacuation diagram is only effective if occupants are aware of its contents. Consider ways you can ensure all occupants have sighted and understood your evacuation procedure and diagram. One of the best ways to achieve this is by incorporating the evacuation diagram within your check-in process. This is where Sine can help!
With Sine, not only can you ensure all your visitors, staff and contractors have seen the evacuation diagram, but check-in flows can even include signature fields where you can confirm everyone entering has read and understood the evacuation diagram they are shown.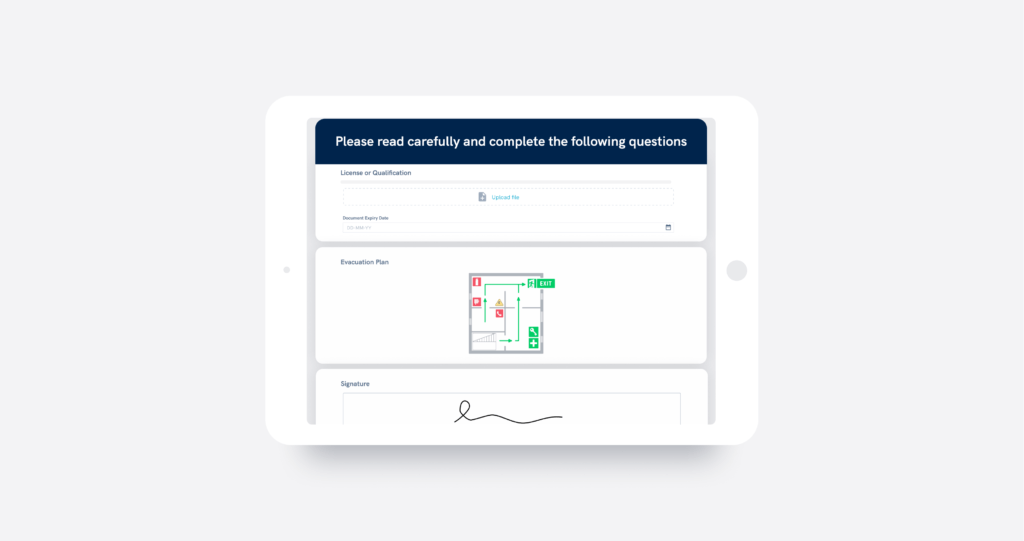 Your next steps in workplace safety
Now that you know all about crafting a well-designed evacuation diagram, you can create an effective evacuation plan.
Sine is your trusted partner when developing and implementing effective emergency evacuation procedures. We can equip you with a list of all employees and visitors along with comprehensive information on their last known location.
Sine even allows you to send real-time alerts to the employees and visitors within the workplace perimeter to announce the emergency.