The COVID-19 pandemic changed our view of the workplace and its necessity, and it ushered in an era of remote and hybrid work for millions of people. McKinsey found that 90% of organizations expect to adopt some permanent combination of remote and on-site work as Covid restrictions are lifted.
But what does this mean for meetings?
Hybrid meetings can be a challenge, especially when there are obvious advantages to being in the room. Below are some tips on how to hold a hybrid meeting that makes everyone feel connected and equally engaged.
What is a hybrid meeting, and why are they challenging?
A meeting is considered "hybrid" when some attendees are physically present in the meeting room while others are attending virtually from off-site.
Designing hybrid meetings can be tricky. Even if the goal is simply to inform staff of new policies or projects, meeting managers must ensure that everyone can see and hear the information being disseminated. That can be tough when there's just one microphone, projector, or whiteboard. It's even more challenging when there are multiple speakers or visuals that all attendees need access to.
Collaborative meetings add another layer of complexity since everyone needs to be able to speak and share ideas. Here, the goal is to make sure everyone has a voice and that on-site attendees aren't given the advantage just because they're in the same room.
While technology can't replicate all the benefits of interacting live, viewing body language, and engaging in pre- and post-meeting chitchat, facilitators can still try to create parity among participants.
Smarter, safer workplaces start with Sine.
Find out how Sine can help improve your workplace
What makes an effective meeting?
Keeping attendees engaged is the most important goal of any meeting, which can be hard to do even in person. That's why it's crucial to make sure you have a good handle on the following:
The purpose and objectives of the meeting
Who needs to attend and who needs to present information
The visuals or handouts required for participation
Hybrid meetings should have a facilitator that keeps the meeting on track and ensures participants get through the agenda in the allotted amount of time. Of course, that's true of any meeting. But in this case, hybrid meeting technology can be used to the facilitator's advantage with private and public messages that can cue participants on when to start and stop talking and point to the agenda item under discussion.
Facilitators should also ensure that:
All participants get a chance to speak, if necessary
Attendees are alerted to whether they will need video and audio technology to participate
Laying out any meeting ground rules before the meeting begins
Ensuring there are no disruptive interruptions
Ensuring respectful behavior (such as time management and dealing with interruptions) is often a task best left to someone with clout. The meeting facilitator should be someone who understands why the meeting is important and bring the right energy to the table to keep everyone engaged. They need to be the most prepared person in the room.
What makes a hybrid meeting bad?
Hybrid meetings can go wrong when facilitators lose the attention or interest of attendees. People tend to tune out when:
The meeting lacks clear objectives
They're interrupted or talked over when trying to speak
Their attempts to get the attention of the room are ignored, or they have no way of catching that attention
They can't see the PowerPoint or other visuals that speakers are referencing
Audio is unreliable and requires virtual attendees to turn the volume up or down throughout the meeting
Facilitators and other attendees take precious time to fumble with technology
Meetings aren't organized and kept on track
Participants in the room are interacting in ways they can't see
In general, remote and hybrid meetings tend to exacerbate problematic behavior such as interrupting, a lack of engagement, or being disorganized. Facilitators need a combination of attention, preparation, and good technology to make sure these meetings are useful.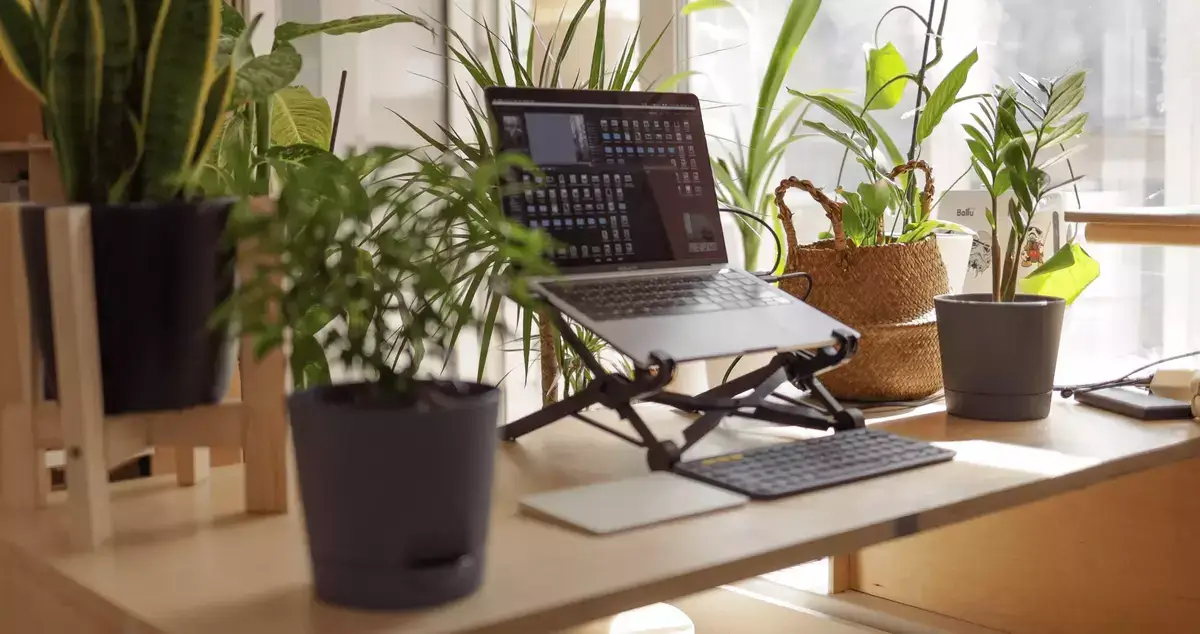 What does it take to run a great hybrid meeting?
Running an excellent hybrid meeting means going the extra mile to do more than just avoid mistakes. It requires purposeful planning to make the most of everyone's time and energy. With that in mind, here are a few tips to consider:
Set an intention
A great hybrid meeting doesn't happen by accident. Managers and meeting facilitators that reflect on the purpose of the meeting and what attendees need to take away from it are more likely to use people's time wisely.
By creating an agenda and circulating it in advance, you justify the need for the meeting, allow people to be prepared, and have a tool to keep the conversation on track.
Make the meeting accessible
Hybrid meeting facilitators tend to pay more attention to video than audio, but the truth is that audio is the one thing that's mandatory for any hybrid meeting. Even if everything else goes wrong, a virtual attendee's ability to hear who's speaking will at least ensure they get the information they need.
At the very least, facilitators should be prepared to record the meeting in case anything goes wrong for remote participants at the last minute.
Invest in good technology to level the playing field
Everyone needs speakers, a microphone, a camera, and a screen to view attendees or presentation materials. That might require providing employees with remote work tools to ensure they can participate fully.
The physical meeting site needs to be equipped with quality microphones that can pick up voices from all across the room. And when it comes to video, managers and facilitators need to think about how they can replicate the feel of being in the room. This might mean installing cameras so participants can view the conference table and see all participants (and their body language) at the same time. Or it could mean adjusting the system so that cameras focus on whoever is speaking, physical documents handed out, content created on whiteboards, etc.
It may be useful to ask all participants what would make them feel comfortable and engaged.
The trickiest thing about hosting a great hybrid meeting is making sure no participant feels like a second-class citizen just because they can't be in the room.
Engage with remote attendees
Most meeting software has a chatbox or features that allow remote participants to "raise their hands" to get the room's attention. Having a meeting facilitator monitor this closely will help ensure that those participants have an equal chance of being heard.
If you find that remote attendees aren't eager to share their screens or participate fully, it's worth asking what resources they might need to create a more comfortable environment. They may have privacy concerns and don't want to share their home surroundings with work colleagues. In this case, creating a physical or digital company background can go a long way.
Could this meeting be an email?
Hybrid meetings need to be designed to manage equality, discomfort, and impatience. But most of all, they need to be designed to be worthwhile. The burden is on the meeting organizer to show that the meeting is necessary.
For many of us, remote work has resulted in more time spent on working and increased expectations of availability. So if your meeting could just as easily be an email instead of a multimedia affair, then make the productive choice. That way, when you need all hands on deck for your hybrid meeting, people will know they need to come prepared to listen and contribute.