Sine is exhibiting at PropTech Summit 2019 and our CEO, Antony Ceravolo, will be sharing his thoughts on Proptech trends in key global markets.
Launched in 2018 with huge success and 200 real estate professionals in the room, who met to discuss and debate the rapid pace of change and disruption facing the industry.
This year PropTech Summit is back to catch up on how the industry has changed in last the 12 months, hear from globally recognised and domestic thought leaders who will share case studies and discuss what your strategies should look like for the coming year.
The Theme: 'Building PropTech through collaboration'
Once a PropTech company has perfected their core product, they will go out searching for possible partnerships and integrations to build a more robust offering with the aim of streamlining all aspects of the modern building.
This year, Sine's CEO Antony Ceravolo was approached to give a keynote speech on the emerging trends of workplace management from a visitor and contractor point of view.
So we put our heads together and decided on a topic that we feel directly addresses this year's theme:
"What matters where? PropTech trends in key global markets"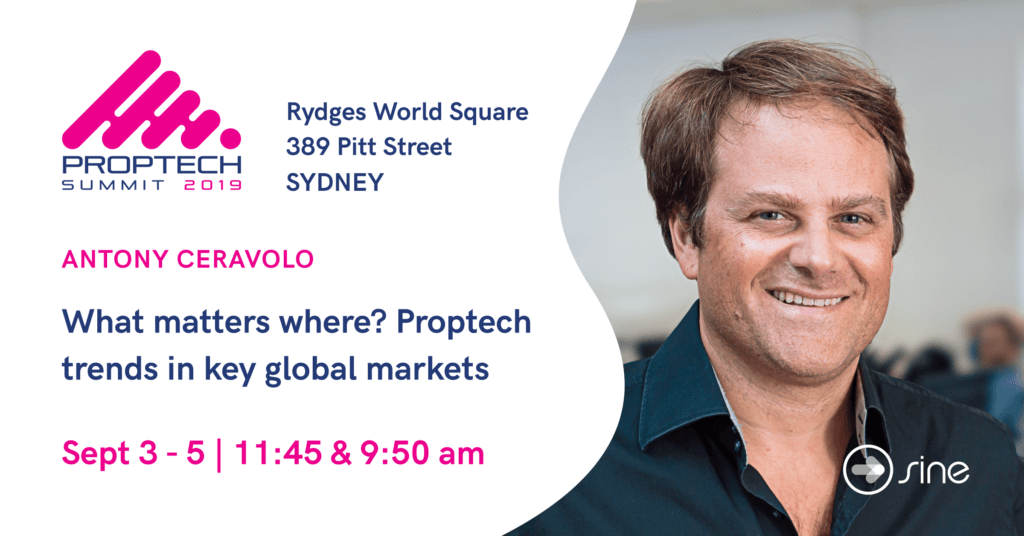 Sine has been inventing ways that companies can completely streamline their visitor and contractor management and we wanted to share how we've done this and how PropTech is paving the way through smarter buildings.
Specifically, Antony will be speaking about:
Emerging technologies that are being utilized by PropTech companies within their facilities
Existing technologies that are being repurposed for PropTech
The API economy and how it's transforming the way that real estate companies operate
Antony will be speaking at 11:45 am on day 1 (Sept 3). He'll also be on the panel of a fireside chat at 9:50 am on day 2 (Sept 4). Where he'll be exploring uncharted territory - which emerging technologies will have the biggest impact on property in the future.