Sine, the visitor and contractor software as a service platform (sine.co) has recently rolled out its cutting edge visitor and contractor management solution to the Sydney Cricket Ground.
Replacing paper visitor and site books, Sine now allows the SCG's security and administration teams to register high volumes of staff, visitors, contractors, TV crews, players, grounds keepers, couriers and special guests via iPads, mobile apps and the web using the Sine software solution. The SCG are now able to go paperless, improve visitor registration times and improve safety at site. Sine is able to process 1000's of visitors per day as the SCG gears up for matches and entertainment events. Repeat visitors and contractors to the SCG are able to check-in very quickly using Sine's tablet and mobile apps for iPhone and Android.
SCG venue services are able to:
monitor attendance in real-time;
identify entrants with visual printed badges with mandatory photo ID;
check-in repeat visitors and contractors very quickly;
identify any incidents and confirm the return of keys and assets on departure; and
can communicate with each visitor or contractor via SMS, email and the Sine mobile app in case of emergency or general alerts for daily works.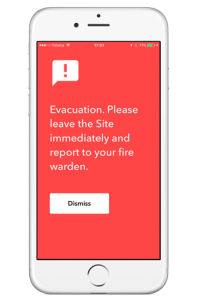 Sine was implemented and set up at the SCG over a number of hours and was visitor ready immediately. Sine provided all software, hardware and Telstra 4G connectivity.
To learn more and see how Sine could improve the visitor & contractor registration process for your sporting venue or arena, please contact us for a full consultation.