You want to ensure a seamless visitor experience for everyone entering your site. Whether it be providing access to your office, verifying visitor credentials or provisioning Wi-Fi access, it is important to upkeep a seamless visitor experience without compromising on compliance.
Find out how integrations work and what companies Sine partners with to help enable secure and automated Wi-Fi provisioning, leaving you and your guests satisfied.
What is an integration?
From a business standpoint, integrations are supported applications or services that work with your existing visitor management system – similar to a plug-in.
When a visitor, client or contractor checks into your business, these integrations can work seamlessly to provide them access to an office, or even share important events with them. These integrations are able automate almost all entry and data collection and utilisation procedures
For businesses who share essential data via Local Area Networks or LAN networks, automation in Wi-Fi sharing can be a saving grace when it comes to efficiency. Integration through Aruba ClearPass help enable secure Wi-Fi provisioning, keeping everyone connected from the moment they step into the workplace.
Sine + Aruba ClearPass
Sine is all about making the check-in process as simple as possible and know that many of your guests who enter your site is going to as for the Wi-Fi login details. So why not remove the hassle of having to tell everyone?
Aruba ClearPass has the tools you need and the flexibility to secure your business Wi-Fi. It allows businesses to securely connect business and personal devices to your network in accordance with your security and visitor policies.
The Sine + Aruba ClearPass integration gives you the ability to automatically provision Wi-Fi passwords when a visitor checks-in, allowing access to be controlled and configured based on the nature of their visit.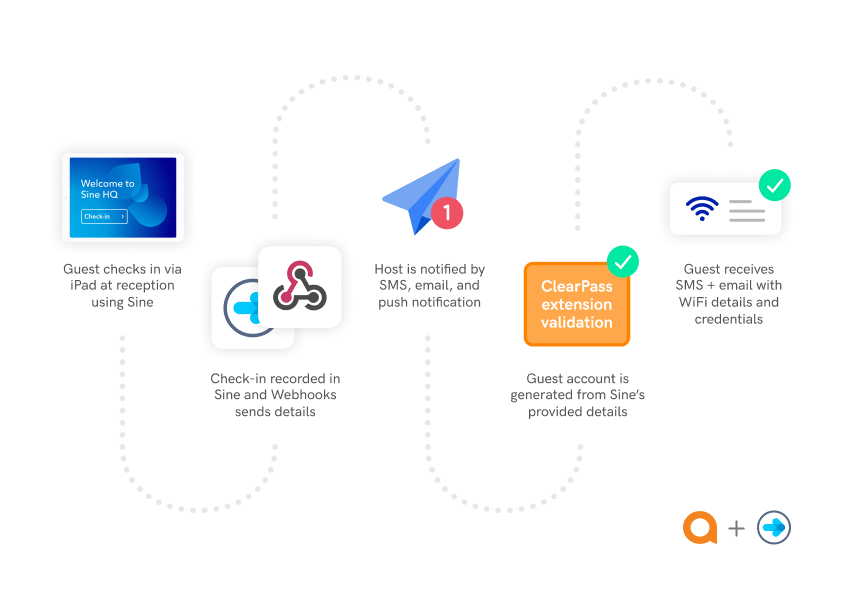 Benefits of Sine + Wi-Fi integrations
Network security – All access to your network can now be managed and tracked at the individual level.
Upkeep your professional image by automating one of the most popular pain points for visitors and help create a strong first impression.
Less hassle for reception staff and IT – there's no need for access request codes and reception staff won't be bombarded with Wi-Fi requests.
Ready to see how Sine can automate your workplace? Book a demo with our team today!