Quick shifts in our everyday operations have been made possible by technology, which has been especially helpful this past year. While it's great that we might have been better prepared for the year than we thought, we have to ask what security and safety around these quick changes really looks like.
The truth is that individuals and businesses are vulnerable to safety and security breaches, and this includes the check-in processes that each person uses as they enter a site or facility. The information provided and recorded is defenseless against an attack without the proper security in place.
Implementing a digital security logbook solution like Sine might just be the answer to solving this problem, both from an organizational and a security standpoint.
What is a security logbook?
A security logbook is a system put in place to keep a record of everyone who comes in and out of a facility. It collects and keeps information regarding the daily or hourly activities that take place each day.
Security logbooks can take on many different shapes and forms, but two of the most common types are paper security logbooks and digital security logbooks.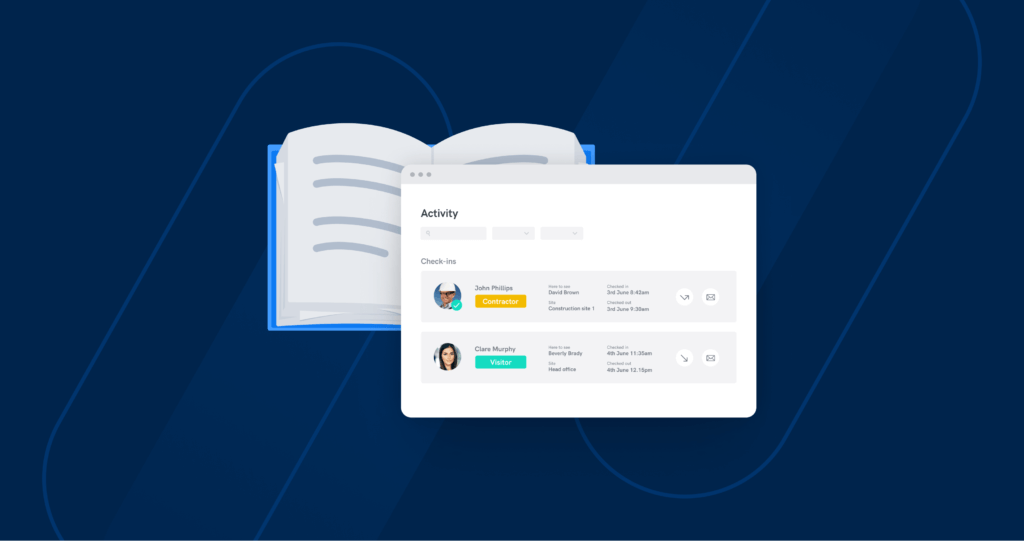 Managing a security logbook
A security logbook is an important part of the function of a facility or business. It helps you to know who has been in and out of the premises throughout the day, which is essential to the function of many businesses.
While it's great to be diligent in having a security logbook system in place, paper security logbooks are not always the best option. Here are a few reasons why:
Paper security logbooks don't require users to verify their information. Which could mean that the provided information is inaccurate or false.
Multiple visitors using the same paper and pen to log their information is no longer safe with COVID-19. It's up to businesses to have practices in place that are COVID-safe.
Paper security logbooks fail to protect data and keep it secure. Anyone who signs-in with a paper book can see in plain sight previous visitors' personal information.
It's difficult for security and reception personnel to reference back to documentation and to verify visitors against invites or watchlists. This makes it challenging to know if a visitor was actually invited to be on site, or if they are blacklisted from it, posing a risk to everyone.
Each of these reasons come together to help us understand why a paper security logbook is not always the best choice. Instead, businesses can implement a digital security logbook.
Implementing a digital security logbook
Implementing a digital security log is a lot easier than you might think. Especially with Sine!
Sine can be used to digitize your security logbook and augment its functionality. This helps to better support your staff in their efforts to maintain a secure environment.
Watchlists
Watchlists are the perfect resource for hosts to ensure they are ready to impress, or for all staff to be prepared in the event that someone who is a threat enters on site. Sine flags in the activity feed when a Watchlisted visitor has checked-in so everyone can be aware of who has entered.
Screening questions
Rather than risking the spread of COVID-19, Sine allows visitors to answer screening questions before they arrive on site. Access requests can be approved or rejected on either a case-by-case basis or automatically, making the process easy and secure.
Integrations with platforms like Descartes MK Denial
Integrations are made easy with Sine. The Sine + MK Denial integration allows you to instantly screen visitors as they check-in. This helps to keep the premises safe and avoid fines, penalties, or sanctions by recording an audit trail of your screen activities. It also helps to reduce the risk of restricted or denied parties from accessing your workplace.
Notes on visitor entry
If a visitor was to sign-in using a paper logbook, it's likely you wouldn't make notes on them right beside their name for other visitors to see. Instead, you can use Sine to make notes against a visitor's entry pass for convenient use in the future.
Identity and contact information
Not everyone is who they say they are, which is why identity and contact information verification is so important. Sine Pro allows you to conduct email or SMS verification easily. You can then upload any necessary identification documents using Sine workflows for safe keeping and easy reference.
With Sine, safety and security is always top of mind, and getting started on digitizing your security logbook is made easier than ever.
If you would like to try out Sine for your logbook needs, book a free demo with one of our experts today!