For US businesses, there's no better way to heighten security and streamline check-in than with advanced ID check solutions built into registration systems. You'll know exactly who's entering the building, prevent unapproved visitors and have the assurance that only pre-approved staff and visitors are on-site; keeping everyone safe.
It might seem complex to add all the required data, though, we all carry one piece of identification that's scannable and ready to check us in — our driver's license.
All team members have the right to come to the office knowing that they're safe and that their workspace is free from unauthorized outsiders. With Sine's new ID Check, you're able to block all unapproved visitors and staff from accessing a workplace with pinpoint accuracy thanks to un-editable license details.
Below we'll take a look at how Sine is transforming check-in fluidity and efficiency with ID Check, and how this new feature is going to streamline your business. Meet ID Check, the most advanced, effective way to improve check-in procedures.
Meet ID Check by Sine
Using Sine's new ID Check feature, businesses can obtain the identity of employees and visitors in real-time using just their driver's license. All a team member or site visitor will need to do is scan their ID with the Sine iPad on arrival for approval.
The feature takes into account all of the necessary datasets on the driver's license, mainly name, to approve check-in on arrival. This information is then shared with the check-in station and used to auto-fill the check-in form, making instant registration possible.
Important to note is that pre-filled or auto-filled check-in forms completed by details on a driver's license cannot be changed. What this means is that a visitor or staff member is unable to falsify their check-in documentation.
To make this process even simpler, Sine is pairing ID Check with ID license trays to make getting a reliable, clear license scan a whole lot easier. There's no fiddling or readjusting the license card; it simply registers the moment it's in range of the scanner.
The Features Packed into ID Check
We've made sure that ID Check is as feature-packed as possible, keeping your workplace secure and ensuring that there are no slowdowns during ID checks. A quick display of a license provides some essential insights that we'll take a look at below.
We've truly ushered in the next generation of sign-in solutions that your business needs.
Expired License Notifications
Adding to the security perks mentioned above, Sine's ID Check solution will automatically check and reject expired licenses without a staff member needed. This feature essentially prevents those from using old, unapproved licenses to access your business, keeping it safe.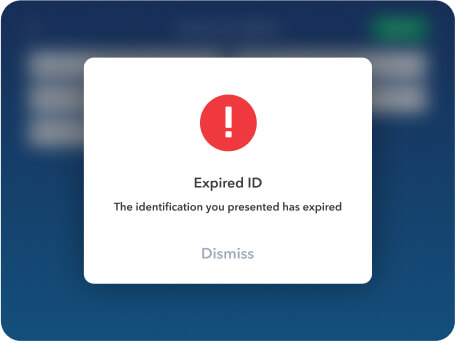 There is also a manual override feature that can be utilized in the event an expired license must be used, or if a non-US ID or passport is required as an identification document.
Visitor ID to Dashboard
Each time a visitor or staff member checks in with their license, their name and details will be shared to your Sine Dashboard, giving you the chance to keep a close eye on who's on-site. You're able to see everyone in the building, letting you keep the workplace safe and able to understand if problematic staff or visitors have entered.
You'll also have real-time check-in information letting you know when a particular staff member arrived and when they left, great for staff management and improving compliance with workplace regulations.
Real-time Notifications
All information relating to check-in is shared instantly with all relevant parties via an interactive notification. Workplace site managers will know exactly when someone arrives, who they are, and when they leave the workplace.
There's no need for repetitive dashboard checks to find a staff member as all movements through check-in are shared as they happen.
How ID Check Works
The ID scanning process is extremely simple, keeping within just a few steps.
A visitor or staff member will scan their driver's license on the Sine iPad's scanner.
The system will auto-fill a check-in form using the name on the license.
Pre-filled check-in forms will be printed or shared digitally and cannot be edited.
A visitor or staff member is now checked in.
To further improve security, an ID copy is never stored within the Sine platform. All ID use is one time only and used for the purposes of check-in auto-fill.
Using Scanning Stations to Enhance Check-in
With your purchase of a Scanning Station, scannable ID license trays are now included, making it effortless for visitors and staff to scan their ID. There's no fumbling or guessing where to place a license; it's right where you'd expect it to be.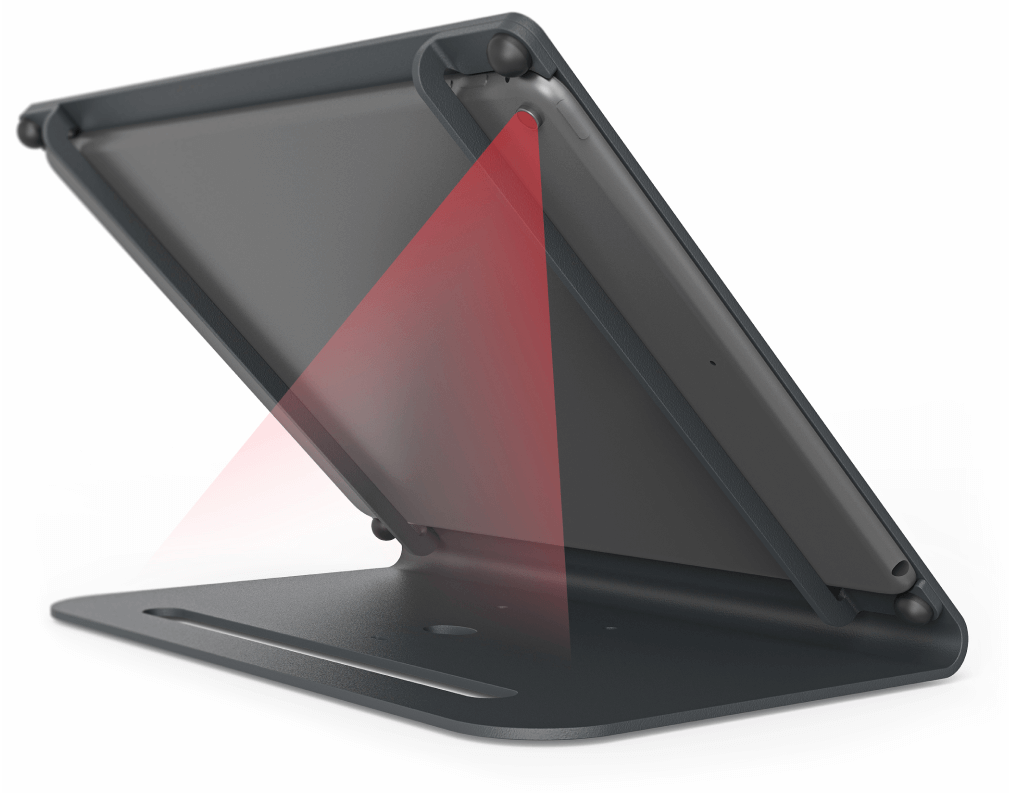 These stations also come in floor, wall and desk-mounted options, so wherever your business needs an ID check-in station, we have a solution for you.
The ID Check feature is now included in all Sine plans, so if you're a user of Sine's visitor management solutions, you're able to make use of our advanced and highly secure license check-in features.
Visitor management is growing rapidly.
With the advancement of technology companies are learning that there are far better options out there than a paper sign-in book. Mainly, companies were concerned with how little security a paper sign-in book offers. When people write their details in the book, they get their badge and that's the end of it. There's no knowledge of who that visitor is, their past interactions with the company or even if they should be onsite.
Which sparked the growth of digital visitor management and over the years these systems have gotten more powerful and robust by introducing features that will drastically improve site safety and security.