Is your workplace ready to tackle the new normal? In addition to the current security measures, there are additional precautions that businesses need to take in order to protect the workplace.
Offices are prime locations for the spread of diseases. Many people visit the building throughout the day, bringing all kinds of pathogens with them. Moreover, shared entry points like elevators, lobbies, security checkpoints, etc., are also a considerable risk to people's health and wellbeing if sufficient precautions aren't taken.
Therefore, employers must plan ahead, using appropriate safety protocol measures to prevent and reduce coronavirus transmission while ensuring employee comfort, productivity, and health.
Here are a few ways to ensure that employee and visitor safety starts at the front desk:
Place hand sanitizer stations at the entrance
No preemptive measure is more important than proper and regular hand hygiene.
It is crucial to provide easy and accessible hand sanitizing stations to visitors and employees around the front desk, either at the table or near the door. This will go a long in cultivating sanitation practices, protecting your people against bacteria when entering and leaving the facility.
Hundreds of people stop at the front desk every day. They interact with each other and your staff, use the phone there, and may routinely touch the desk or the pen lying on it.
It only takes one wrong person's presence to have disease spread like wildfire through your offices. In all probability, your security staff probably eats, drinks, coughs and sneezes by that front desk. It's the perfect place to become a hot spot for germs.
Placing hand sanitizers brings proper hand hygiene within everyone's reach.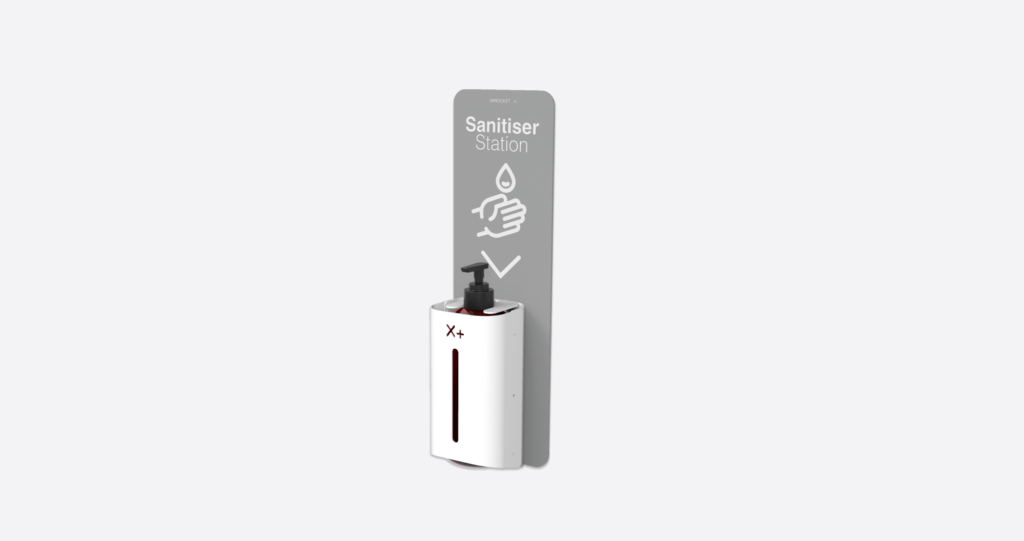 Install clear screens
Clear screens are another way to ensure front desk security and protect the visitors and employees from contagious diseases. These screens act as a physical barrier and allow employees to work while adhering to the necessary social distancing rules.
Installing these acrylic shields is easy, and with them in place, you no longer need to reconfigure the office layout to create distance between the front desk staff and visitors. Besides, these screens are easy to clean; just wipe them regularly to keep germs away.
This helps the employees and visitors at the facility to maintain adequate protection while ensuring that work goes on as normal. Employees will feel safer and more comfortable returning to the office as they adhere to COVID-19 social distancing regulations.
Install measures for contactless sign-ins
Doorknobs and door handles are touched by hundreds of people every day in medium-sized offices. If a virus makes its way on these surfaces, it can be picked up by others, and you'll have a full-blown situation at your hands in a matter of days.
In addition to frequently disinfecting these high-touch surfaces, it might be a good idea to limit access to them unless absolutely necessary. Contactless sign-in machines can automatically open doors once they authorize entry, serving two purposes: it becomes easier to stop unauthorized entries and keep people from touching surfaces they don't need to.
Therefore, it is pivotal to eliminate unnecessary physical contact in the workplace, especially near the front desk, which gets crowded. A QR code-enabled touchless sign-in mechanism can help visitors, employees, and management streamline visits and operations.
This can also serve as a useful tool to shorten the waiting lines and save time for guests.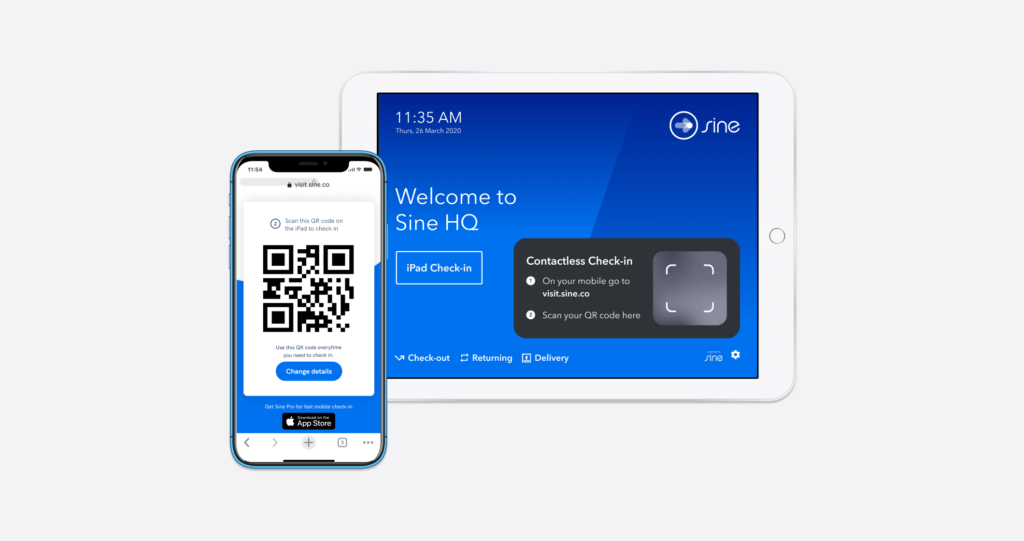 Ensure thermal checks
Thermal checks or thermal imaging uses an infrared technology that detects the heat radiating from the forehead to ascertain an individual's body temperature. These touchless thermal checks are extremely powerful tools contributing to the front desk security's safety measures. It's a major concern after the COVID-19 outbreak.
Higher-than-normal body temperatures indicate a fever, which is a sign of an infection. Having thermal checks in place can be an efficient way to find visitors who have high temperatures, which is one of the common symptoms of Covid-19. Immediate measures should be taken to remove the person from the premises.
Organizations with multiple entrances can detect the temperature radiated from a person via AI-powered cameras or temperature-checking devices.
Naturally, manual temperature checks can pose a threat to anyone near and can result in contaminated thermometers. As a result, contactless temperature checks solutions ensure the workplace's overall safety and the employees alike.
Ensure pre-screening before visitors enter the site
When it comes to front desk security measures, it is imperative for supervisors to be proactive and have stringent policies in place for visitors to prevent the virus spread. Pre-screen and self-screen systems can ensure a safer workplace and notify the potential carriers to get medical help as soon as possible.
One of the most effective ways to know if someone is not well is to ask them. Pre-screening is a preemptive approach that allows you to assess your employees' and visitors' health before they arrive on-site with a questionnaire.
The pre-screening questionnaire includes general questions about an individual's health in order to identify who potential carriers are or can risk workplace safety. However, it is crucial to make sure that your screening procedures are easy to manage and complete for the visitors.
Visitors and employees should check for COVID-related symptoms such as cough, body ache, fever, and avoid going to the workplace. Along the same lines, implement policies to minimize human contact at work and encourage employees to screen themselves before they show up to work.
Provision of PPE to the staff
Personal protective equipment (PPE) refers to essentials like gloves, masks, hard hats, respirators, and eye protection. It acts as an additional layer of protection for employees and must be provided to them where necessary.
Even though it depends on the potential risk of exposure to COVID-19, employers are required to provide the PPE tools to its employees.
Furthermore, it is also vital to educate and train employees on proper ways to use and wear them. Employers should identify the need for PPE, purchase and provide the employees with it, and finally, communicate the best practices and the proper utilization of the personal protective equipment (PPE).
Stay ahead of the curve with workplace technologies
Today, businesses across the globe are reimaging the workplace to cultivate a safe working environment and mitigate the employee and visitor's health-related concerns. The above technologies can immensely help to protect and maintain front desk security and safety.
Employers who plan to return to the workplace must comply with all the necessary safety protocols to ensure workplace and employee safety.
Leveraging touchless technologies like contactless sign-in, thermal and temperature checks, pre-screening, protective screens, etc., are must-haves that can contribute to front desk security. A platform like Sine's can help you create a secure and sustainable workplace amidst the COVID-19.
Sine's visitor management system can help you deploy touchless technology, including preliminary screening, temperature checks, contactless check-ins, etc. It also lets you tailor the company's workflow according to your specific business requirements.
With Sine, you can implement all the safety measures to ensure your overall as well as front desk security and mitigate the health-related concerns without compromising on the data security as its cloud-based system safely retains all the critical information.
Ready to leverage contactless technologies and ensure front desk security? Book your demo now!