Employers and building managers face more challenges than ever when it comes to providing a safe and healthy work environment. These include everything from the continuing threat posed by contagious viruses such as COVID-19 to increasing physical and cyber security concerns.
A 2022 State of Employee Safety Report found that 73% of respondents said feeling safe in the workplace is "extremely important" to them (in fact, it was just as important as compensation when it came to staying at their current job). And while only 53% felt their safety was as important to their employers, 55% said they thought their employers were trying harder than ever to ensure their safety. Worker concerns were varied – among the threats people worry about most, COVID-19 ranked the highest at 79%, followed by cybercrimes at 65%.
Below, we'll take a look at security best practices for the future of the workplace and the tools that organizations, facilities managers, and commercial real estate (CRE) owners can use to secure their buildings from a variety of threats.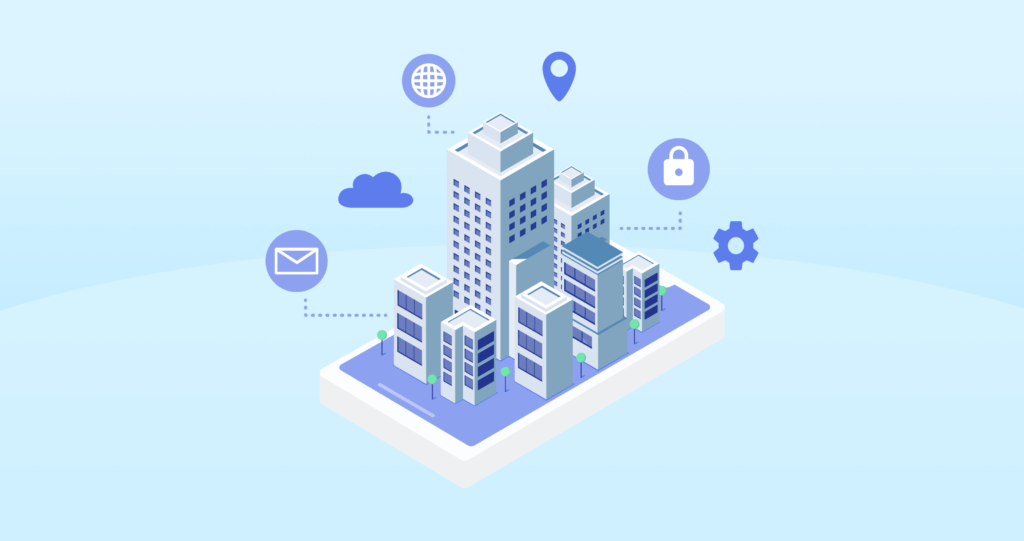 Who is in charge of workplace security?
Workplace security refers to the deliberate actions taken by entities to reduce potential harm to people and assets. In the U.S., regulations that ensure businesses remain secure enough to keep employees safe are determined and overseen by the Department of Labor and its Occupational Safety and Health Administration (OSHA) as well as the National Institute for Occupational Safety and Health (NIOSH). Specific industries also have their own regulatory agencies and standards.
Employers are responsible for building workplace safety guidelines around regulations set out by these agencies and organizations or risk being fined. However, commercial landlords may be responsible for maintaining common spaces, including entryways. Ideally, commercial real estate owners and the organizations renting their space will work together to develop comprehensive safety plans that allow them to protect tenants and remain compliant with regulatory agencies. But CRE landlords are increasingly liable for keeping buildings secure. The responsibility of each party, however, often differs by state.
One of the most helpful ways an organization can start building a workplace safety program is to determine what threats they face and identify the entity responsible for preventing them.
Security concerns for the workplace of the future
In 2022 and beyond, there are a wide variety of threats to workplace security and employee safety that both employers and CRE owners need to take into account. The 2022 State of Employee Safety Report found that not only did the vast majority of employees feel that their employers have a duty to care about their safety, but 82% felt that obligation extended to employees working remotely.
Some of the most relevant threats to workplaces and employees that safety managers and commercial real estate landlords need to be aware of include:
Public health threats (including the COVID-19 pandemic, which still poses a threat to vulnerable workers and carries the risk of another variant)
Workplace violence (including threats from inside and outside of the workplace)
Cybercrime
Weather-related events and natural disasters (which require early warning systems and weather-resistant buildings)
Crime in the vicinity of the workplace
Protests in the vicinity of the workplace
Workplace hazards such as faulty equipment, a lack of PPE, poorly trained co-workers
Privacy issues involving technology (including the loss of personal information when using personal devices for work)
Air quality and ventilation concerns
The effects of environmental conditions such as noise and light on mental and physical health
Depending on the type of workplace in question, there are more potential threats. The first step towards controlling these threats is performing a security audit to identify the ones that pertain to a specific worksite or business. Safety managers and facility managers need to identify:
Physical security threats
Workplace safety and equipment issues
IT and cybersecurity threats
Other issues identified after polling workers on their unique concerns regarding their safety and wellbeing in the workplace
A workplace security audit may begin with questions such as:
In what ways do workers feel unsafe?
Where/when/how/why/to whom do the majority of OSHA-recordable and reportable workplace incidents occur? What steps can we take to prevent them?
Do employees know how to respond to an emergency?
Have we recently trained employees to respond to emergencies on site?
Have we recently audited exit routes and evacuation plans to ensure they're still usable?
How do we alert visitors to potential threats?
How can we monitor visitors so they can use the building safely without disrupting business?
Are there hazardous materials and machinery that require expert training?
How do we evaluate the threat of intruders?
Are all entrances and worksites secure from threats?
What tools are available to help us secure the workplace?
Where do CRE landlords' security responsibilities lie, and at what point in the building entrance process are organizations and their own safety managers in charge?
Who is responsible for monitoring or securing the areas around the workplace, such as parking lots?
If employees work at night without security staff present, do we have the technology to keep them safe from intruders?
Are our technology and intellectual property safe from those who should not have access to it?
Can and should we monitor building entrants for public health threats?
How can we better use access control strategies to secure the workplace?
This list is by no means exhaustive, but it's a good start that covers a variety of possible security problems that need to be addressed in order to keep workers (and visitors) secure and help them feel safe to do their jobs.
Workplace security best practices
After performing a security audit to identify the most salient threats to a specific workplace (or set of workers if some employees are remote), companies and CRE owners can work together to reduce threats as much as possible. In order to do this, it's wise to abide by the following best practices so that your bases are covered:
Determine liability/responsibility
When an employee or visitor is threatened or injured, the business they're working for or visiting will be the first to receive blame and have to answer questions about any security lapses. However, some liability may fall to the building owner. Therefore, a crucial step toward building a workplace security plan is for facilities managers and individual company safety managers to identify whose responsibility it is to manage each type of risk, and each area of the property in order to keep employees and visitors safe.
Companies and CRE owners want to avoid finding out after the fact that they are legally liable for something they didn't know they were responsible for protecting. In addition, businesses can suffer reputational losses for security failures that technically fall to building owners.
Be proactive
Nearly all workplace incidents come as a surprise. Just because a company has never had to deal with an intruder doesn't mean they shouldn't prepare for one. Public health emergencies should also be expected now that we've developed tools for screening potentially sick or unvaccinated employees and visitors.
Have a formal security policy
A scalable workplace visitor policy is necessary for setting up any access control technology because it clarifies rules and guidelines that apply to guests entering and moving around a facility. These policies can include entry requirements, areas to avoid, advice on staying safe, and ways to avoid injury or exposure. The policy needs to clarify expectations, precautions, and consequences (such as removal from the property) visitors can expect for violating the policy. These policies also need to be flexible and scalable to accommodate new threats, such as new disease outbreaks or an outbreak of violence in the area.
Use technology to control workplace threats
Having physical security guards on site is a good deterrent, though we'll never know how many potential security breaches would have taken place without them. However, not every company can afford security personnel. And even when they can, those employees can't be everywhere at the same time. Access control via visitor management software integration has been greatly successful in helping keep workers safe from a variety of threats.
Train all workers to use security technology
No matter how much technology an organization or CRE owner employs, if the tenants inside don't use it properly, it's not worth much. Organizations need to frequently train workers and their managers to take advantage of the full array of benefits technology such as a VMS has to offer.
The role of visitor management systems (VMS) in the workplace of the future
Using technology for building access control as well as visitor management is an excellent way to identify, approve, and monitor visitors for everyone's safety. In fact, a 2022 survey found that 92% of businesses that use a VMS said it helped create a safer environment, 94% said it increased efficiency, and 96% said it provided them with essential data to improve security.
Visitor management system software can:
Sign-in visitors electronically to avoid incomplete data on outdated paper sign-in sheets
Pre-register guests to expedite building entry and ensure entrants have proper credentials when necessary (such as contractors on construction sites)
Limit visitors to those who are expected to reduce employee risks as well as work distractions that cost time and money and contribute to employee burnout
Utilize touchless smartphone mobile check-ins or iPad kiosks for maximum convenience
Provide QR codes for mobile access
Remember repeat visitors (such as consultants and delivery people) to speed up future check-in
Verify the identification documents of building entrants
Manage people flow
Aid in emergency communication
Provide mobile wayfinding and maps to guide people to safety
Use signature technology to record compliance with all on-site regulations
Provide visitor badges to identify who is on site
Use the cloud to store collected data for reporting and compliance
Create watchlists and blocklists and notify safety personnel when a threat is present
Seamlessly integrate with other software so your current capabilities are enhanced, and the use of a VMS is intuitive rather than intrusive
A good automated visitor management system utilizes and integrates with technology that may already be on-site or can help boost security in new ways. This technology can include:
24/7 video surveillance cameras
Push notifications during emergencies to everyone who has checked in
Geofencing to monitor secure spaces or send alerts to everyone on the property
Keypads or keycard readers to grant or restrict access to sensitive or hazardous areas
Retinal scanning or fingerprint for maximum access control
IoT sensors to monitor building systems, such as HVAC and fire detection
Live updates on who is in the building, when they arrived, and when they left (which can aid in investigations later on)
Temperature monitors, mask detectors, and vaccine monitoring capabilities to use during public health threats
These systems aim to keep people and property safe from unauthorized access and threats from bad actors. The ROI on a VMS is high, with outcomes including increased employee workplace satisfaction, fewer workplace injuries, better compliance, and fewer threats to people and property.
Benefits of implementing formal workplace safety tools and guidelines
A safe workplace is a productive workplace. Implementing security will boost employee productivity and show workers that you care about their wellbeing, which helps you retain them in the long run.
Good workplace security also helps to reduce the number of sick and injured workers and prevent burnout from constant interruptions or concern about workplace dangers. This can save companies money by reducing the number of sick days and decreasing insurance premiums.
By utilizing tools such as visitor management systems, both organizations and the real estate owners that house them can gain perspective into building usage, the most common threats, and the identities of their visitors. This data can be turned into actionable insights that help organizations and landlords be more proactive about keeping people and property safe, updating their security technology to meet new threats, increasing their compliance, reducing their liability, and using building space as efficiently as possible.
Every company needs a health and safety program, a security plan, and the tools and training to ensure they can be executed. To learn more about how Sine's can help you keep your people and property secure, contact us to request a demo.