Outdated pencil and paper sign-ins are no longer enough when it comes to logging in visitors, collecting information, and maintaining a secure workplace. That's why automated visitor management systems are becoming increasingly popular.
Having an automated system in place for managing visitors allows you to give guests equal time and treatment, collect the information you need to run your business smoothly, and keep guests, employees, and property safe on your worksite.
Below, we'll look at some of the key features and benefits of an automated visitor management system.
What is an automated visitor management system?
At its most basic, an automated visitor management system (VMS) is software that allows people to log their entrance into a building. However, a VMS can also involve machines such as check-in kiosks, retinal scanners, geofencing sensors, card readers, and more. This technology can work together to perform a variety of tasks, including:
Identifying (and confirming the ID) of building entrants
Collecting appointment information from guests
Alerting employees about guest arrivals
Keeping guests within certain boundaries by denying access to private rooms
Managing people flow
Collecting public health information and identifying risks
Keeping track of people on the premises in case of an emergency
Automated visitor management systems do not require reception staff to fumble with forms and create long lines while monitoring routine tasks. They free up employees for more meaningful greetings and guest interactions.
A VMS typically requires a company to have a policy in place regarding who is allowed access to a building or specific area and under what circumstances. It can even be modified to make things easier for contractors, familiar guests, and delivery people.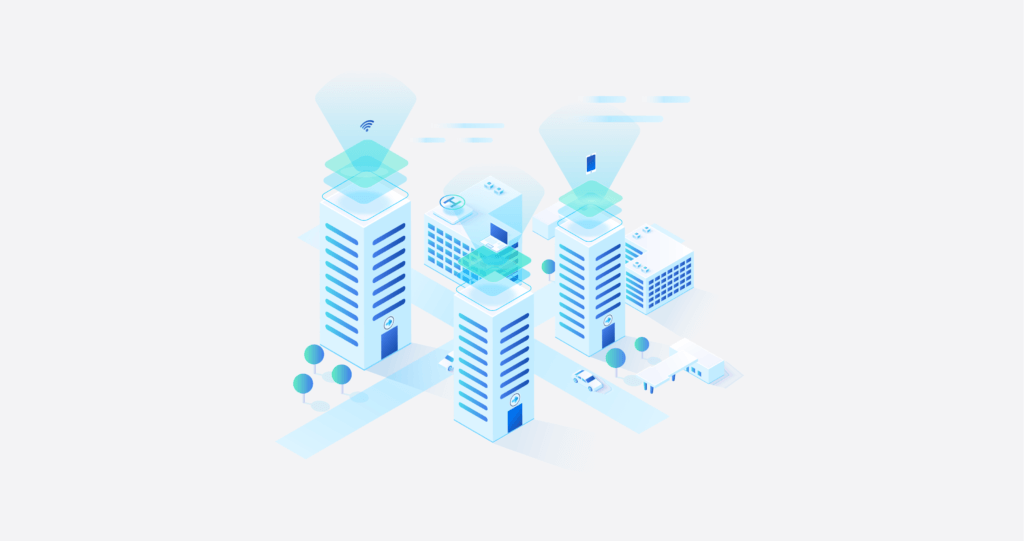 Benefits of an automated VMS
Convenience and safety are the primary benefits of a VMS. Whether a VMS creates a printed badge or requires a simple sign-in or ID swipe, it helps eliminate monotonous entry duties for front-end staff while allowing building occupants peace of mind when it comes to who is allowed into the building and when.
Other benefits of an automated visitor management system can include:
Sustainability: The office of the future is paperless, and a VMS allows businesses to collect information without collecting forms.

Compliance: When forms are needed, they can be automated, and the information can be sent to the recipient's email and stored electronically in the cloud. When it comes time for compliance reporting and auditing, these forms are easily organized and accessible. A 2020 survey of companies with a VMS found that 75% said their VMS helped them respond better to audit requests.

Productivity: Nearly all employees can be more productive with a VMS. Front office staff doesn't have to manage every guest, employees can avoid being interrupted by guests without an appointment, occupants can be alerted to the arrival of contractors and delivery people, and guests can move in and out of the building with ease if they have permission. Studies show that being interrupted can cause a 20% decrease in cognitive function and a 23-minute gap before employees can get back to their original level of concentration. This makes an automated VMS a time, frustration, and money saver.

Cost savings: Some businesses can avoid hiring extra reception staff at busy times of the year, while others can save on legal and compliance fees by automating forms and storing private information in secure, electronic form.

Safety and security: The reality is that some people should not be on a work site, and denying them entry via a VMS can be an easy and straightforward way to take care of that. Other people may be granted entry but need to be kept away from intellectual property, private files, or certain offices. An automated VMS applies your security policy without having someone explain the rules at every step. Over 92% of respondents to the Visitor Management Report said that their VMS created a safer environment.

Liability: If there's an emergency on site, a VMS can allow you to alert everyone who has entered the building. It can also track permissions to be in specific locations and ask guests to sign waivers if they choose to enter high-risk areas.

Public health precautions: During public health emergencies, a VMS can ask about symptoms and vaccine status, and relay other questions that allow you to eliminate health threats to building occupants. It can also aid in contact tracing by collecting IDs from guests and allow for a touchless visitor management experience.

Customer satisfaction and image boosting: High-tech systems that keep people secure and allow visitors to conveniently navigate a new space make a great impression on your guests.
Depending on how your automated visitor management system (VMS) is configured, you may choose to implement even more features that can geotrack guests, automatically collect signatures on documents such as confidentiality agreements, and create watchlists for those you don't want on-site.
Key features of an automated VMS
The hardware and software included in an automated VMS vary widely between companies, but some common features available in many systems – and Honeywell Sine's VMS, specifically – include:
Reporting features: The ability to generate reports in real time over a specific time frame can give managers, HR, and compliance officers deep insight into building traffic and visitors. Reporting and an intuitive dashboard to access data can help companies maintain compliance, view incident reports that may help alter entrance policies and see other trends that need to be addressed for a more efficient workplace.
Site-specific workflows: Whether you're a multinational corporation, a hospital with clinics around the city, or a construction company with multiple active sites, having a system that can enforce location-specific policies is crucial. In addition, employees and contractors who work for your company may have differing levels of access depending on their location. Having an adaptable VMS that can manage site-specific workflows is key.
Mobile apps and efficiency: No one wants to carry around a building map or miss an emergency announcement because background noise is too loud. Having a mobile element to your automated visitor management system allows you to let entrants use their photos to scan into a site, request permissions on the spot, and get alerted to the most pertinent data in case a building needs to be evacuated, to name just a few examples.
Access control: An automated VMS gives people the permission they need to access only the things they have a right to see. Access control prevents people from breaking in, helps you keep track of private data and valuable commodities, and gives you an eagle-eyed view of your workplace to spot threats.
Pre-screening: Whether a guest needs to submit proof of vaccination or a credential to access a specialized worksite, giving them the ability to do that before they arrive on site will save everyone time and frustration. Pre-screening can also let you collect signatures on crucial documents and give your future visitors a chance to really read through them.
Data protection: A good automated VMS provides top-of-the-line data protection. When you're collecting ID, health information, permits, NDAs, or simply taking notes for visitor files, you need to keep that data protected from bad actors. Limiting the collection of data to only what's needed and storing it safely are two features to look for in a VMS. Honeywell Sine's VMS even lets you designate who can view data, allowing companies to limit access to private information and keep it from prying eyes.
If you're convinced by all the benefits of an automated visitor management system and want to learn how your workplace could benefit from Sine's VMS, contact us to schedule a demo.