Purchasing a visitor management system (VMS) may be a no-brainer for security, compliance, safety, and a smoother overall workflow. But not all systems are created the same, and some companies may not offer the features you need to run your VMS effectively.
That's why it's crucial to ask questions upfront about how the system will fit into your current workspace and staffing arrangements and protect you and your visitors. And while most of these questions will be directed toward a VMS vendor, some need to be asked internally first so that management and employees understand the needs being addressed and any new responsibilities they may have once the system is in place.
Without a good sense of what your visitor management solution can do and who will help handle the details, the benefits of your investment may be lost. So from considering unexpected costs to handling potential hazards and changing COVID protocols, we've put together a 3-part series to prepare you with some of the key questions companies should be asking when considering a digital visitor management system.
---
How will a visitor management system (VMS) help improve my company's bottom line?
It stands to reason that once you see the costs, you'll want to know what you're getting for your money. For example:
How will a visitor management system streamline workflows and improve employee performance?
How can it help reduce liability costs and keep workers and visitors safe?
How can it play a role in your overall physical security and cybersecurity plans?
A VMS can also help you reorganise your staff so your front office staff can essentially eliminate reception duties and concentrate on more important matters. Additionally, if your entrance security is only responsible for checking ID, they can be reassigned to other duties, or you may be able to cut down on these costs.
Can a visitor management system (VMS) be customised for my business's specific needs?
A crucial part of a visitor management system is giving visitors a smooth, welcoming, and efficient way to navigate your office or job site. Most visitors arriving on site simply want to know where to go and who to talk to so they can get on with their day. And if a site contains hazards, they'll likely want to know how to avoid those. A good VMS system will allow you to customise your questions as well as the notices you want to provide visitors to confirm they understand any hazards.
Repeat visitors
For convenience, you'll also want to ask a VMS vendor how the system will treat repeat visitors, such as those who deliver packages. Can it save them time by asking fewer questions? Can the questions be modified based on visitor details or asked every few months instead of every day? This is particularly helpful if a company owns multiple worksites and needs vastly different credentials and liability waivers for each. Ideally, a VMS would allow for this flexibility.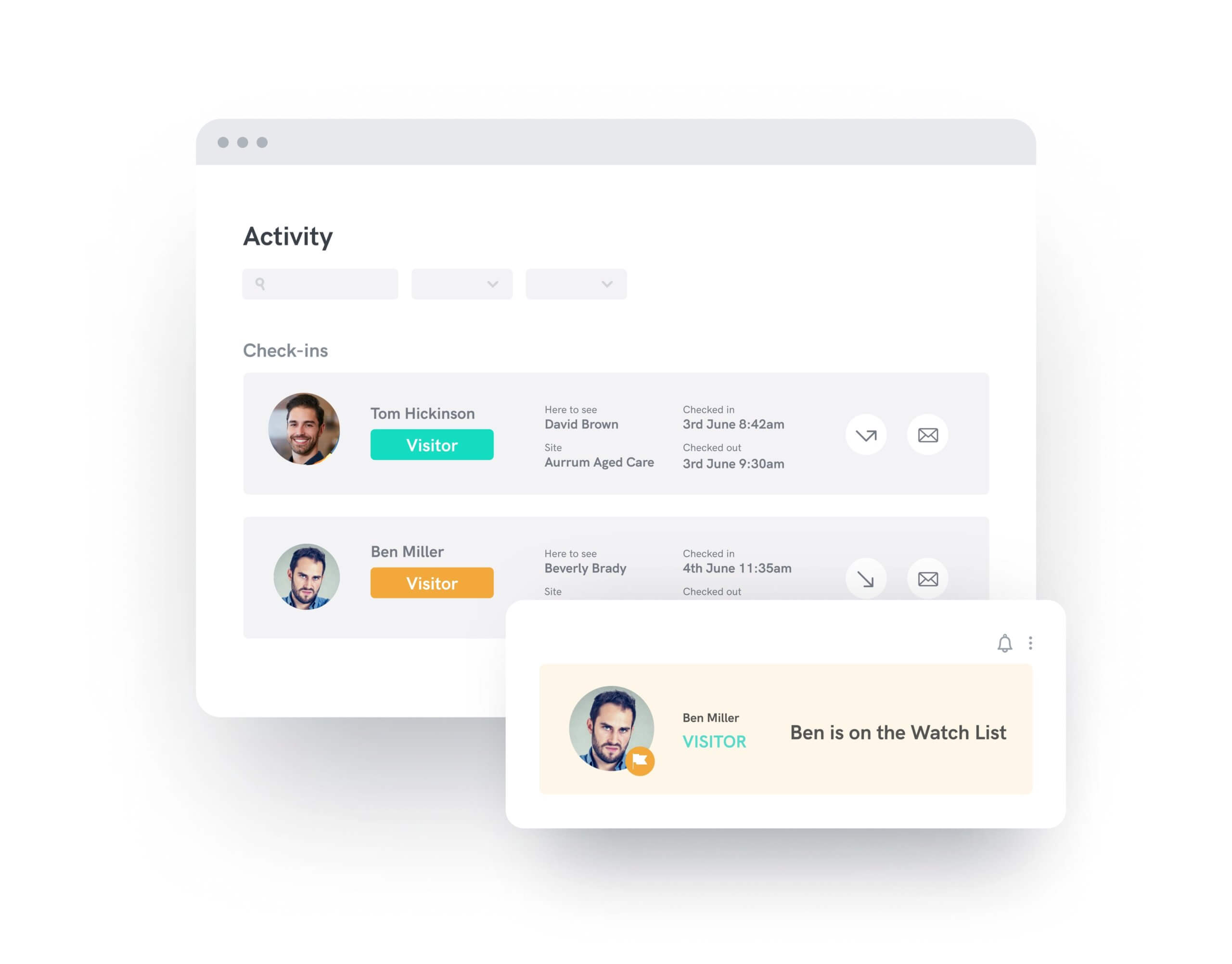 Red flags
Thinking about how you want your visitor management system to determine if visitors pose a threat is important before you sign a contract with a VMS company. For example:
Do you need to ask if a visitor has travelled recently (and do you need these questions to be easily removable when the pandemic slows down)?
How will their answers trigger alerts in a way that allows someone to deal with them efficiently?
Who will be contacted when someone gets a predefined red flag?
Worksites that deal with food or pharmaceuticals may need to take these sorts of questions very seriously.
Accessibility
You may also want to think about visitors who have disabilities. Might your VMS system need to be voice-activated for the vision impaired? If someone cannot interact with the system, who will be alerted on-site to help them?
Perhaps you need your VMS to allow for pre-registration so visitors with disabilities can get the information they need on liability and hazard issues before arriving on site. In that case, you will want to ask a VMS company about accessibility.
Smarter, safer workplaces start with Sine.
Find out how Sine can help improve your workplace
Upgrade your VMS with Sine
Effectively handling visitors can save you money on personnel, security breaches, lost productivity, compliance management, and improve your overall brand image. But choosing a vendor for your visitor management system can be a complex process. Brainstorming your needs ahead of time and thinking logically about the setup you need and the features you'd like to have will make the process more efficient.
With the right VMS, such as Sine's visitor management system and its multiple integrations, you'll have the flexibility you need to do simple check-ins, set up complex perimeter alerts, and everything in between. And better yet, you'll be able to scale up when your needs change.