Buying a visitor management system (VMS) may be a no-brainer for security, compliance, safety, and a smoother overall workflow. But not all systems are created the same, and some companies may not offer the features you need to run your VMS effectively.
That's why it's crucial to ask questions upfront about how the system will fit into your current workspace and staffing arrangements and protect you and your visitors. And while most of these questions will be directed toward a VMS vendor, some need to be asked internally first so that management and employees understand the needs being addressed and any new responsibilities they may have once the system is in place.
Without a good sense of what your visitor management solution can do and who will help handle the details, the benefits of your investment may be lost. So from considering unexpected costs to handling potential hazards and changing COVID protocols, we've put together a 3-part series to prepare you with some of the key questions companies should be asking when considering a digital visitor management system.
---
How much does a visitor management system (VMS) cost?
At some point, we all need to ask about the dollar figure on a new system so we can perform a cost-benefit analysis. But there are aspects of a VMS that customers don't usually think about upfront, and if they don't come up until later in the vendor interview process, it can lead to a lot of wasted time.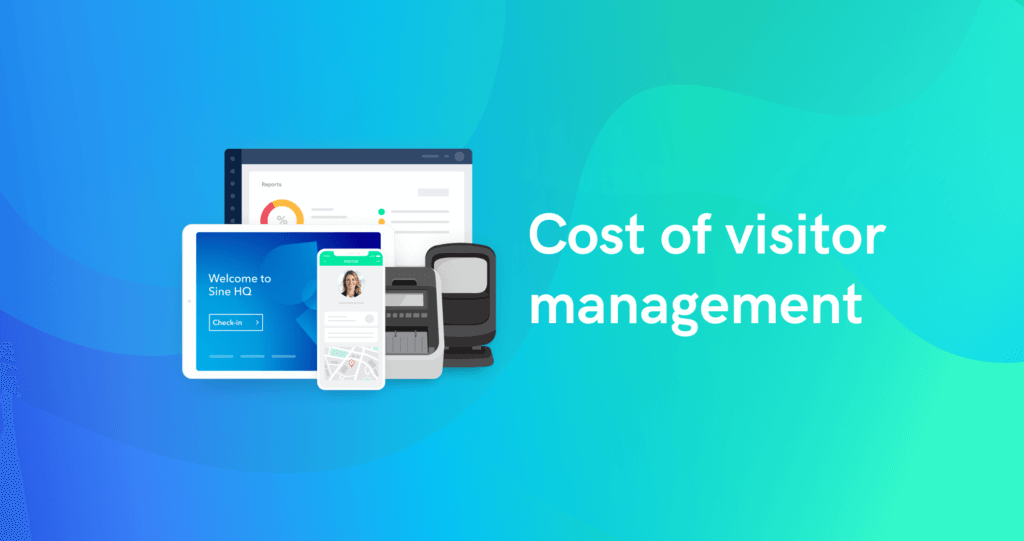 VMS equipment and materials costs
Businesses will want to assess their needs and get a sense of whether the vendor offers all of the technology they need to make a system run the way they'd like.
How many entrances will need kiosks?
Will large entrances require multiple kiosks to handle traffic flow? How much will these kiosks cost?
Will you also need badge printing capabilities? And will those badges be reusable or disposable?
What are the printing costs of each option?
Do you want to utilize touchless check-ins?
The level of technology you require will also play a large role in the cost – badge printers are a lot cheaper than biometric scanners.
One-time vs. recurring costs of a VMS
You will also want to ask what the upfront cost of the entire system is, including machinery, software, and service plans. Are there recurring costs and expenses for renting cameras, scanners, or printers? Are there annual software licenses? This will help determine 3-year or 5-year costs, so there are no surprises farther down the line. A vendor's transparency is vital when it comes to explaining costs.
VMS infrastructure and compatibility costs
You will also want to ask technical questions (likely in conjunction with your IT team) about whether the VMS equipment will work with an office's current systems? Will it require any infrastructure upgrades on your part?
Support costs needed with a VMS
It's also crucial to ask about vendor support in the event that things go wrong.
What guarantees does a vendor offer if there's a software problem, and how fast is their average turn-around time?
How available is their help desk? And do they have statistics that can put you at ease when it comes to their ability to help you down the line? If not, what kind of IT support will you need to manage your VMS?
Smarter, safer workplaces start with Sine.
Find out how Sine can help improve your workplace
Upgrade your visitor management system with Sine
Effectively handling visitors can save you money on personnel, security breaches, lost productivity, compliance management, and improve your overall brand image. But choosing a vendor for your visitor management system can be a complex process. Brainstorming your needs ahead of time and thinking logically about the setup you need and the features you'd like to have will make the process more efficient.
With the right VMS, such as Sine's visitor management system and its multiple integrations, you'll have the flexibility you need to do simple check ins, set up complex perimeter alerts, and everything in between. And better yet, you'll be able to scale up when your needs change.