What is a touchless check-in solution? Simply put, it allows your visitors, contractors or staff to check in to your site without having to touch the iPad check-in kiosk. These solutions are a great way to help slow the spread of Covid-19 in your workplace and provide your visitors with alternative check-in options.
Sine's touchless check-in options
Sine's check-in solutions go beyond the iPad. Discover what alternatives to an iPad check-in Sine has to offer if you're looking to implement touchless check-in solutions at your workplace.
Fast track QR code or instant QR code
The Fast-Track feature lets your guests securely experience life in the fast lane; where it allows you to pre-fill the details of your visitors right from the web, including their first name, email, and which Host they are here to see. An automatic email (with the option to customise the message) is sent to the visitor containing a unique 6-digit pin and QR code which is scanned upon arrival to fast track their check-in.
Instant QR is a contactless check-in method useful for businesses that experience unexpected visitors or walk-ins that may not be practical to organise ahead of time using a Fast-Track QR Code. Visitors can generate their own, secure QR code which is then used to check in and out through the contactless QR reader on the Sine check-in kiosk.
Not only does the Instant QR speed and Fast Track QR help speed up the check-in process, but it can also enable a completely contactless check-in solution for your visitors where they won't even need to touch the iPad!
Automatic check-in with geofencing
Geofencing uses technologies such as GPS and IP addresses to build custom virtual boundaries around the desired location, enabling your repeat visitors to automatically check in and check out. You can simply enable enforced check-out, which will detect when a visitor's device has left the site's geofence, whereby the Sine mobile app will automatically check them out. Geofencing also assists you to have full visibility over your visitors, where you can receive notifications when your visitor arrives and choose to accept or reject with custom messages. Most importantly, this can all be done without your returning visitors laying a finger on the iPad!
From your Mobile device: Visitors can use their mobile device to manually check into a site from the list of nearby locations.
From the web dashboard:Manually check visitors in and out via the Sine web dashboard.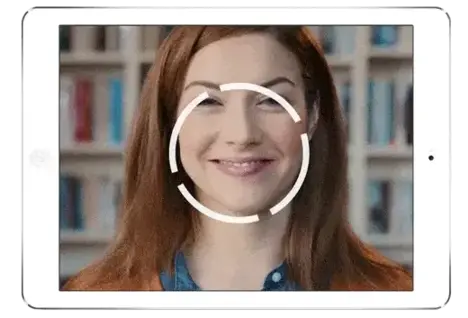 The future: facial recognition tech
Facial recognition, in a nutshell, is a way of recognising a human face through technology. Sine already has this impressive technology implemented through face check, helping to ensure all your visitors identify themselves. It uses biometrics to map faces and saves recognisable features as verified data, specific to that individual. Adding on, it compares this information against existing databases of recognised faces to see if there's a match. If you are a returning visitor, you will be able to check in and out of the site by simply showing your face to the camera, with no email or contact number required. This impressive technology is here to stay and will accelerate in the foreseeable future to enable touchless solutions for workplaces. The facial recognition market was estimated at roughly five billion U.S dollars in 2021, with it forecasted to reach 12.67 billion U.S dollars by 2028!
Prepare for the future of visitor management with Sine's touchless check-in solutions. Simply book a free demo to see how Sine can benefit your business!