For those of us who deal with worksite visitors or building management on a daily basis, it's easy to see why a visitor management system (VMS) is a good investment. But receiving approval to purchase a digital VMS typically requires convincing other staff that it's a necessary productivity, safety, and security measure.
Below, we'll look at the steps required to get buy-in from your company and its stakeholders when purchasing and implementing visitor management technology.
What is a visitor management system (VMS)?
When a guest walks through the front door of your office, you want to make the best impression possible. A visitor management system is a technology that allows you to provide a formal greeting to visitors, contractors, and even employees beyond paper sign-in sheets.
But a visitor management system is also much more than a digital visitor log. It manages the flow of people who walk through the door, helps them feel informed and welcome, and ensures your business can properly manage safety, security, occupancy, and more. A VMS can be as simple as a check-in kiosk or as cutting-edge as AI facial recognition software with geofencing to keep secure parts of your facility off-limits.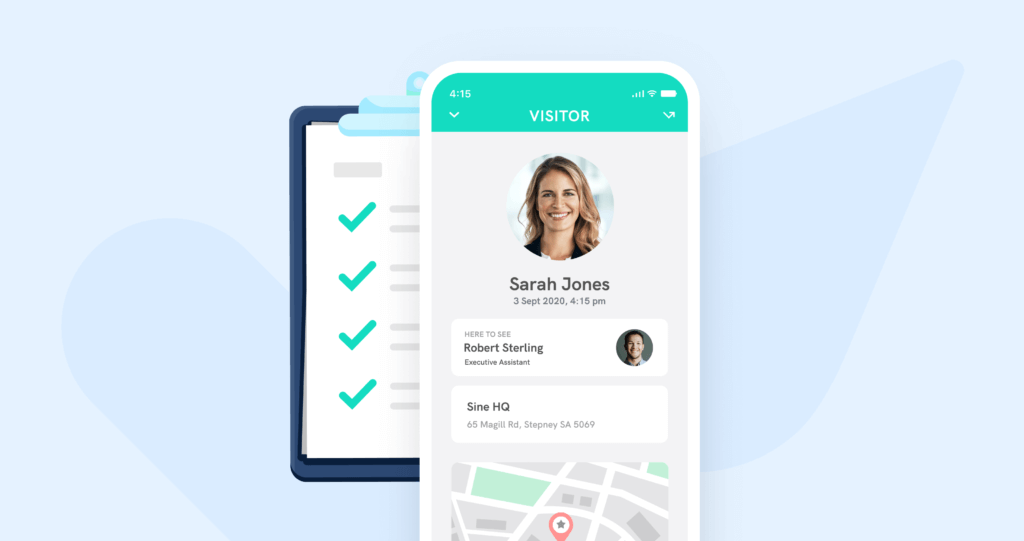 5 steps for getting buy-in and approval for a visitor management system
Spending company money requires justification, so if you want to buy a digital visitor management system, you'll still need to articulate precisely why it's necessary. Before you pitch the idea of a VMS, it's crucial to do some research so you can anticipate the hard questions managers and other stakeholders will ask.
Here are five essential steps towards getting yourself ready for the ask:
1. Establish why the company needs a visitor management system
Does your waiting room fill up with frustrated visitors? Do your guests get lost on-site and interrupt other workers? Does your office have safety hazards or privacy needs that require control over who enters certain areas? These are all reasons you may want to control the flow of people into, around, and out of your worksite.
It may be helpful to make a list of any security incidents that have occurred over the years that a VMS could have prevented. The protection of data and expensive equipment are also good reasons to propose a VMS before an incident occurs. Gathering statistics about the cost of data breaches, on-site accidents, and staff needed to safeguard a worksite will also help put the cost of a VMS into perspective. You may also want to look at potential liability and compliance issues that can be prevented by monitoring on-site visitors.
There are dozens of ways a VMS can help protect a company's assets. You just need to find the ones that are most relevant to your worksite.
2. Identify potential savings, ROI, and even drawbacks
A Traction Guest survey found that 89% of companies with visitor management systems said it helped create a safer environment, and 94% said it allowed them to increase efficiency. Of course, implementing any new system will cost time and money. Identifying the costs and savings involved in purchasing a VMS will make your pitch much stronger.
When speaking about the advantages of a digital visitor management system, be sure to mention these possibilities:
Freeing up reception staff for other tasks
Simple, fast visitor sign-in that verifies visitor identity (which can reduce the number of extra staff needed during busy seasons)
Improving physical and digital security by reducing the likelihood of thefts and security breaches
Saving time with visitor pre-registration with electronic form and document submission
Managing people flow (for example, when social distancing is necessary)
Contactless check-in
Badge printing and access to control people movement and access
Reducing workplace interruptions (Studies show that American workers are interrupted roughly 56 times a day, costing them 6 hours a day and the U.S. economy around $588 billion a year in lost productivity.)
The ability to electronically track people on the premises to ensure safety
The ability to manage a hybrid workforce with new business hours, making asynchronous work easier
Creating watchlists to spot red flags immediately
Easy cloud data storage for easy reporting analytics
Improved compliance procedures that cut legal costs
By pointing out the cost savings of a VMS, you can pitch the highest level of security you need without worrying about managers getting sticker shock.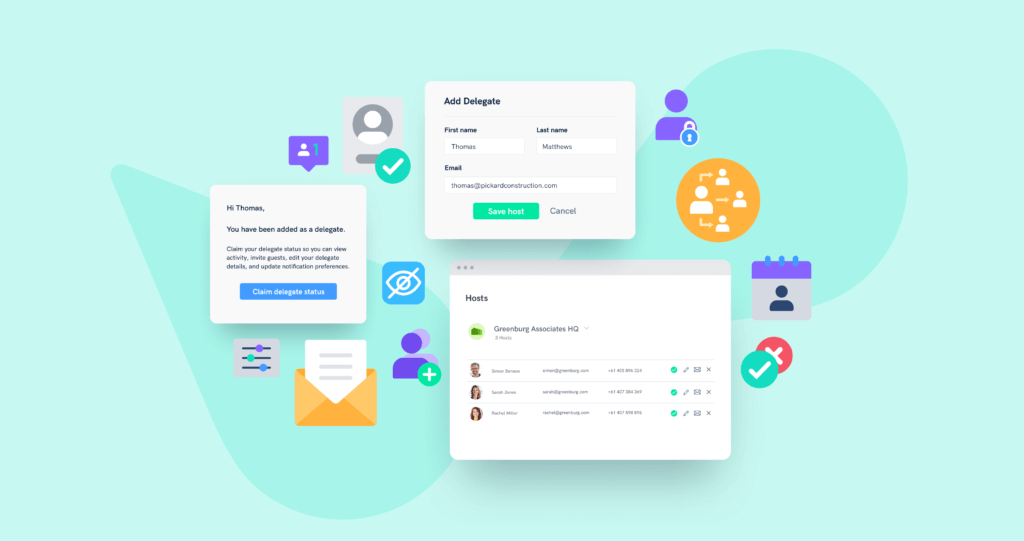 3. Research VMS vendors that can provide the services you need
Knowing who provides the VMS services you need will go a long way in making your pitch more likely to succeed. Take the time to research companies with name recognition, the most valuable features and integrations for your workplace, a good reputation for customer service, and a track record of success.
4. Identify the stakeholders who need to approve the purchase
Understanding who is in charge of approving a Visitor Management System and what departments it may affect (especially if they need to dedicate time to training) is crucial to getting your pitch past the front door.
In addition to senior managers who might need to approve a purchase, stakeholders can include:
Security managers
Legal and compliance teams
IT managers
Sales and marketing agents (who commonly invite people on site)
Reception staff
5. Make your pitch (and think like a manager when you do)
Making the pitch to managers can be difficult when they don't necessarily see the everyday ins and outs of the workplace. That's why your pitch needs to be about more than convenience or a simple cost-benefit analysis. You'll want to anticipate some of the tough questions managers have to ask themselves when making decisions about implementing new tools, such as:
How will this benefit the company's reputation?
How does this help manage current and future risks?
How does this uphold or enhance existing policies?
What new policies will be required?
How does a new tool fit into long-term company plans?
Helping stakeholders make evidence-based decisions when onboarding a new tool such as a Visitor Management System will require some research. Luckily, we know a lot about the financial, safety, security, compliance, and convenience a VMS can bring to a company. The last step is to tailor this research to your own workplace.
If you're interested in learning more about Sine's visitor management system and extensive list of integrations, you can request a demo or explore customer stories to get a real-world picture of how we are helping companies around the world.