What does your organization do when people walk through its doors? Are you aware of the first impression you are making with your guest experience? Are you taking the measures necessary to protect your people and property?
Whether you are cognizant of it, your organization has a visitor management system.
Business owners understand the power of a first impression. That's why it's critical to invest in tools that make guests and customers feel secure and welcome as soon as – or even before – they walk in the front door.
Is your reception desk staff still using paper log sheets for recording visitor information? A visitor management tool can be an integral part of providing a positive visitor experience and smooth check-in process. Not only does it make interactions with guests easier, but effective visitor management solutions can also help keep employees safe and enhance the overall employee experience.
Watch Sine in action
See how Sine can transform your reception.
What is visitor management (VM?)
Visitor Management (VM) is a set of strategies that aim to manage the flow of visitors into an area in order to create positive experience for all guests at your site, including employees. These strategies include — but are not limited to — security, safety, access control systems, queue management, information display, signage, and environmental design.
Strategies can vary by organization, facility type, industry, or geographic location.
Some organizations simply ask arrivals to provide their names, but others have higher levels of security requirements—like visitor badges, visitor photos, legal documentation, employee escorts, etc.
Modern, digital visitor management tools includes touchless access solutions like mobile apps and QR codes to help enhance health and safety through decreased physical touch points and streamline productivity through frictionless entry and exit.
Why is visitor management important?
Believe it or not, 47% of companies still use a pen and paper system to track their visitors. That process is not just inefficient, it's a security risk. Having people on the premises means you're responsible for their safety in many respects. Whether you run a school, a construction site, a factory, a care facility, or even a government building, you need to take care in vetting who is on site, what their credentials are, and manage their movement both for their protection and your own. Having a modern visitor management solution can prevent everything from injuries to data breaches and even help track regulatory compliance issues. That's why 89% of those in a recent Traction Guest survey said visitor management systems help create a safer environment, and 94% said they increased efficiency.
But it's about more than just security and liability. The way a company makes their visitors and employees feel when they're on site is an integral part of its brand. An effective visitor management system can let you interact with your guest before they even arrive by providing them directions, parking information, and important legal documents that make their time on site a more pleasant and frictionless visitor experience, letting you and your staff focus on the interactions that matter. It's no surprise then that 72% of Traction Guest respondents said that employee and visitor feedback improved after introducing a VMS.
The variety of digital tools involved in managing your visitor flow should make upgrading from a paper system a no-brainer. Site management, communication, and security are bundled together into a system that's easy to setup and use no matter what industry you're in.
From pre-screening visitors to analyzing visitor movement, the wealth of data that VMS can provide is just the icing on the cake when it comes to organizing and securing the site of your business.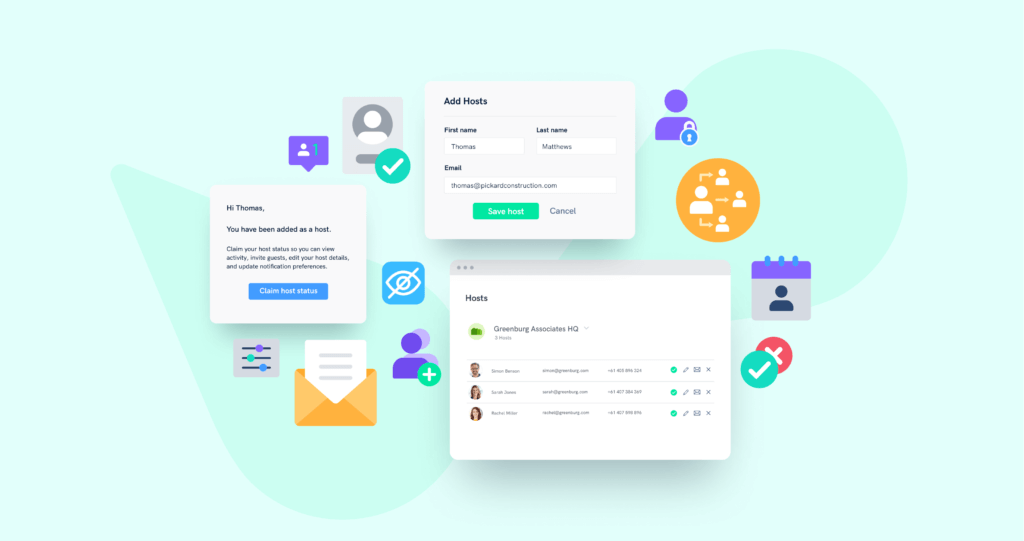 What is a visitor management system (VMS)?
Visitor management systems are essentially a replacement for the traditional record-keeping method of visitations to your workplace. Historically, many organizations have relied solely on a paper logbook to track their visitors. Visitor management software streamlines and simplifies processes, without compromising robust security and compliance obligations.
The best way to ensure a great visitor experience at your building is to have intuitive visitor check-in software and registration processes that are easy to use. Visitor sign-in software should be flexible and customizable to accommodate different types of visitors and spaces.
An electronic visitor management system (VMS) assures visitor registration information is accurate, uniformly logged, and stored for later analysis, audits, or to give returning visitors easier access privileges in the future. With electronic visitor sign-in systems, arrivals can utilize lobby kiosks, tablets, or even their own mobile device to check themselves in and out of the building.
Key features of a modern, digital visitor management system may include:
Pre – registration capabilities
Email notifications for hosts and visitors
Ability to categorize visitor types
Facial recognition technology
Badge printers
Contactless sign-in via QR code or geofence technology
Automatic notifications
Digital document signing and upload
The costs of non-compliance can be enormous, disrupting your business and costing you revenue, productivity, and money spent on fines and settlements. That's why the benefits of a visitor management software go way beyond convenience. Keeping track electronically of people and their movements keeps them where they should be, reducing the likelihood of accidents, thefts, and data security breaches.
With just a smartphone app or the swipe of a badge, your system manages people flow for you, giving you timely security notifications, spotting red flags, and helping you keep important information private. The data stored in the system also allows you to respond to audit requests with ease should there be any questions later on.
Get our Visitor Management Overview Guide
A useful quick overview of how Sine's visitor management system can benefit your company.