Knowing who your visitors are and when they've arrived is crucial to being a good host. Whether you're a healthcare facility or a hospitality business, having a system that gets people from the door to their destination smoothly and safely allows you to concentrate on delivering the services you offer rather than spending time and effort managing people flow. And when it comes to your employees, allowing them the peace of mind of knowing that visitors are vetted, identified, and have access to only the areas they need lets them get their jobs done with fewer interruptions.
Techniques to improve the visitor experience
Believe it or not, 47% of companies still use a pen and paper system to track their visitors. That process is not just inefficient, it's a security risk. Having people on the premises means you're responsible for their safety in many respects. Whether you run a school, a construction site, a factory, a care facility, or even a government building, you need to take care in vetting who is on site, what their credentials are, and manage their movement both for their protection and your own. Having a comprehensive VMS can prevent everything from injuries to data breaches and even help track regulatory compliance issues. That's why 89% of those in a recent Traction Guest survey said visitor management systems help create a safer environment, and 94% said they increased efficiency.
But it's about more than just security and liability. The way a company makes their visitors and employees feel when they're on site is an integral part of its brand. A fully optimized VMS can let you interact with your guest before they even arrive by providing them directions, parking information, and important documents that make their time on site a more pleasant and frictionless visitor experience, letting you and your staff focus on the interactions that matter. It's no surprise then that 72% of Traction Guest respondents said that employee and visitor feedback improved after introducing a VMS.
What are the benefits of visitor management systems for your staff?
Plenty of managers and C-suite executives will argue that the human touch is what leaves a good impression on those who visit a site. And yet, reception staff often have a variety of tasks bundled into their job descriptions, making it difficult to truly interact with visitors while they gather their data. But if a visitor management system (VMS) can get customers to the desk with their documents in order, that's when your front desk staff can truly take a moment during the check-in process to welcome them. Your VMS assures visitor information is accurate, uniformly logged, and stored for later analysis, audits, or to give returning visitors easier access in the future.
But what about when your visitors move beyond the front desk?
For starters, it's crucial that visitors find their way to their destination with someone expecting them. Booking features, reminders, and room scheduling allow your staff to prepare for guests so they're not interrupted during the day, which can affect both morale and productivity. The simple act of being interrupted can have a profound effect on employee performance, with a mere distraction causing a roughly 20% decrease in cognitive function and a 23 minute gap before they can get back to their original level of concentration. That's just not good for business.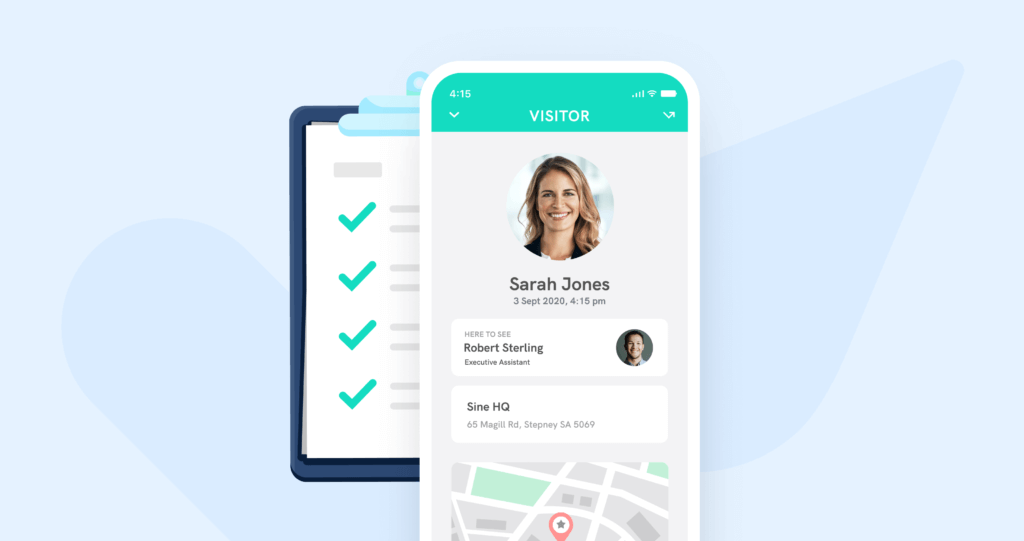 How can a visitor management system benefit your HR department?
The responsibilities of HR professionals are rapidly changing. Your HR employees are often on the front line when it comes to your company's compliance issues, and they're the ones who are most familiar with guidelines and laws designed to protect you and your employees as well as your potential customers, visitors, and vendors.
The costs of non-compliance can be enormous, disrupting your business and costing you revenue, productivity, and money spent on fines and settlements. That's why the benefits of a visitor management system go way beyond convenience. Keeping track electronically of people and their movements keeps them where they should be, reducing the likelihood of accidents, thefts, and data security breaches. With just a smartphone app or the swipe of a badge, your system manages people flow for you, giving you timely security notifications, spotting red flags, and helping you keep important information private. The data stored in the system also allows you to respond to audit requests with ease should there be any questions later on.
How can a visitor management system benefit your IT department?
Not only do visitor management systems benefit professionals in legal, HR, security, and sales, but they can help your IT department too. After all, they're in charge of a different type of security, but one that is equally important.
It's up to your IT department to integrate your VMS into your existing technology stack, ensuring that it works the way it's supposed to by monitoring secure logins, connecting multiple applications to a single account, and ensuring security certifications are appropriate. They also protect the data security of the company and its visitors. For example, they need to make sure that a patient who walks into a hospital has a comprehensive file in order, but that it can only be viewed in detail by their practitioner. It's crucial to allow the right access to the right people, so IT staff will need to update these permissions and ensure a VMS system is capable of handling these kinds of preferences and permissions.
Most VMS systems make guest work easier by letting visitors scan an ID in order to download their information. But those cards hold plenty of private data as well, so taking only what's needed is not just the best course of action but it can head off liability issues later if access is compromised.
These are just a few of the many privacy considerations you'll count on your IT staff to use your VMS for.
Upgrading to a visitor management system
The variety of digital tools involved in managing your visitor flow should make upgrading from a paper system a no-brainer. Site management, communication, and security are bundled together into a system that's easy to setup and use no matter what industry you're in.
From pre-screening visitors to analyzing visitor movement, the wealth of data that VMS can provide is just the icing on the cake when it comes to organizing and securing the site of your business.
Sine's visitor management system is what your business needs to help your receptionist staff (and beyond) thrive and grow in their positions. It provides a straightforward way to cover visitor greetings, sign-in, badge printing, collection of compliance documentation, and more!
Looking to boost productivity across all departments while ensuring the highest standards of occupant health and safety are being met at your organization? Book a demo with our team today to see how Sine can help.