Security-conscious organizations are increasingly looking towards smarter and stronger visitor management systems (VMS) to strengthen their risk management strategies. These systems are no longer deployed only in the lobby. They have moved beyond this to protect many internal functions as they become an integral part of the visitor experience.
After all, it is essential to keep track of people visiting your office or entering your facilities every day. That's why 92% of respondents in a 2020 Traction Guest survey stated they felt that VMS helps create a safer workplace environment.
These systems can safeguard your business against unlawful entry. While also giving you tools to monitor one-time visitors, such as delivery services, package deliveries, or family and friend visits.
Without a viable VMS in place, it used to be the on-duty guard or receptionist's duty to guide the visitor to their desired location inside the building. This could be burdensome to the employee who's already occupied with work.
But now you can have digitized visitor management systems to check-in visitors, monitor their time in attendance, and make their experience more friendly and time-efficient.
Let's learn more!
What are visitor management systems?
Visitor management systems are a replacement for the traditional record-keeping method of visitations to your office. In the past, many organizations have relied on paper sign-in books to track entrances.
However, the ever-growing complexity of the modern workplace has lead many organizations to look for more modern solutions. The need to streamline and simplify processes, without compromising robust security and compliance obligations. Many organizations have realized this requires more than a lone person with a paper book.
VMS allows organizations to streamline visitor management by putting all visitors through a process that starts with their pre-registration and ID verification through to providing them with badges, and finally offering customizable security notifications to the hosts.
This is a more effective and efficient way to track visits each day. Usually, the badge grants them limited access to facilities, like a particular room or a building. This helps management and employees see where visitors should be within a building.
It also helps companies collect data and track visitor information to ensure employee safety. That's how an effective visitor management system can create a mutual trust system between the employees and visitors, boosting productivity and efficiency.
In fact, VMS is essential to many businesses that must meet compliance requirements for their industry regulations.
As the visitor management market has matured, there has also been a shift from cloud-based visitor management systems to integrate with other systems, such as contractor, staff and workplace management solutions.
Why is visitor management important?
A Visitor Management System gives you maximum control over your workplace. Provide a safe environment for your employees, with full control and visibility of everyone in and out of your site.
Additionally, a VMS lets you efficiently manage not just the front desk, without worrying about a visitor queuing up to get in, but can also ensure every entrance to your site is appropriately secured.
Let's explore these advantages in detail.
Customer and employee security
Visitor check-ins can improve your employees' and organization's safety in several ways.
Having a visitor management system can be beneficial in detecting who was present and when. This information could help catch unauthorized individuals, especially in the event of a crime or security breach. In addition, with the importance of contact tracing for COVID-19 spread reduction, these systems have become a crucial part of contact tracing processes.
Additionally, unlike a manual log-book that can be stolen, a digital visitor system protects all information of every visitor. This is especially important as governments globally continue to bolster data privacy regulations (such as the GDPR) and so too, the penalties levied for breaches.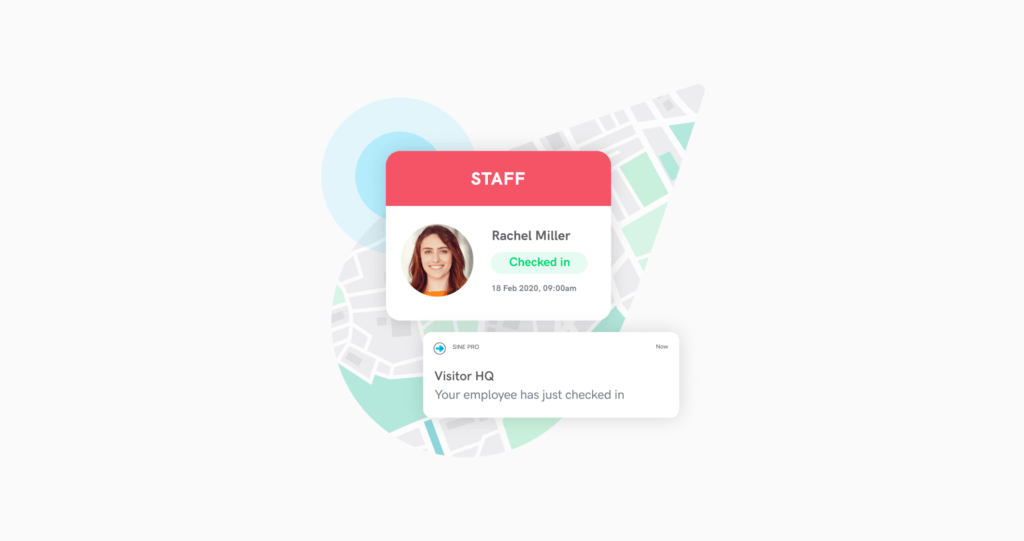 Simplified processes
A manual sign-in process, although widely used, is not very efficient.
However, a VMS makes it easy to locate a visitor's information instantly, instead of going through pages of information. Also, it is tough to fake entries and times of arrival and departure with a visitor management system in place.
Unlike collecting records manually, where the receptionist has to spend considerable time managing information, digital software can save time and efficiently analyze and record dates.
In addition, VMS offers simple solutions for regular visitors or contractors with pre-filled invitations. Or even features like automatic check-in using mobile apps and geofencing or even facial recognition for sign-in!
How much time have you spent inducting visitors to your site or ensuring NDA's are signed before entry? Let alone then filing all those records!
With a VMS, these processes can be automated as part of check-in and entry barred without valid documentation.
Important for preventative safety
It is imperative for organizations and businesses to consider their workplace health and come up with a safety plan for their employees and customers.
A digital visitor management system is an effective way of introducing a contactless sign-in system. Contactless workplaces are essential to help curb the spread of viruses such as the COVID-19 in the workplace. Sine's new VMS systems can even be integrated with hand sanitizer stations, and visitors are reminded to sanitize their hands during a check-in straight from their iPads.
You can read more about the Sine Safe solutions here, to see how you can keep your workplace COVID safe.
How do digital visitor management systems work?
At Sine, we understand the concerns for a safe and efficient working environment. This is why we have been working consistently to create a secure check-in journey and effective contactless system.
Here's how that works:
Sine dashboard
Our dashboard allows the host to invite visitors and contractors to visit your site. They will be notified through email to download Sine Pro.
We have also enabled visitor pre-screening form, through Sine Workflows, for them to gain critical COVID-19 information and answer questions such as recent travel history.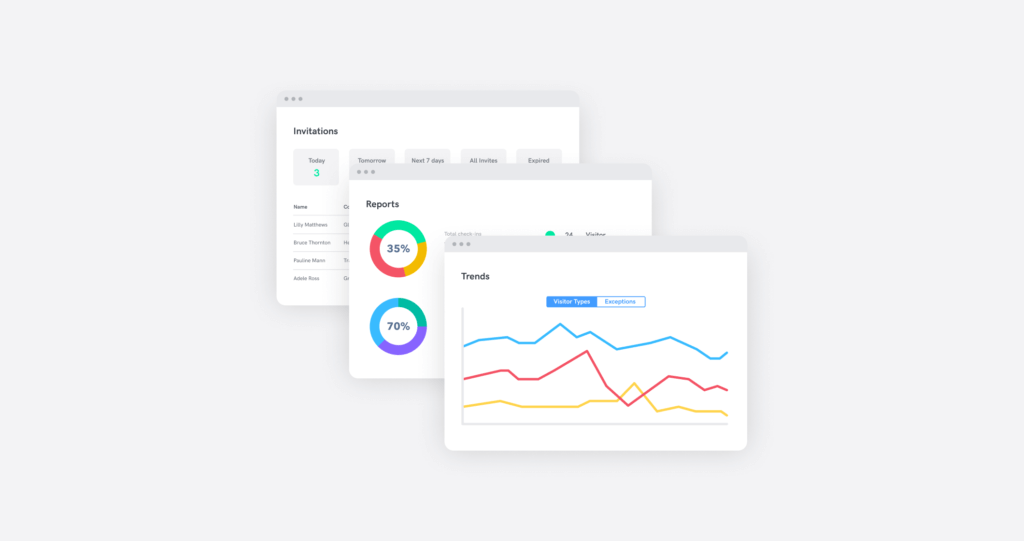 Scanning QR code
Once the visitor has downloaded the Sine app, they can scan their QR code on arrival to site.
Screen visitors on arrival
If the visitor hasn't used Sine Workflows or for an added layer of checks, they can be redirected to a COVID-19 check-in form. This provides further pre-screening on sign-in to ensure they are not displaying any symptoms of COVID-19.
How digital visitor management can help in the workplace
Think about your workplace security for a minute. Businesses usually ignore the small security breaches until there is a bigger safety issue and they find themselves unprepared.
On the other hand, legitimate visitors have a tough time getting in, hampering their visitor experience.
According to a study, 48% of visitors have had a bad experience at the reception. Additionally, 60% of workplace meetings are delayed because attendees end up in long queues when visiting partners or contractors.
Installing a digital visitor management system can help facilitate visitors while also improving employee experience.
Here are a few more advantages of a VMS:
Increased efficiency
By having a record of all the employees and visitors, it is easy to detect when they enter or leave the premises making them more vigilant about time and meeting deadlines.
Improved experience
With enhanced workplace technology like the visitor management system, companies can eliminate common employee pain points. For example, it can eliminate the tedious task of reading illegible handwriting for the receptionists who gather info from the visitors.
Visitor analytics
Having a digitized platform where you can save the information of all your visitors can help you analyze patterns in their visits. Is there a particular time a specific type of client visits? Has a customer visited more than once? How many people from outside of work came to attend a particular conference?
All these analytics can help decipher patterns so you can decide which events or promotional tactics were useful.
What to look for in a visitor management system
There are a few key things to consider when you're in the market for a visitor management system:
Security
Security is one of the primary concerns for many organizations. Your visitor management system should provide critical technologies that mirror the kind of visitors your organization gets. This makes it easier to filter through records when needed.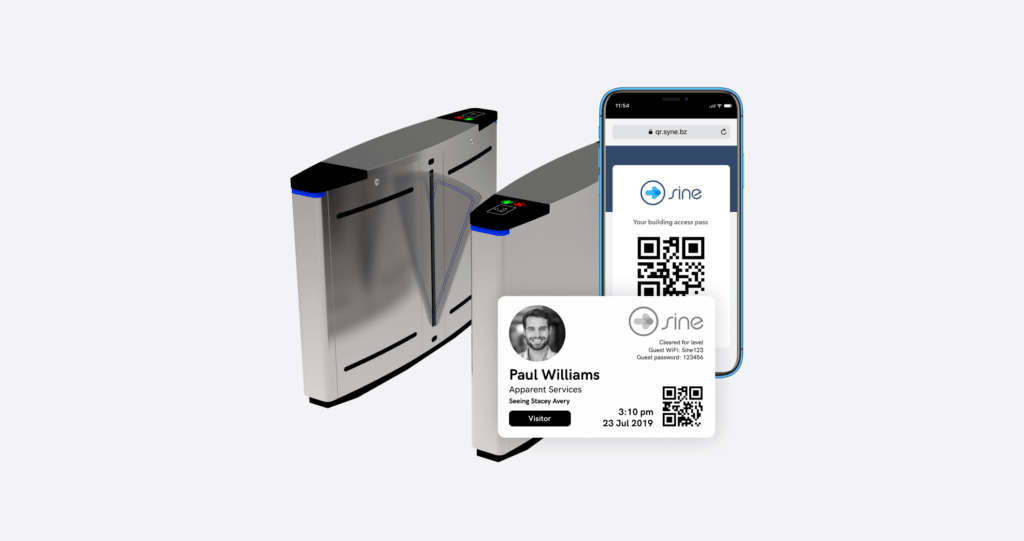 User experience (UX)
A remarkable Visitor Management System should be easy to use for both your employees and contractors. Its user interface should be easy-to-follow, check-in visitors quickly, and resonate with your organization's branding.
Meeting your goals
Most importantly, your VMS should still be able to meet all your goals efficiently. Ask yourself: Can it help you achieve your business objectives? Does it align with your organization's aims and values? Are your customers satisfied?
Chances are if these points are taken into consideration, your Visitor Management System is fulfilling its goals.
Visitor management by the numbers
With the continued rise of visitor management, a number of studies have sought to quantify the importance and efficacy of these systems.
Respondents rate the importance of having a visitor management system as 8.6 out of 10.
92% of 2019 respondents say a VMS creates a safer environment, up 10% from 2017.
76% of 2019 respondents report that adding a VMS has improved visitor feedback. This is up 4% from 2018 and up 23% from 2017.
94% of 2019 respondents say having a VMS increases operational efficiency, up from 92% in 2018.
Companies care most about compliance: Compliance is the top reason to buy a VMS (38% of respondents in 2019, up by 22% from 2018).
Increased concern for data protection: Companies are more worried about data security (63% of respondents in 2019 vs. 44% in 2018).
Background checks and security needs rise: 35% of respondents in 2019 require the ability to create watchlists (up from 25% in 2018).
Compliance and data gathering on the rise: 68% of 2019 respondents require visitors to sign documents at check-in (up 8% from last year); 85% of enterprise companies in 2019 ask visitors to sign documents at check-in.
High VMS optimization and maturity: 36% of 2019 respondents state they are past initial adoption and are now focused on optimizing their VMS platform.
These statistics and insights emphasise the need for effective visitor management platforms to empower the workplaces of tomorrow.
The future of visitor management
An effective visitor management system is the one that can allow departments and functions to work as a collective unit. Sine makes use of its Visitor Management System by enabling contractors to sign in digitally through Sine apps on site.
This helps keep the system secure with geo-fencing and tracks attendance and time of our contractors. It also allows our team to make contact-less inspections of the site via their phones.
Seamlessly integrating customer and employees' satisfaction to boost an organization's productivity and security is essential for meeting industry compliance requirements and building organizational success.
If you're interested to find out more about visitor management systems, book a demo today.