A digital office check-in system is a crucial tool to help manage the flow of people into and around your facility while providing an optimal experience for your visitors. This is true regardless of the type of business, whether it's a corporate office, healthcare facility, hotel, school, or job site. A recent survey showed that 76% of companies felt that adding a digital office check-in system has improved visitor feedback.
Executives may be concerned that digital check-in solutions don't provide the personal experience guests and visitors value most. But when lines start forming, and paperwork need to be filled out, having a few employees handle people flow, identification, and the collection of personal information makes for a stressful experience for everyone. A digital office check-in system can provide a personalized experience without sacrificing a warm welcome or wasting time.
Below, we'll look at what office check-in systems can do and some of the signs your organization needs one to enhance the visitor experience while staying secure and compliant.
What is an office check-in system?
At its most basic, an office check-in system is a set of tools and policies that regulate the entry of employees or visitors into a building. Nearly all organizations have some sort of check-in system, even if it's a receptionist or a sign-in sheet at the front desk. But these systems are becoming increasingly automated.
While COVID-19 protocols and new cyber and physical security concerns are making check-in more complex, digital systems were already gaining traction thanks to their convenience. They help reduce disorganized paper and pencil systems, reduce the number of extraneous spreadsheets that move back and forth between departments, aggregate and centralize guest data, and provide a more efficient check-in process for employees and guests.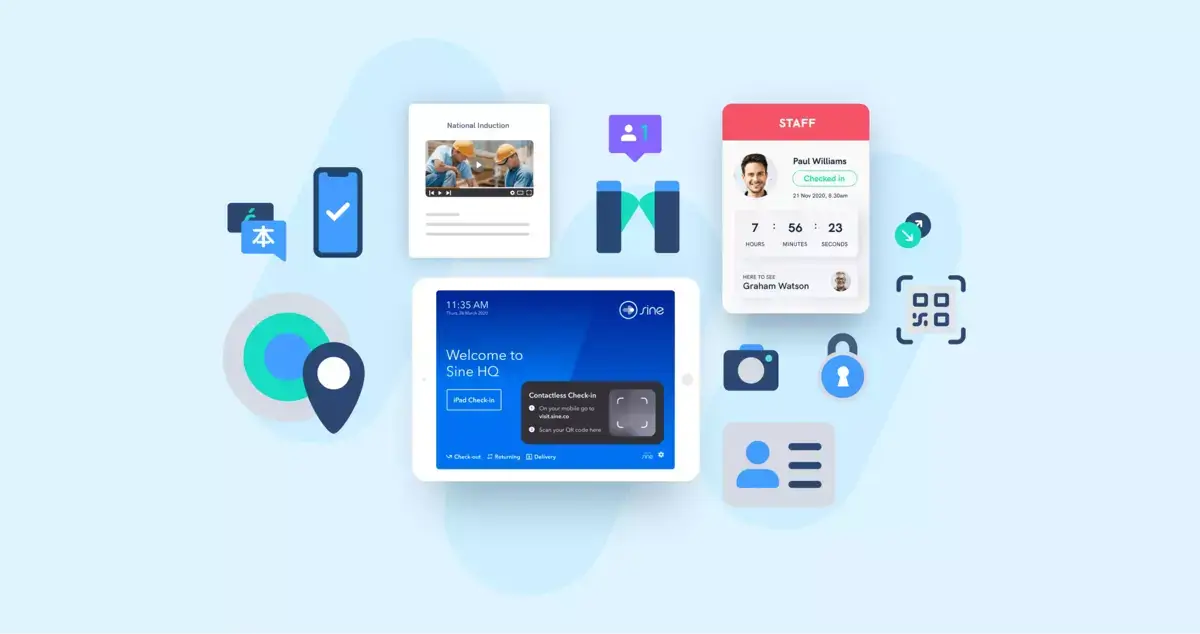 Features of a digital office sign-in system
When looking for an efficient office check-in system, it's crucial to ensure it has the right features and procedures for your workspace. For example, some organizations need maximum security to avoid injuries or intellectual property theft, while others simply need to identify guests, times of entry, etc.
When looking for an office check-in system, purchasers will want to pay attention to the following features:
The ease of use and technology involved (for example, an urgent care clinic will need to be maximally intuitive and efficient, whereas a construction worksite may need visitors to read through liability information)
iPad and mobile kiosks
Smartphone check-in
Preregistration capabilities to collect vital information in advance
The ability to quickly process repeat visitors, such as vendors or delivery people
The ability to verify identification, including the use of photo capture and signature technology
Visitor badge printing equipment
Cloud-based data storage and security
An intuitive interface to view collected data
Watchlist capabilities
Software integrations
Benefits of an workplace check-in system
There are many ways of using tools to upgrade your office check-in system. For example, visitor management systems (VMS) can be modified to fit any office or worksite environment, allowing organizations to:
Use mobile QR codes for touchless check-in
Disseminate electronic pre-screening forms to collect everything from credentials to vaccination information before guests arrive on-site
Notify hosts that guests have arrived to reduce unexpected interruptions and distractions that affect employee productivity
Collect information in an electronic visitor log so facilities managers have accurate data to improve building systems to accommodate guests
Allow guests to sign up for mobile alerts in case there is an emergency on-site
Use historical data collection to fast-track the entrance of frequent, approved visitors, such as contractors, vendors, and delivery people
Alert office staff to unauthorized visitors
Protect secure areas by limiting access to approved visitors only
Adhere to public health and general safety protocols by integrating temperature screening, face mask detection, vaccine status tracking, and public health tracing capabilities
Improve brand image by onboarding cutting-edge technology
Create an audit trail to simplify compliance reporting
An office check-in system, such as Sine's visitor management system, helps streamline entry into buildings so that front office staff can concentrate on other tasks or provide a warm welcome instead simply handing over a clipboard full of forms.
Signs your company needs a sign-in system
If you're still using sign-in sheets, you're likely considering upgrading to a digital office check-in system. Here are some signs that your office is ready to make the leap.
You have a good sense of your ideal check-in procedure for each type of guest
You've created an access policy
You need to keep up with changing security, public health, and compliance protocols
Your worksite requires waivers, NDAs, or credential-checking that can be streamlined with digital tools
Your reception staff is overworked
You understand the ROI of a good first impression
You need to keep parts of your worksite secure or track who has had access to certain areas
You need to manage people flow to keep your building systems functioning optimally
You have a large site that would benefit from an automated emergency system
You need a flexible and scalable solution to building occupancy management
You understand that paper sign-in methods cannot provide the privacy your guests expect (62% of people say they look through paper visitor logbooks to see who's signed in before them.)
Improving visitor experiences with digital systems
State-of-the-art check-in systems like Sine's visitor management system have a positive impact on building operation, employee satisfaction, visitor impressions, safety, and site costs. And companies that have invested in this technology have seen the benefits. A recent survey found that 92% of businesses utilizing a visitor management system said it helped create a safer environment, while 94% said it increased efficiency, and 96% said it provided them with essential data.
Contact Sine for a demo if you're ready to see how a digital office check-in program using a VMS can benefit your office.