Business owners understand the power of a first impression. That's why it can be important to invest in tools that make your visitors feel secure and welcome as soon as – or even before – they walk in the front door. No two businesses are the same, thus it is imperative to have visitor management techniques that will not only streamline the check-in process, but make that first impression really count.
If you want to ensure that your visitors leave your site satisfied, discover some of the most important visitor management techniques to include in your check-in process that can help you achieve visitor satisfaction.
Visitor management technique 1: Custom branded iPad and kiosk
You want your guests to be impressed when they first walk onto your site, no matter the reason for their visit. A bland waiting and check-in area with no personalised branding may hinder your visitor's first impression.
It is important to customise your iPad background, your iPad interface, and your logos. This can help enhance the welcome experience, help upkeep a positive customer reputation and may boost your brand recognition. Not only that, a custom branded iPad and Kiosk can help create a professional look to your site, making your visitors feel valued.
By incorporating your branding into your VMS, this can help humanise an otherwise automated check-in process. This can be especially powerful for companies with a strong brand voice since the images and language can be viewed on check-in screens, badges, navigation visuals, notifications, and email communications.
Visitor management technique 2: Create clear and concise procedures for visitors to follow
There is nothing worse than a guest entering your site with nobody there to greet them or no direction as to what they need to do. The guest may be left waiting for a long period, which can severely diminish your company image and create room for this guest to spread negative word of mouth. Therefore, the check-in instructions for visitors should be clearly displayed at your reception or entry area.
For example, you may require visitors to check in and out and display their reason for visit and entry and exit time. Your visitor policy should also outline if they are required to wait in a certain location or be distributed access credentials to your site. This can make a world of different for your visitors, and could make or break their experience at your site.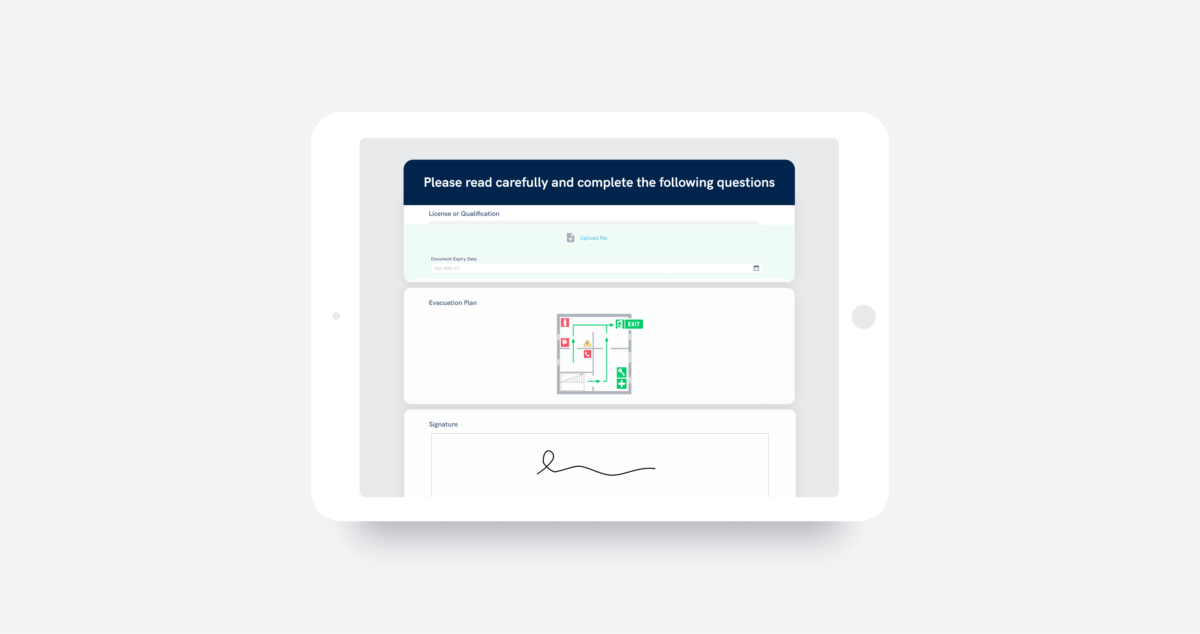 Visitor management technique 3: Offer a variety of check-in options
It is important to be flexible when it comes to checking in, as no two visitors are the same when it comes to their check-in preferences. Some visitors may not be comfortable recording their details on a communal paper logbook, or may not want to check in on an iPad due to the risk of cross-contamination.
It is important to demonstrate to your guests that you care about their health and safety, alongside their check-in preferences. Visitor Management systems like Sine offer an array of check-in solutions:
Fast Track or Instant QR code: A secure QR code is scanned upon check-in and out.
Geofencing: a virtual perimeter that enables repeat visitors to check-in and out of your site swiftly.
From your Mobile device: Visitors can use their mobile device to manually check into a site from the list of nearby locations.
From the web dashboard: Manually check visitors in and out via the Sine web dashboard.
Face check: uses facial recognition technology for quicker check-in or check out
Visitor management technique 4: Make your guests feel like real VIPs
Prepare to welcome your important guests by preparing your staff! You can leave admin notes for your receptionists to greet customers upon arrival. Something as simple as 'VIP guest' or 'requires assistance when opening the door" can make a world of difference and demonstrate sensational customer service to your guests. Even assigning visitors to a 'watchlist' to identify VIP guests who require the top level of service. Through this, reception can be prepared to look after your VIP guests and help ensure a smooth check-in process.
Visitor management technique 5: Have clearly defined roles for all staff members who interact with visitors
Everybody in your company has a role to play when it comes to delivering an unforgettable visitor experience. It is important that you clearly and accurately define the roles and responsibilities of those who are likely to interact with visitors. For example, you may assign your reception staff to meet and greet the visitor, or assign your office manager to take them on an office tour. No matter what their role is, having this system in place can help your employees to work cohesively to deliver a seamless visitor experience.
When these procedures are implemented, it is possible to create a consistent experience for everyone who visits your site. It can also give a clear reference and standard to which you and your staff can be held accountable.
Ready to take your visitor management to the next level and impress your guests? Find out how by downloading Sine's Visitor Management Overview Guide.
Get our Visitor Management Overview Guide
A useful quick overview of how Sine's visitor management system can benefit your company.