Digital visitor badges are an excellent addition to visitor management system (VMS) software. They allow organizations to create a touch-free sign-in experience and eliminate the need to print a badge. These custom visitor badges allow your facility to stay safe and compliant while collecting information about visitors before they even enter a site. They can also make a great impression on people who visit your site and see just how seriously you take both safety and making people feel welcome and noticed.
Below, we'll look at what visitor badges accomplish, more generally, as well as how digital visitor badges may be the ultimate visitor management system feature for businesses that want to reduce touch surfaces, create detailed reports, and maintain digital communication with all guests on their worksite throughout their visit.
What are custom visitor badges?
From office buildings to hospitals, visitor badges have long been a great way to identify visitors quickly. Anyone working in a building can easily identify a doctor or nurse from the card hanging from their lanyard or greet a guest or contractor and ask them if they need help finding their way. They're even increasingly popular in schools to verify visitors and instantly communicate with staff and students in case of a crisis.
Visitor badges are relevant to a wide variety of businesses, including:
Office buildings
Construction sites
Healthcare facilities
Schools, universities, and educational campuses
Factories and other manufacturing facilities
Energy and utility companies
Government buildings
The hospitality industry
Typically, when a guest arrives on site, they visit a front desk receptionist or a check-in app and provide information about their identity, the reason for their visit, as well as submit any certifications or safety information required to gain access to a site. Some facilities require facial recognition, mask or thermal scanning to ensure public health, or even fingerprints.
After the relevant data is collected from a verified guest, a receptionist or digital visitor management system either prints a badge that they'll wear visible while on the property or an app issues them a digital badge they can access from their smartphones.
A physical badge may include:
Photo Identification
Visitor name
Visitor company
Visitor type (e.g., client, contractor, parent, etc.).
Their host or the department in charge of their visit
Host company logo and name
A check-in date
Their check-out time or expiration date for the badge
A QR code that can be scanned to verify the badge or allow them access to specific parts of the facility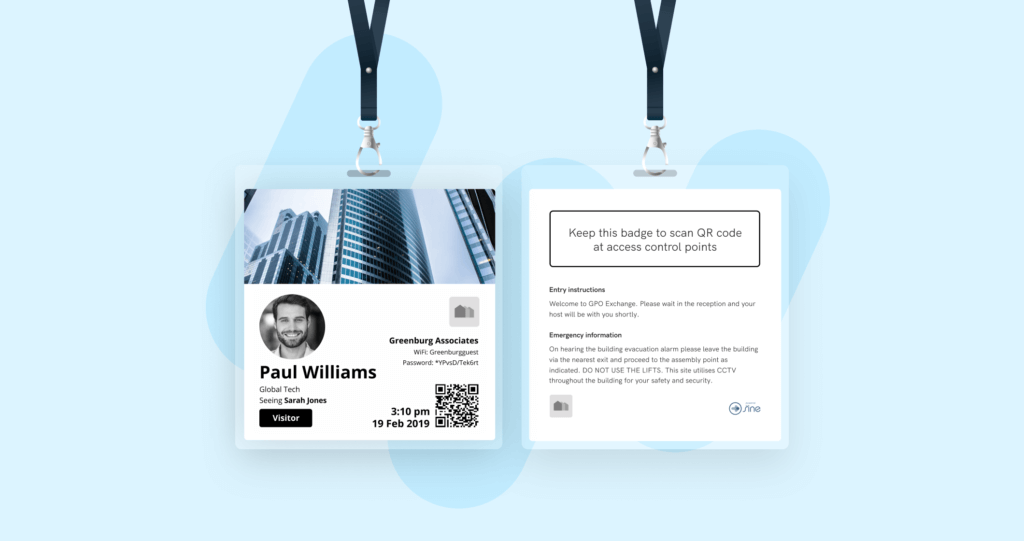 While these physical visitor badges are convenient for immediate guest identification, they are potentially a high-touch surface. That's especially true when visitor badges are also loaded with key codes to different rooms or even loaded with credit for a cafeteria.
Digital visitor badges, on the other hand, have become more common in light of the COVID pandemic. And while they may not provide immediate visual identification, digital visitor badges can give organizations more visitor control by using web-based visitor management tools to communicate immediately with people on-site. They also seamlessly integrate with other technology for the increasingly paperless workplace.
What is a digital visitor badge, and how do they work?
A digital visitor badge lives on a guest's smartphone which can be scanned by security or on an iPad as visitors enter a facility or move around a site. For example, the Sine Pro app lets visitors simply scan in with their phones for a quick and easy check-in that helps avoid overcrowding in common areas in lobbies, waiting in long lines, and delaying their entry until they complete lengthy check-in forms.
Efficiency
Sine's visitor registration software allows guests to fill out necessary forms in advance so that all of their information is immediately available when they scan a QR code housed on their phone with the visitor sign-in iPad or tablet. These QR codes can hold far more information than a traditional photo ID.
With just a simple scanning movement, a check-in kiosk can read the information on a guest's smartphone and check them in, allowing less wait time and better people flow in high-traffic entrance areas. This can be especially important in times of public health emergencies or even on days when buildings need to be kept as cool as possible to maintain a comfortable temperature as summer months continue to get hotter and some businesses limit air conditioning.
Compliance
These digital tools also allow companies to collect and store signatures on the spot in the event that guests need to sign liability waivers or agree to terms and conditions on the spot. they can also send customer service questionnaires as guests leave the facility so you can get the feedback you need from each visit.
The app can send a guest a message while they're on-site with all of the information they might need - all without having to return to a sign-in desk for extra forms or use communal screens that spread germs. This also helps cut down on troublesome distractions that can disrupt workdays and rob workers of their concentration.
And on government sites, it's crucial to know who is on your property, when they were there, what spaces the visited, and what rooms or equipment they have accessed. For construction sites, site inductions are also crucial to maintain compliance, so having contactless induction procedures saves people time and money. There are no stacks of paper. For example, using Sine workflows, you can create an induction process using a simple drag-and-drop interface, adding as many blocks as you need for your specific site and industry.
Safety
A digital visitor app can also help visitors access maps and emergency messages on-site without having to flag anyone down. Geofencing technology can give your company all of the relevant information about who is in a particular area in real-time so you can make security a priority and send specific instructions in case of an evacuation or other emergency.
Overall, digital badges allow just about all aspects of visitor management to be accomplished more quickly than they would have been with paper.
Health
Whenever guests leave, they can simply scan out with a digital badge. They don't need to leave their badge with anyone, and the facility doesn't have to worry about destroying it for security purposes. There's also no need for your workers to handle a physical badge that may spread germs or closely interact with guests who may increase their exposure to diseases such as COVID and the flu. And if there is a case of disease transmission on-site, having the Sine Pro app allows companies to notify anyone who was present on a specific day. There are also a growing number of third-party integrations that are much easier to connect to while using a digital phone app.
In cases where a physical badge is necessary, visitors can also use Sine's web-based visitor management app to fill out forms and store the data. Then, they scan their phone at the site and immediately print a badge with all the necessary information. In this sense, the digital visitor management system interaction typically takes place before the guest is on site, providing them with details on what to expect.
In the end, digitizing some of the entry process doesn't make business less personal, in fact it frees up your reception staff to do their real work, including warmly welcoming people who walk into your facility.
What are the benefits of digital visitor badges?
Digital visitor badges and contactless sign-in apps and accessories are convenient for busy locations or organizations that put a premium on health, safety, and sustainability.
Reduce equipment and go touch-free
Printing a visitor badge requires multiple people handling both the badge printer and the badge itself. Printing badges can also be time-consuming, requiring a constant supply of plastics, paper, ink, and attachment gear such as clips and lanyards. None of this equipment is necessary with digital visitor badges. Having guests sign up in advance for a digital visitor badge reduces the overall need for reception staff, or at the very least ensures they're available to welcome your guests instead of impersonally collect stacks of forms in order to create visitor files and print badges.
Maintain site security with a badge that doesn't get lost or stolen
There's also the possibility that a physical visitor badge will be dropped, lost, or even stolen to gain entry to otherwise secure locations. A digital visitor badge exists on a smartphone. Since there are currently 6.64 billion smartphone users in the world today (nearly 84% of the population), it excludes very few people from using them. Phones (or the visitor management app itself) can be locked, so it's not useable to anyone but the owner.
Create a complete picture of guests
Printed badges also have space limitations, meaning that more extensive information requires a digital component anyway. Once a badge is printed, any mistakes or updates require printing another badge. A digital badge can be updated at any time.
The information stored on digital visitor badges can also remain available for an organization's records after check-out in case you need to create visitor reports for planning, building management, or compliance purposes. Real-time information can show you peak visitor times each day as well and data collection can aid in analyzing trends. Sine's intuitive dashboard is a perfect way to monitor your stats at any given time.
Of course, digital tools also help keep guests out. Sine's VMS allows for the creation of watchlists or even lists of those who are not permitted to enter (such as former employees).
Streamline future visits
Visitor management systems, such as Sine's, also allow your organization to create permanent visitor files so that managers, sales agents, receptionists, or other hosts can store anything from emergency information for guests to helpful notes that will make future visits more pleasant or efficient. And these digital records give you precise information on the time, length, and location of each visit.
Impress guests with high-tech features
Your company's image is crucial and digital tools such as visitor management systems and badge apps allow them to see that you make the latest tech a priority. It also shows people just how seriously you take security as well as their safety. So in addition to all of the useful tools and data it provides organizations and guests it also makes a great impression on people who visit your locations.
There may still be a time and place for physical badges on some properties, especially if guests need to be easily identified. But digital guest badges can be particularly helpful during public health emergencies or with frequent visitors such as contractors, clients, and vendors.
---
A frictionless future
In their 2020 report on "Adapting customer experience in the time of coronavirus," McKinsey & Co encouraged companies to create new tools to help customers reimagine the customer experience in a post-COVID-19 world. One of their specific recommendations was to create more contactless operations. Accelerating digital options is a wise option for any company, regardless of whether their guests are contractors or customers, and digital sign-in systems help organizations show how much they value a tech-forward approach that highlights safety, security, and compliance.
Custom visitor badges are an excellent way to identify various visitors entering your workspace. While the ability to print a badge provides immediate recognition of guests, the next generation of visitor badges is likely the be digital – or at last have a digital component. Digital visitor badges allow organizations and their guests and workers the ease of using smartphones when it comes to checking into buildings, finding their way around, accessing people on site, checking maps, receiving emergency messaging, and even scanning into meeting rooms or other locations where they're needed. While there may always be a need for physical badges, the ability to organize visitors and guests on a digital platform and utilize their smartphone for navigating a workspace is great.
Ready to upgrade your visitor badge system? Book a free live demo with the Sine team today!