Visitor management solutions help your worksite stay safe, organized, and compliant. An integral part of this system for many companies is the visitor badges often issued to guests upon their arrival at a facility. These can take many forms but generally break down into physical (wearable) badges and digital badges that reside on a mobile device.
Both physical and digital badges have their pros and cons, and below we'll look at each type to help you decide which type of badge is right for your company and its visitors.
Why are visitor badges important?
Let's assume you've already recognized the vast array of benefits associated with a visitor management system, but you're still deciding if and how to use badges. That's a common conundrum, and different organizations will have different needs. For example, more schools are issuing badges to anyone who comes on campus and needs access to facilities.
The great thing about badges, whether they're physical or digital, is that they can:
Provide your guests and employees with an easy way to identify people on the premises
Give guests a means of touchless entry to certain parts of worksites
Allow guests to move around your facility with all the appropriate permissions
Prevent guest access to buildings, rooms, devices, and workstations that are off-limits
In fact, no matter what kind of badge you use, you can add or revoke permissions during a visit, ensuring that your workplace stays safe and private while giving guests the convenience of getting from Point A to Point B unimpeded.
What information is included on a visitor badge?
Both physical and digital badges can be customized depending on an organization's needs. But typically, an ID badge will include:
The visitor's name
The visitor's photograph
The name of your company and possible their company
The type of visitor they are (for example, someone with one-day access, a contractor, a parent, etc.)
But badges can include much more information. And while it may seem like digital badges are the way to go if you need to include minute details, QR codes on visitor badges can hold nearly all of the same information. For example, Sine's QR-coded badges can be scanned on an iPad to initiate check-out procedures without guests having to enter any extra details.
Other details you may want to include on visitor badges are:
The date, time, and duration of a guest's visit
The person hosting the guest
And, of course, that scannable QR code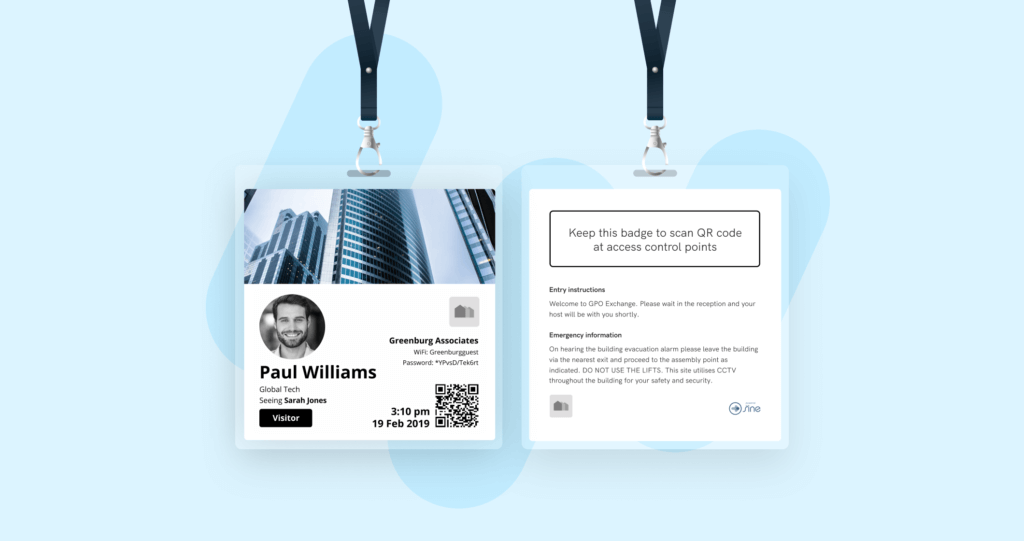 The pros and cons of physical ID badges
Physical badges are more common than digital badges, but each type has its pros and cons. With a physical badge, you need only stick it to clothing or wear it around your neck to have all the ID you need at hand.
Of course, it does require a badge printer, and supplies such as special paper or lanyard can represent an ongoing expense and contribute to waste. Physical badges can also be easily lost or forgotten (if they're reusable).
However, physical badges can hold a wealth of information thanks to QR codes. There can be compatible with geofencing, though that is an extra layer of technology. But physical badges can quickly be scanned for access to buildings, rooms, devices, etc.
The major benefit is that they allow people on site to see a visitor's ID at all times. It's easier to match a face to an ID photo for verification, remember someone's name, and see what type of visitor they are (in the event they've overstepped a boundary) if they're wearing an ID badge (from Sine's color ID badge printer) around their neck or on their clothing.
The pros and cons of digital/virtual ID badges
For the ultimate touchless experience, Sine implemented digital visitor badges in 2020. And while they do require access to a charged and ready mobile phone, there are 3.5 billion smartphone users in the world today. Then again, not everyone wants to have their phone out while on site or download an app so they can move around a facility.
The major downside of a virtual ID badge is that it doesn't make your details immediately visible to those you encounter on site. This may lead to more questions from people you meet, but in a secure facility, it's generally accepted that if you get past the door, you're in the right place.
Digital/virtual ID badges are also easy to use if you need quick access to any notes associated with the building, such as maps. And the same app will often be your source for any emergency notifications that are delivered while you're on-site. A digital badge also allows for easier guest tracking and is easily compatible with geofencing. And if anything about your ID needs to change mid-visit (such as giving you access to a new room), those can be updated from a central database. Simply put, a digital badge can store more information.
But the major advantage of a digital visitor badge is that it doesn't require a badge printer. They also cut down on the supplies needed to make badges and therefore cut down on the risks of inadvertently sharing germs with the many people who may be retrieving their IDs from the same machine.
Enhance your workplace experience with badges for optimal safety
The type of badge system you choose will depend largely on how secure your facility needs to be, the number of guests you admit, and whether you require features such as precise geofencing.
The good news is that with a Sine, you can upgrade your tools to allow visitors to use any type of badge for ID, admission into specific locations, access to machines, and more. And if you need the comprehensive qualities of both types of badges, a physical badge can be accompanied by a mobile app with all the appropriate building information, forms, pre-registration features, up-to-date permissions, and notifications.
Upgrade your workplace with Sine. Book a free, live demo with one of our friendly team members today!