Delivery management was a cumbersome task even before the pandemic, thanks to the rise of eCommerce. Not only do some companies receive large number of packages every day, but occasionally employees have personal mail routed to the office.
Understandably, employees who work during normal business hours don't want parcels sitting on their porch or in an apartment complex's communal mailroom during the day. Other packages may require a signature. However, getting personal packages at work can be a drain on a business's resources and create liability and labor issues for front office staff. This is why delivery management systems have become an indispensable part of office software suites.
What is a delivery management system?
Delivery management software can be used in a few different ways. Most commonly, it refers to the software that shipping and courier companies use to automate delivery route planning, send notifications to delivery drivers, collect proof of delivery, virtually track delivery vehicles, and much more.
For businesses on the receiving end, delivery management involves a different workflow. When packages arrive, someone needs to sign for them. That person then bears responsibility for making sure packages get to the mailroom or directly to the recipients. Once a package is out of the hands of the delivery company, it's no longer their responsibility. This can put front office staff on the hook when it comes to making sure the package gets to its recipient in one piece.
Delivery management software takes the burden off reception staff by allowing couriers to sign in to a worksite and record the date and time of package delivery. Ideally, this software would also record the recipient's name and send them a direct, real time notification that a package has arrived for them so they can retrieve it before it causes issues for other staff or takes up space in the mailroom.
Benefits of delivery management software
The primary beneficiaries of delivery management systems are couriers, package recipients, and reception staff. For those dropping off packages, this software should reduce the time they spend waiting for someone to sign for a package. Recipients will no longer have to rely on a mobile app (or guesses) when it comes to tracking deliveries; they will know as soon as the parcel is on-site so they can retrieve it.
Reception staff typically benefits the most from automating delivery management because they have long been tasked with interrupting their work to personally manage the package delivery process. In large office buildings, this task can be especially onerous if receptionists or other front office staff have to look up contact information for the recipient, contact them about their package, and then make room for it in their own workspace until it is retrieved. Reception staff are often responsible for transporting packages to the mailroom and sending reminders about packages that aren't picked up promptly. When employees get personal packages delivered to the office, these tasks can grow exponentially around the holidays, reducing the productivity of receptionists.
Key features of a delivery management system
If delivery management is going to save time, reduce frustration, and prevent lost parcels, it will need to have features that automate the work of reception staff. Therefore, a good delivery management software system should do some or all of the following tasks:
Record electronic proof of delivery
Include label scanning for swift drop-offs
Deliver alerts and reminders to recipients and allow staff to control the frequency of notifications
Allow employees to acknowledge delivery and record their collection of the parcel
Populate delivery logs and generate reports on employees who receive excessive packages
Integrate seamlessly with other systems, specifically visitor management systems (VMS)
Overall, the goal of a delivery management system should be to bypass reception in favor of immediately notifying recipients that their package has arrived (and that they are now responsible for what happens to it).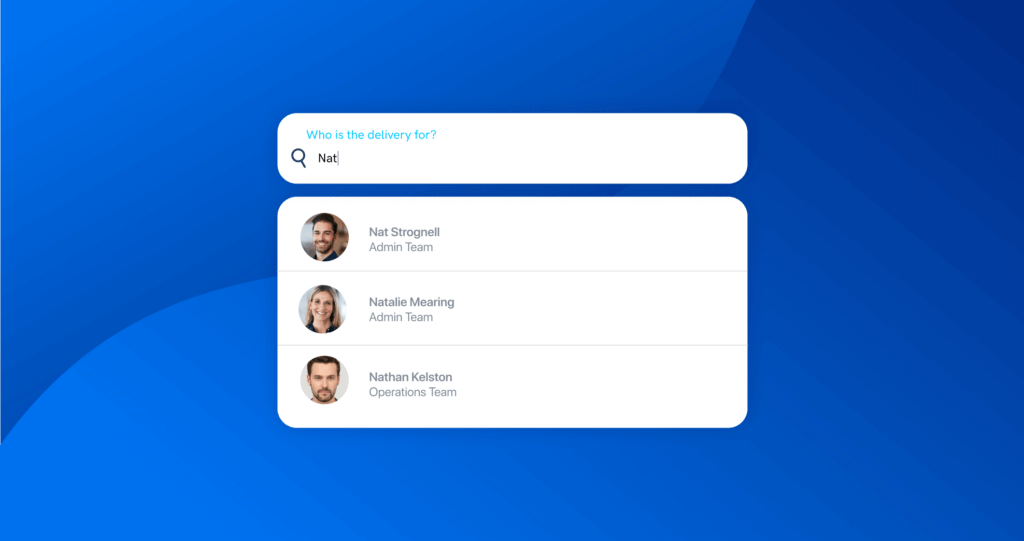 How Sine can help you manage your office's incoming deliveries
Maybe you already knew our mission is to help you improve safety, security, and compliance for your visitors, contractors, staff, and assets. But now we can help you document each delivery and notify recipients their package has arrived.
With Sine, companies can customize their systems to add delivery management features, including courier check-in and recipient delivery notifications. New features such as "Search and Notify for Deliveries" allow couriers to enter the recipient's name at the check-in point to send them a direct notification.
It may seem simple, but delivery notification software is an important way to let reception staff maintain their workflows without constant interruptions. Rather than spending their day signing for personal packages, and then following up with employees to pick them up, they are freed up to focus on more important tasks and will thank you for it!
Safer, smarter workplaces start with Sine
Let's chat about your needs and how we can help.
Request demo