Imagine yourself showing up for a business meeting. You're about to make a presentation and enter into a labyrinth of offices, reception areas, and meeting rooms. Let's say you're nervous and would like to check to make sure you made it there without mishaps to your hair or clothing. Where's the bathroom? What floor do you need? Do you take a left or right out of the elevator? Do you have time to get your bearings and take a deep breath before your presentation begins?
It's easy to get turned around in modern buildings. Whether you have a big presentation, a meeting with your child's principal, a doctor's appointment in a medical complex, or a maintenance order to fix a copier, it's easier to show up at your final destination on time if the building is easy and intuitive to navigate.
Now, imagine walking into a building, scanning your ID, and swiftly getting a visitor badge. Your appointment is already in the system, and an iPad notifies you that you need the 3rd floor – Conference Room C. A map illuminates the way to the elevators and you see the room is the first door on the left when you exit. There are signs all around telling you where to find elevators, restrooms, and exits. Now you know exactly where you're headed and what you'll find when you get there. You can take a minute to get your thoughts together. That's one of the many ways wayfinding makes our days more manageable.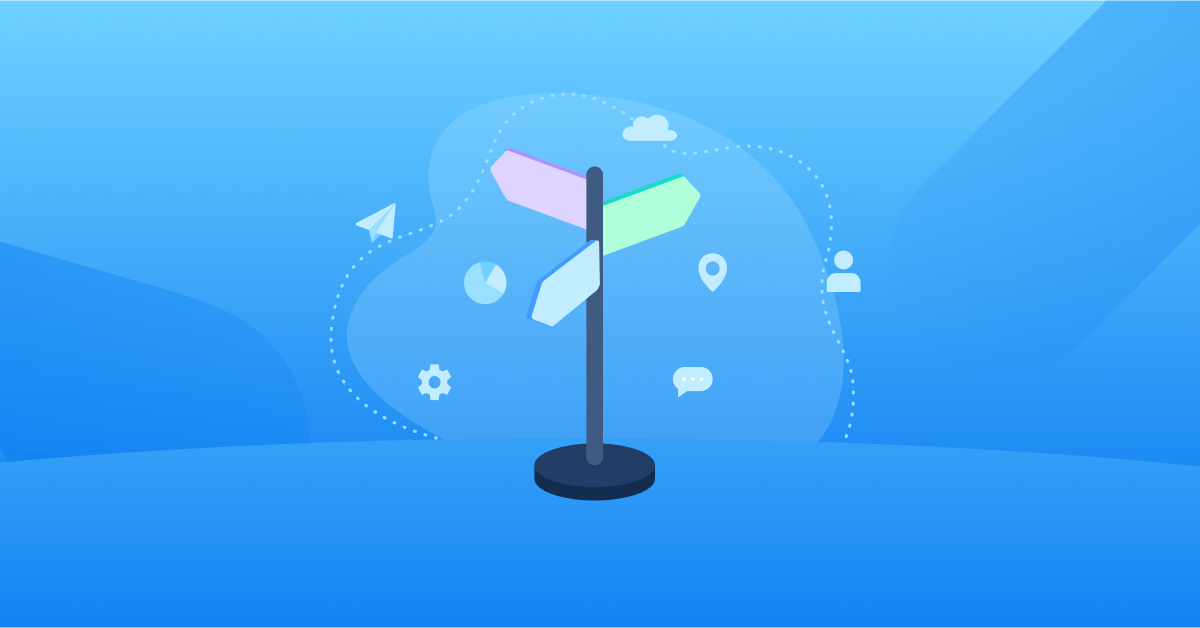 What is office wayfinding, and why is it necessary?
Office wayfinding is precisely what it sounds like – finding your way around an office or building and being able to reach your final destination in an office building without getting lost or having to ask for directions.
While you might not think you need special tools to help you do that, your visitors surely do. And the truth is, we all use workplace wayfinding daily to find each other's offices, locate restrooms, seek out emergency exits and staircases, and more.
Physical wayfinding tools
Wayfinding can be physical or digital. Physical wayfinding refers to posted signs or even architectural features that help you navigate a space. For example, a public library may use a color-coded system in which the children's section has yellow lines on the floor, fiction is blue, and paths to exits and restrooms are red. A museum may have a central foyer on each floor to give you an anchor point so you can return to a common area after wandering. These are all wayfinding mechanisms, some of which are enhanced by intuitive design.
Digital wayfinding
Wayfinding software, interactive maps, and digital signage are increasingly popular for offices that accommodate hybrid workers, receive many visitors, are newly redesigned, or share space with other companies in a large space. Sometimes, digital office wayfinding may even come in the form of an app integrated into a visitor management system (VMS) that allows you to see where you are at any given time in relation to the building's facilities.
Workplace wayfinding tools can be interactive and personalized to your needs and location and provide employees and guests with an immersive experience and a great image of your brand.
Six ways wayfinding can help avoid confusion in your workplace
Office wayfinding is becoming increasingly necessary for organizations that handle visitors, contractors, hybrid staff, and other guests arriving onsite throughout the day. Here are several examples of when and how wayfinding can come in handy:
1. Guide guests from point A to point B
Indoor mapping and wayfinding software allow guests, caterers, delivery people, and more to find the route to your office or meeting room, choose alternate routes if there's construction going on, and use geofencing tools to put up digital barriers around unsafe areas. This can also help you protect private areas.
If you're on the way to a meeting, you can even drop a pin or share your location from your smartphone so colleagues can catch up with you.
Guiding guests is also crucial during large events like conferences and shows that take place in enormous hotels and convention centers that very few people know their way around naturally. The venue will have its own wayfinding, but going through a list of destinations on a wall or kiosk every hour while still trying to make it to the next presentation can be challenging. Wayfinding tech helps them out.
2. Helping the hybrid workforce readjust
If part of your staff maintains a hybrid schedule or you still have remote workers who need to come in for meetings, chances are the layout of your office has changed since the beginning of the pandemic. While new office plans can encourage workers to come in, you never want your employees to feel lost, confused, or disconnected from the company they once knew. Having them wander around to search for conference rooms or part-time desks will do just that.
Digital wayfinding tools can be a major convenience for old and new employees who need to navigate a new floor plan. And when your wayfinding tools integrate with a VMS, your people can easily take advantage of hot desking (aka desk hoteling) privileges to book desks and meeting rooms and find their way directly to where they need to be.
3. Reduce employee distractions
Like other parts of visitor management platforms, wayfinding options help you reduce distractions to your hard-working employees, whether it's in a conference center, office building, or even shopping complex. By making your guests self-sufficient and providing them with digital tools to get to where they want to be, they're far less likely to cost you time and money by interrupting employees for directions.
4. Guide occupants to safety
Whether it's a public health emergency, a fire, a broken elevator, or the unfortunate reality of workplace violence, wayfinding can help ensure the people in your building can find an exit or a safe place if there's a safety crisis. They can also help guide first responders to move around your unique environment or assist in an evacuation.
Wayfinding apps and maps can help people anywhere on site find PPE storage, shelter-in-place zones, emergency exits, and other landmarks that help them get a sense of where they are and where they need to go. Many digital wayfinding tools can be customized for different incidents. Even if it's something as simple as an elevator under repair and the need to quickly locate staircases to move around the building, these tools can illuminate (quite literally) the path to safety.
5. Park with precision
Wayfinding tech isn't just confined to the inside of the building. Cavernous and winding parking garages or large parking lots also require identifying signs to help employees and visitors find their cars. It can even utilize smart parking technology to help employees find parking faster, so they're not late to work.
6. Manage and track people flow
Employees and visitors get real-time facility awareness using office wayfinding, and so do building managers.
In cases where social distancing is required, wayfinding apps can be used for access control, to gauge the number of people in an area, and prevent overcrowding and bottlenecks, especially around large wall maps or directory kiosks.
And with the use of building sensors, which are becoming increasingly available in commercial real estate, managers can track people flow and get a better sense of how buildings are used so that workplace wayfinding can generate data to improve occupant experience.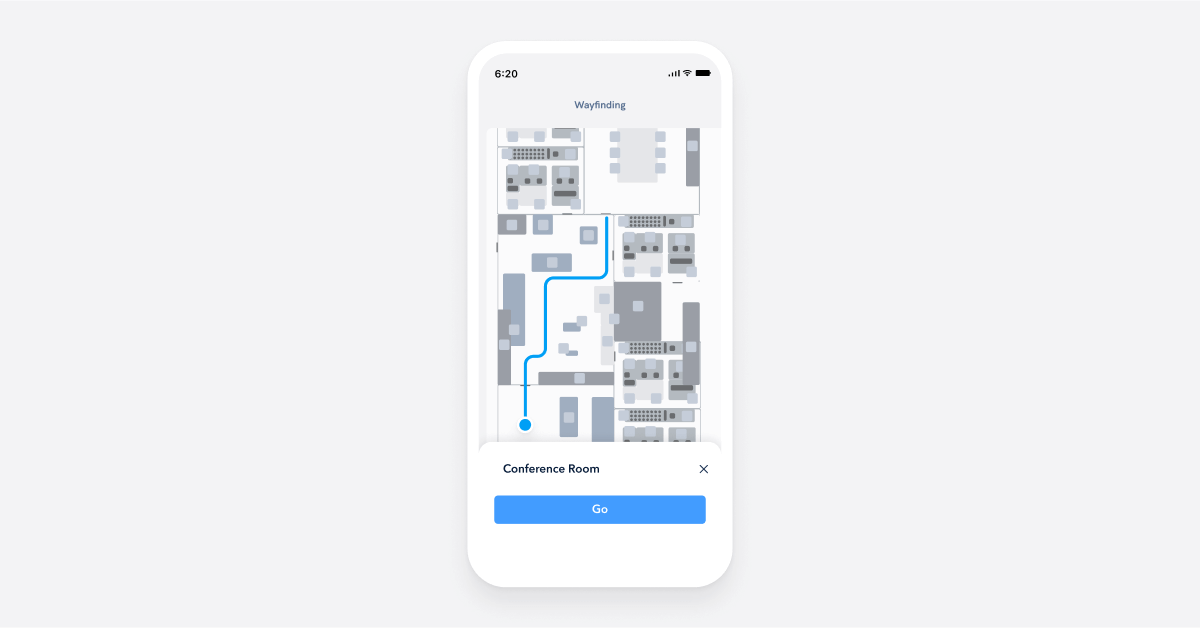 Wayfinding: the new trend in office tech
Office wayfinding tech is part of the new generation of smart tools that help you reimagine the workplace and build the office of the future, all while boosting your brand image. Proptech is becoming a non-negotiable part of commercial real estate for the data it provides as well.
By using these tools to their full abilities by integrating them into visitor management systems such as Sine's, you can manage the changing office landscape, improve people flow, and make on-site navigation a breeze.
If you'd like to see what Sine has to offer, be sure to book a demo and see how the new world of smart building management is operating.