Remote and hybrid work was increasing long before the pandemic. In 2019, an IWG study found 50% of employees globally were already working outside of their main office headquarters for at least 2.5 days a week, that 85% confirmed it made them more productive, and that 65% of businesses felt flexible work environments helped them manage risk and consolidate their portfolios.
However, since 2020, companies have increasingly rearranged their real estate holdings to accommodate employee work-from-home preferences. In many cases, this has been a successful cost-saving measure. Office space is usually the second-biggest cost for organizations.
But not all employees want to work from home all the time. So workplaces have been challenged to come up with arrangements to accommodate office workers who only need desk space a few days a week. Two solutions for the flexible workplace are hot desking and office hoteling.
What are hot desking and office hoteling?
Hot desking and office hoteling (or desk hoteling) are space-sharing methods that allow companies to reduce their real estate footprint while still accommodating workers who need occasional office space. Both allow multiple workers to use the same desk or office space at different times.
Hot desking lets employees choose any desk available when they arrive on-site; typically on a first-come, first-served basis. Office hoteling allows employees to reserve a workstation in advance. Both require booking software to ensure availability and prevent conflicts. Scheduling tools also help employees plan for collaboration by showing desk spaces in close proximity or when meeting rooms are free. Software also allows space requests to trigger other workflow tools such as requests for cameras, speakers, microphones, whiteboards, and other productivity tools.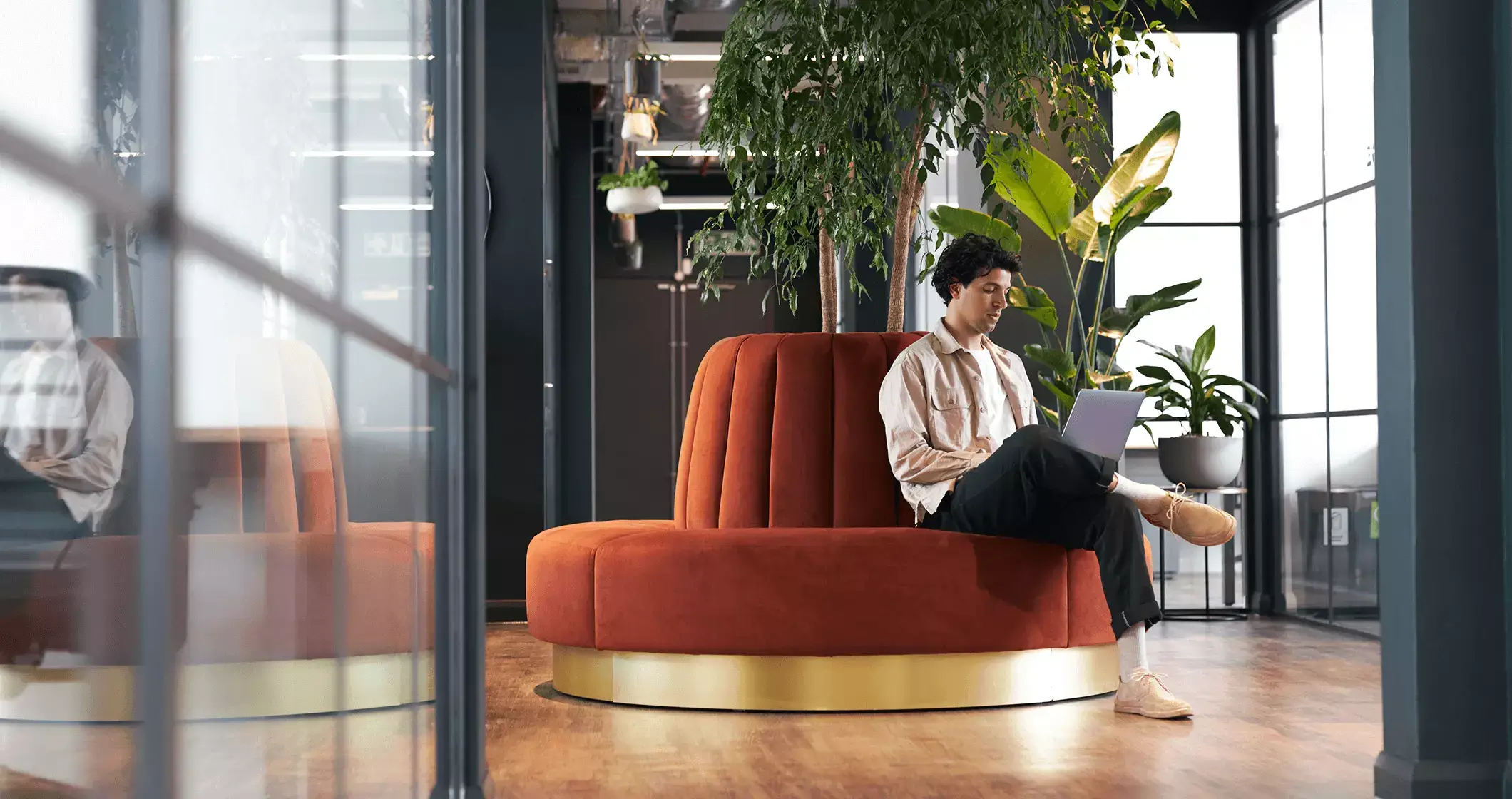 The benefits of hot desking
Pre-pandemic surveys of office space found that roughly 42% of commercial office space is underutilized. And while a 2020 CBRE survey found that while 57% of workplaces had assigned seating before the pandemic, only 10% plan to continue with formally designated office space in the future. A PwC survey found that 31% of business leaders were planning to reduce their office space, something hot desking and desk hoteling both facilitate. Real estate is a major expense for companies, so the cost-savings can be significant.
Collaboration can also be facilitated by hot desking and hoteling models. Typically, departments are concentrated in different parts of a building, but rotating seating arrangements can lead to unexpected meetings and connections. When each employee had their own dedicated space, they typically stayed in it to get work done, sometimes never meeting people they didn't work with directly.
These models are more casual, which can benefit some types of employees, but can also be unpredictable. However, if personality clashes and differences in working styles arise, they can easily be remedied with the switch of a desk (which is a lot easier than changing offices).
The pitfalls of office hoteling
Having fewer desks than people could lead to office tensions in an already less-than-ideal situation in which some employees may be resistant to coming back to the office at all. Those who don't respect the time constraints on reservations and cause "you're in my seat" problems and other interpersonal issues.
For workers who like to work in a familiar place and add personal accents, that's just not possible when rotating desks. While it may seem insignificant, employers are already working hard to coax people back to the office, and the idea of no longer having permanent personal space may not work in their favor. It also gives off a feeling of having less supervision.
For those with jobs that require concentration or quiet – like computer programmers – hot desking and hoteling could hamper productivity. Interruptions are common in these types of spaces, and productivity may suffer. But just because some employees use this method of hybrid work doesn't mean it's right for everyone. And it doesn't require companies to turn 100% of their space into shared space.
Technology and other tools (such as printers) can also pose challenges for employers that use hot desking and hoteling. Some software may be necessary for certain employees but be too expensive to provide on every computer, for example. Telephone calls will need to be routed to desks, and messaging services will require extra thought so that information gets where it needs to be most efficiently.
As far as collaboration is concerned, that can be planned in advance, but spur-of-the-moment visits to one another's offices won't be possible anymore if no one knows where to find their colleagues. It will be up to companies to decide to make booking information visible to employees.
Smaller issues related to desk-sharing include cleanliness, left-behind items, and new norms for how to behave in the office to ensure productivity, especially if space is set up to be communal. It also eliminates personalization strategies related to personal ergonomic needs.
Software for hot desking and office hoteling
Reservation management software is the key to keeping new work arrangements together. Even for hot desking (which should primarily depend on who is on-site rather than advance reservations), software can still help workers see who else is in that day, request equipment and collaboration spaces, and even reserve parking. It also helps reduce (and ideally eliminate) double-booking snafus and ghost reservations.
For employers who want to collect data about who is on-site and when this software can store information and generally run reports with all the information managers need. Ideally, it will be integrated into visitor management systems (VMS) or other facilities management workflows for the most accurate information.
---
New office arrangements face some big challenges, including a workforce that's divided about the benefits of coming back to the office when they feel more productive at home. However, it appears that even among those who want to retain a hybrid work strategy, the goal is to do so only part of the week. That makes real estate usage more important than ever for companies that want to remain agile.