Few industries have been able to navigate the COVID-19 pandemic unscathed. Its impact for many has been swift, brutal and unrelenting.
One of those hardest hit industries is property and commercial real estate.
As cities have gone into lockdown, and businesses forced into remote work arrangements, the need for commercial real estate in many city centres has plummeted. And now, as some regions attempt to re-open and recover, there is still a lingering uncertainty and reluctance from many to return to these densely populated areas.
Enter, the PropTech industry.
What is PropTech?
A portmanteau for "property technology", PropTech is a catch-all term, encompassing a range of technologies and software platforms that are used within real estate and properties, be it commercial or residential. For facilities managers and building operators, PropTech is an essential part of their technology stack as they tackle the evolving challenges of property management in the twenty-first century.
The lasting impact of COVID-19 on PropTech
In years to come, the psychological impact of the COVID-19 pandemic on a generation will be studied in depth. As scientists globally look to unpack the enduring effects of such a significant global event. While significant events of the 20th century, like The Great Depression and the first World War, left a generation driven by their commitment to social interdependence. The prevailing impact of COVID-19 is yet to be seen or fully understood.
Within the PropTech market, as organisations continue to deliberate, debate and tackle the decision to return to work or continue in a remote capacity, one goal remains clear.
Urban centres and CBD districts must restore trust in their environments.
The fear of surface transmission and working in close quarters with countless other people is real and present for many. The longterm impact of this time spent in fear of contacting an infected surface or person will surely continue to inform our relationship with the world around us.
Rebuilding trust in urban centres
To rebuild trust, we must first facilitate an environment where people feel safe to enter in the first place. This has lead to one of the most significant growth areas of PropTech in 2020 — touchless technologies.
For the past decade, much of the developmental focus within the tech sector has been focussed on voice assistants. We have come to run our lives and homes with the assistance of voice assistants like Siri and Alexa.
However, to meet the challenges of a COVID-19 world, the focus has turned in a different direction. From touchless QR check-in to integrated access control systems that enable a fully contactless journey through a facility.
These innovative solutions and systems have formed a crucial component of many business' efforts to re-establish trust and assist their workforce in making the return to the workplace.
Emerging technologies and trends in PropTech
For some in the PropTech industry, the COVID-19 pandemic has created a sudden, insatiable demand for their products that previously serviced primarily niche markets. While others have been forced into a swift pivot to alter their offering to one that meets the new demands of the industry amidst the backdrop of COVID-19.
However, regardless of the impetus, the PropTech industry has found innovative solutions in a number of different areas.
Touchless QR check-in
Whether instigated by pragmatism or regional legislation, businesses everywhere are now finding themselves checking in every person who enters, in order to effectively contact trace where infections arise.
While some have opted for low-tech paper sign-in book solutions. These are inherently flawed, in not only failing to address the risk of surface transmission as potentially hundreds of people handle a communal book over the course of the day but also in their failure to suitably manage data privacy and security requirements inherent in any modern business' duty of care.
QR codes have become the solution of choice, enabling users to check-in to a location quickly and easily, without having to handle any communal objects or surfaces — ensuring the strongest mitigation to the risk of infection.
Access Control
The changing requirements of 2020 have placed an increased requirement for modern access control solutions. Keypads and buttons are out, the need now is for contactless credentials — like Bluetooth and, again, the beloved QR code.
Beyond the initial entry credential, there is also increasing importance being placed on journey mapping and automation. Utilising access control to integrate across visitor, contractor and employee management systems to enable everyone entering a building to take a contactless journey from the entrance to their final destination.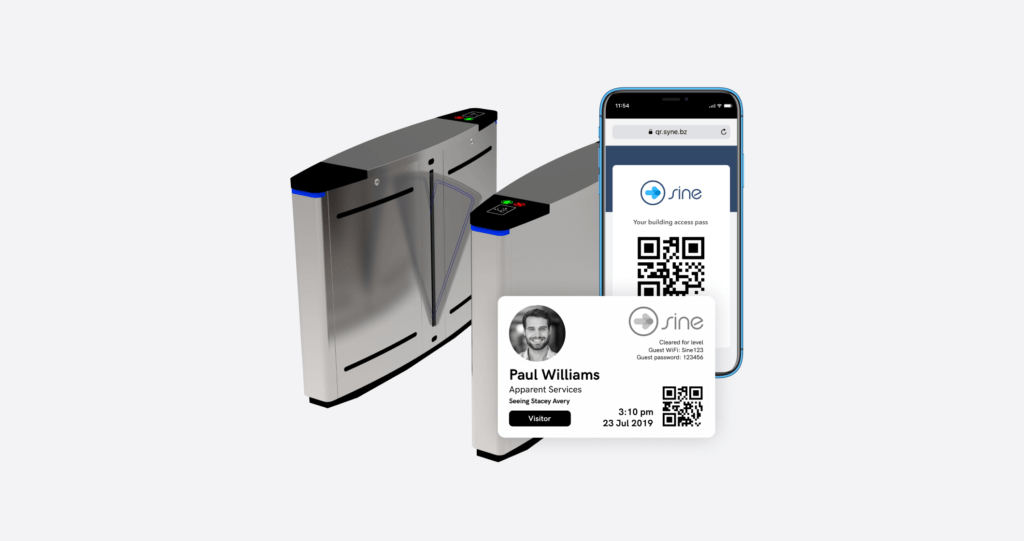 Visitor, contractor and employee management
It has never been more important to have effective management processes and systems in place for visitors, contractor and employees. A safe return to the workplace is dependent on so many factors aligning. And with the virus still, far from being eradicated, it is crucial that anyone entering a building is appropriately screened.
This is where visitor, contractor and employee management systems have become essential to the success of return to work procedures.
These have enabled the effective screening, check-in and contact tracing of people within the workplace. Empowering organisations to limit the risk of infected persons entering the office in the first place and instilling confidence in the remainder of their workforce that they will be entering a safe environment if they do come back to the office.
Anti-microbial surface coatings
How do you reduce the risk of surface transmission when you don't have the option for touchless solutions? Use a surface that the virus can't even take hold on.
This is where anti-microbial technologies have helped. For many organisations, it is impractical to remove all communal surfaces. In particular, things like door handles just have to be used by many people every single day.
With anti-microbial surface coatings though, these communal surfaces are provided with an extra line of protection against the coronavirus, with the coatings working to actively eradicate any trace of the vaccine that is left on them.
Ultraviolet sanitisation devices
Studies have shown ultraviolet light to be effective against the coronavirus. Helping to eradicate it from surfaces and reduce the risk of transmission. This has lead to the development and installation of Ultraviolet cleaning devices to not only clean surfaces but also aid in eradicating the risk of COVID-19 spread through droplets in the air.
The path forward for PropTech
As we approach the end of 2020, it appears we are still only in the early stages of facing the COVID-19 pandemic and there is still much to be learned and achieved as we continue forward.
However, it has already been made apparent that if we are to navigate this safely and work to return to a new normal, the PropTech industry will prove a valuable ally as we push for innovative solutions that will help us navigate through to the other side of this pandemic.
Looking to transform your business? Book a demo with our team to see how Sine can help your organisation.